Awesome octogenarian is oldest person gearing up to tackle Etape Caledonia
At 82, John McNally is the oldest person taking on Etape Caledonia, one of the toughest cycling events in the UK. Gayle joins him for a training session (and struggles to keep up).
You won't find octogenarian John McNally nodding off in an armchair while the telly drones on in the background.
Nope – this amazingly athletic 82-year-old simply doesn't have the time or the inclination to do that.
Buzzing with energy, John spends his life running and cycling and right now, he's training for Etape Caledonia, Perthshire's premier cycling event on May 19.
It'll be the 12th year John has taken part in the gruelling ride, and this year, he's tackling the 85-mile route, which incorporates the famous thigh-burning climb of Schiehallion.
John, a retired general manager from GEC in Glenrothes, only started actively exercising at the age of 47 after a colleague in his 40s died suddenly.
"It was a big wake-up call," he says. "It convinced me to start running to keep fit and take better care of my health."
Since then, John has completed 26 marathons and estimated he's run almost 37,000 miles.
He got into cycling 20 years ago after being invited to take part in the Highland Cross – a 50-mile duathlon (20 miles on foot, 20 miles on bike) – and has completed the event every year since.
"I did it on a normal touring bike and a man cycled along beside me and said: 'How can you keep up on that tractor?!'" John recalls.
"It was the first time I'd done an event with such big numbers of people. The atmosphere was electric. The following year, I went back with a new bike and knocked 20 minutes off my time. I was addicted."
Prior to last year's Etape Caledonia, there was an age limit which ruled out anyone over 80 taking part.
As John was due to turn 81, he led a campaign to have this overturned. He was successful and completed the race, finishing 2,265th place out of 5,300 competitors and was first among those over 75.
When I meet John at his house in Cupar for a training cycle, the wind is blowing a hoolie and his wife of 52 years Els warns us: "You'll be frozen!"
I'm ashamed to say I don't even own a bike, so I borrow a pal's. I do, however, own a pair of padded cycling pants (gifted to me three years ago by Courier columnist Scot Tares) but I've forgotten to bring them.
John's been cycling between two and three 60 to 70 mile rides per week in the bid to be race-ready – "I did 157 miles last week". He's mapped a 20-mile route for us to tackle today.
Spurred on by the promise of Els' sandwiches which she'll have ready for our return, we set off at a decent pace.
The sun is shining as we pass through the gorgeous daffodil meadows of Rankeilor Estate, and we stop to gaze at an old doocot crumbling in a field.
Our route takes us through Letham, Monimail, Collessie, passes Birnie Loch, Fife Zoo, Highfield Equestrian Centre and heads back through Giffordtown, Ladybank and Springfield.
John is kind enough to keep the pace reasonably steady but says he usually trains at around 16mph.
During some hilly sections, my legs burn and my knee feels a wee bit niggly, but John doesn't even break sweat!
Have I in fact met Superman in his 80s?!
Back at base, refuelling with sandwiches and coffee, John tells me he hopes to conquer this year's Etape in less than six hours.
"Last year I had flu so I only did the 40-mile route but I came first in the over-75 category and did it in two hours 47 mins," he says.
"In 2017, I did the 81-mile course (it was extended to 85 miles in 2018) and I was second in the over-75 section, completing it in five hours 34 mins, which I was disappointed with."
Any top tips for first-time Etapers? John recommends trying to get into the "Peloton" – the main body of riders. This allows you to save energy as you use the slipstream to power along.
"On climbs, stay in a low gear and 'spin'," he adds. "This means travelling at an efficient speed you can sustain. That's critical."
For those not brave enough to do the 85-mile route, John suggests signing up for the 40-miler.
"It's still a great route and you get the atmosphere and the camaraderie. There's only one steep bit but it's a long haul!"
Every year John cycles Etape Caledonia to raise funds for the event's official charity, Marie Curie, after losing his mother to cancer.
info
Partnered with Marie Curie, the Etape Caledonia, on May 19, encompasses the beauty of Loch Tummel and Loch Rannoch before tackling the famous climb of Schiehallion.
The event aims to raise £80,000 for the cancer charity this year.
Around 4,500 cyclists took part in last year's event, spurred on by event ambassador and round-the-world cyclist Mark Beaumont.
The mass-participation event, now in its 13th year, was extended to give riders the chance to pedal an extra four miles through the spectacular landscape.
In 2018, the fastest person – and the first across the finish line – was Milton Keynes cyclist Jeremy Honor who zipped round it in an impressive three hours, 40 minutes and 14 seconds.
Places are still available on the 85-mile route.
There are also Marie Curie fundraising spaces available on both the 40 mile and 85 mile rides. www.etapecaledonia.co.uk/enter-now
Over the years, Etape has made more than £1.6 million for Marie Curie.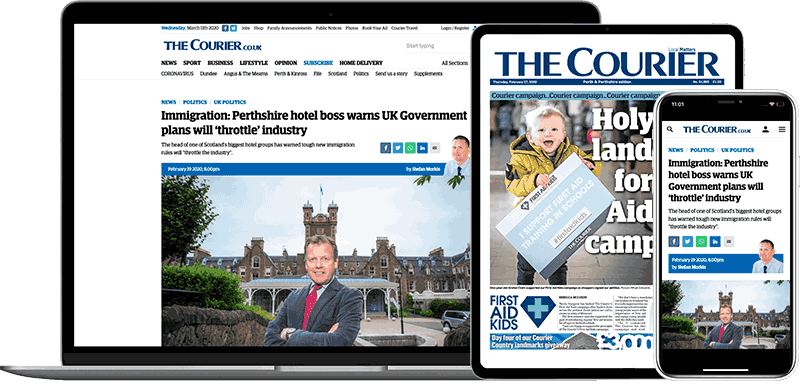 Help support quality local journalism … become a digital subscriber to The Courier
For as little as £5.99 a month you can access all of our content, including Premium articles.
Subscribe