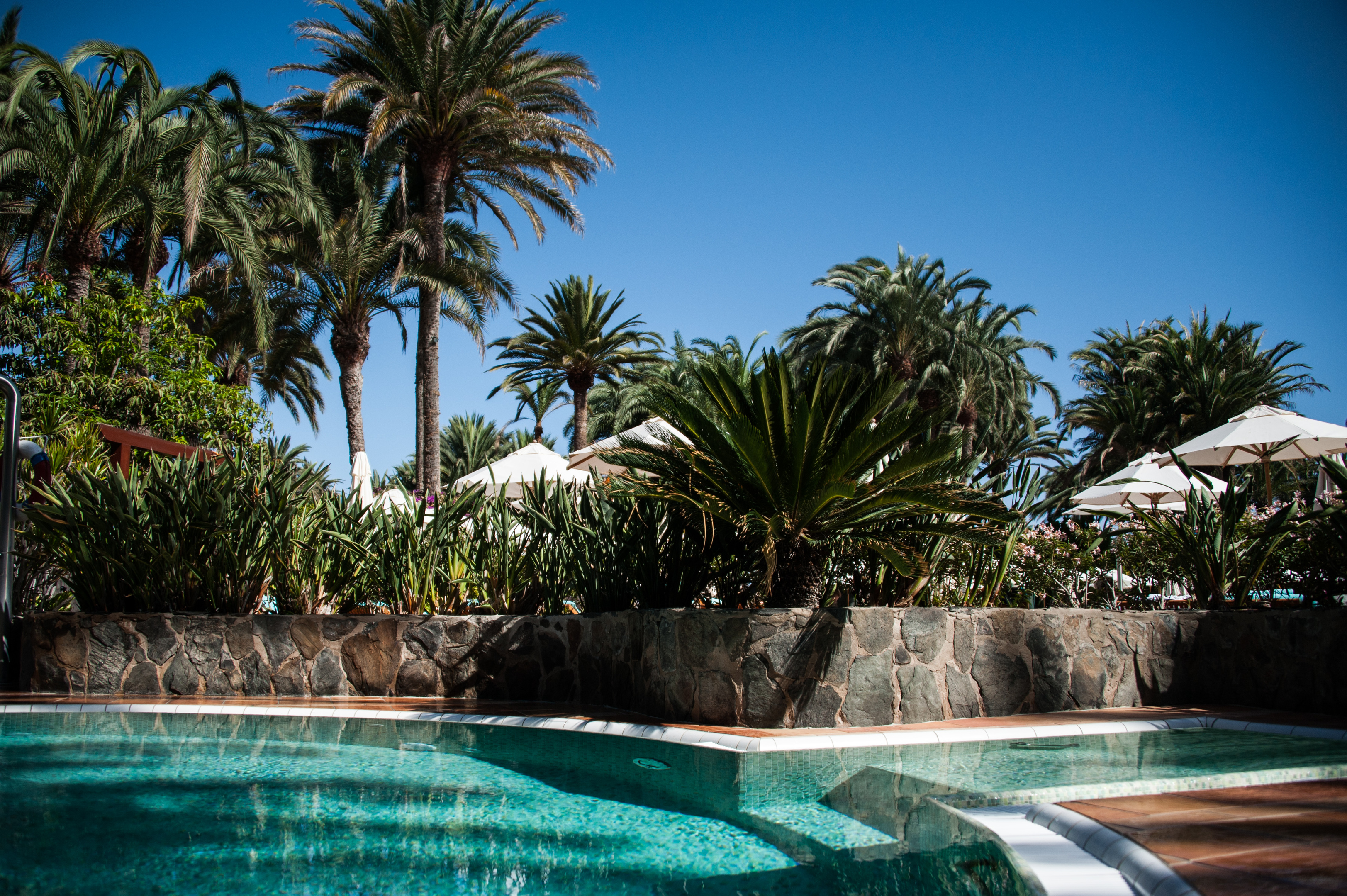 At one time, the people of Gran Canaria were scandalised when female visitors from the Nordic countries went topless on the beach.
Nowadays the island takes a more broad-minded and sophisticated approach to tourism. In fact, it hosts a gay-pride fortnight twice each year and there are designated nudist beaches for those who like to be naked in the sunshine.
It is also the case that many of the massive concrete structures that were hastily erected during the dawn of mass tourism in the 1960s and 70s have now been completely upgraded and renovated.
Take the Seaside Palm Beach Hotel which is situated in beautifully landscaped gardens close to the golden expanse of Maspalomas Beach. From the outside this place looks fairly bland and nondescript but as we ascend the marble steps and step inside, it is clear  that this is, in fact, a truly sophisticated establishment; one where only the most aesthetically pleasing artwork and furnishings are given house room. It's quite disconcerting, albeit in a good way.
Almost immediately our understanding of what constitutes good taste in the realms of interior design is challenged. In the spacious reception area, comfortable couches in Day-Glo bright colours are as bold as the sunshine streaming in the windows and there are vivid, semi-abstract paintings and sculptures at every turn.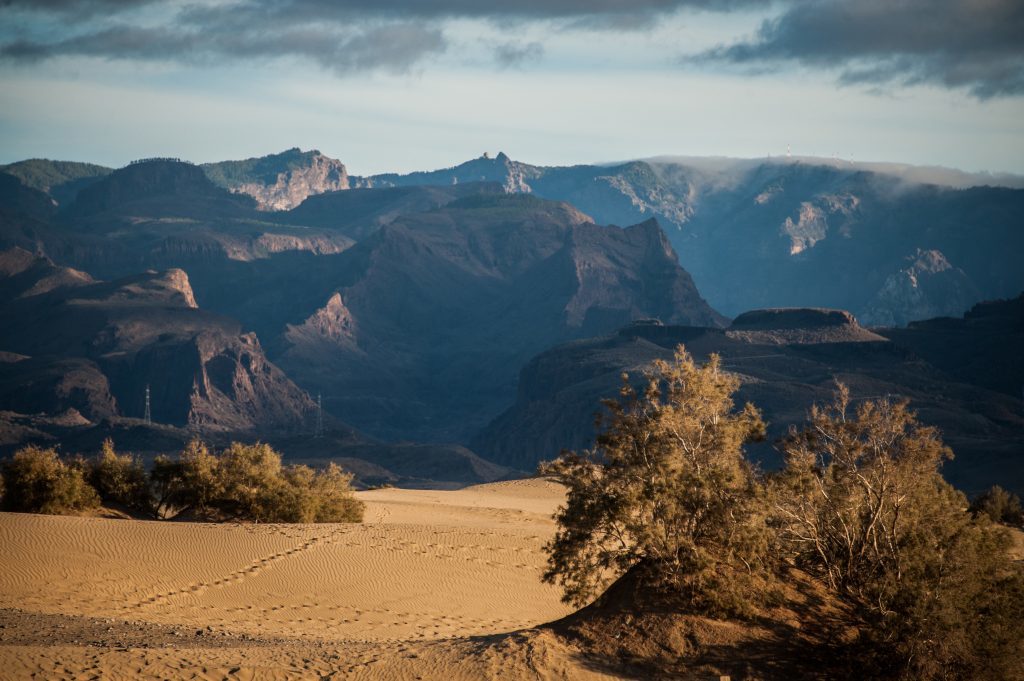 It is all unmistakably reminiscent of a James Bond film set circa 1976, right down to the sparkling brass fittings on the lift and the blue and  yellow soft furnishings in our comfortable twin room on the fifth floor.
A sudden realisation strikes me. For international movie stars and other members of the jet set, the 70s were not a time of abhorrent design. Mass produced furnishings in manmade materials are undeniably ghastly but here, we are happy to be immersed in this retro world, re-imagined in a palette of luxurious, natural materials.
Like many British holiday makers we've been drawn to Gran Canaria because of its ability to deliver year round sunshine. After just a short, direct flight from Scotland, we are able to explore our new surroundings in skimpy, summer clothing.
This is a return visit for me. Just eighteen months ago, I enjoyed a full week of relaxation in this supremely comfortable establishment. Now as then, the buffet breakfast alone is enough to make you wake up to the world with a smile on your lips. A vast array of local cheeses sit alongside international ones a range of cold cuts. There is exotic fruit, fresh juices in a rainbow of colours and appetising cooked options including omelettes to order.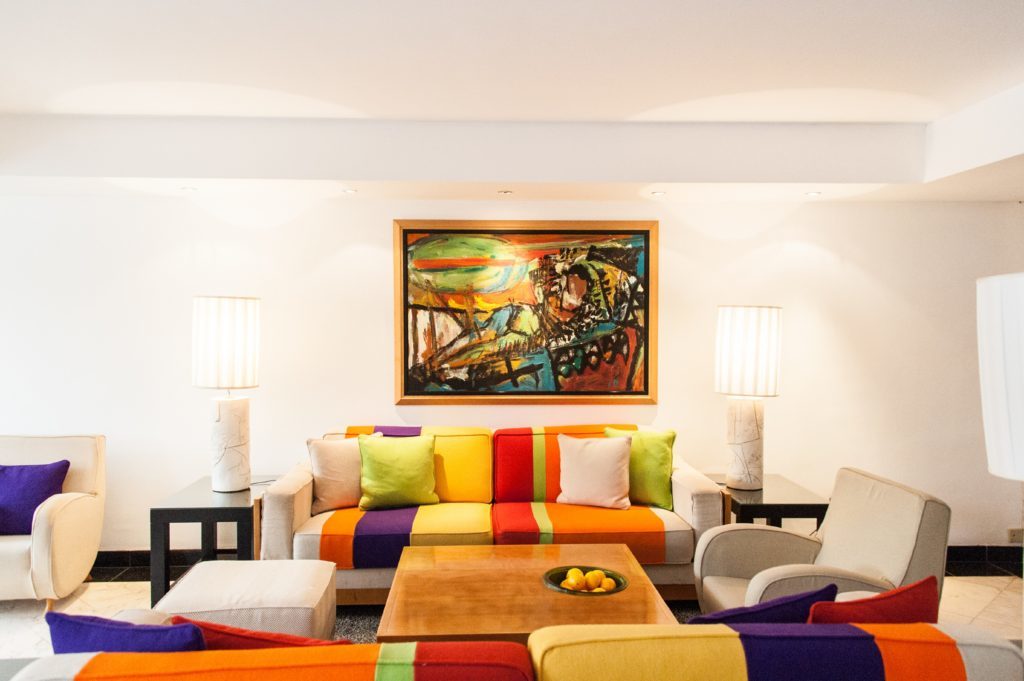 Then there is the bread and also the pastries. Seaside hotels have three establishments on the island and there is an in-house bakery at the Palm Beach that supplies all of them with freshly prepared goods. Three times a week the hotel has a barbecue buffet on offer. We find ourselves wandering around gathering garlic prawns, pieces of steak and vegetables done every which way.
This time around we decide to embark on a little exploration beyond the boundaries of the hotel. So we head off in a northward direction in the company of a local guide, Juan Carlos. Through him we learn a little about the complex matrix of conspiring factors that have lead to waves of outward and inward migration to Gran Canaria.
Many people from this island went on to populate the Americas. They took with them their agriculture skills and played a key role in the production and processing of sugar cane and in the cultivation of tomatoes and potatoes.  Periodically, some of these people and their descendants are drawn back to this 'island of eternal springtime.'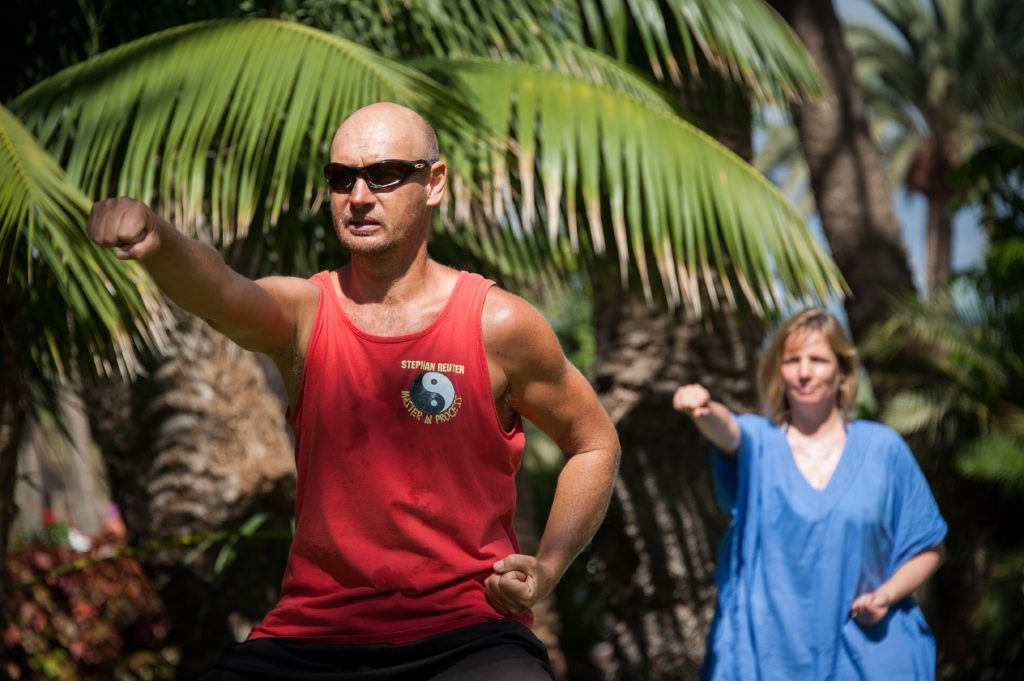 We reach the botanic gardens which were established by Swedish botanist, Eric Sventenius, in 1952. They are a lush illustration of how the five local micro climates each support different types of  vegetation. In the higher altitudes pine needles grow up to 30cm in length in order that they can 'milk the sky'. In fact, for the most part, mist takes the place of rainfall for this species and a pine tree can extract up to 20 litres of atmospheric moisture in just 24 hours.
We  also learn that the Playa de Inglesi is not a recent title bestowed on a popular tourist hideout. Actually it is the burial place of a notorious English pirate who, along with around 12,000 comrades, tried to seize power over the island around 400 years ago.
We enjoy a wonderful lunch of local specialities including steamed, salted baby potatoes accompanied by a pepper sauce called moho, a mountain of fresh salad, some deep fried fish and  a platter of veal with chips. A generous tot of honeyed rum aids the digestion and gears us up for a visit to see the work of sculptor Martin Chirino in the Castle of La Luz.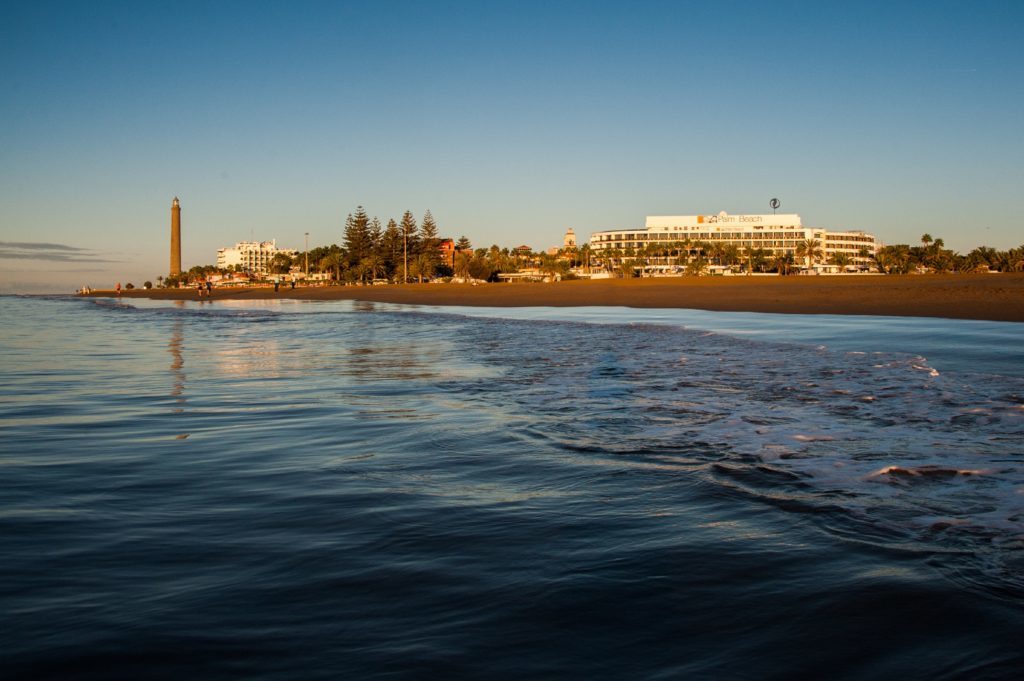 Chirino aptly describes himself as the 'dreaming blacksmith' and we are enthralled by his reflections on topics as varied as the wind, life under Franco and the literary figure Don Quioto. For many decades this important artist, who was born in Las Palmas, has wrought his abstract pieces,  each formed from a  single piece of iron and he has now gifted his work to the island.
On other occasions, when we can summon up the willpower to leave the cocoon of comfort that is on offer at the hotel, we  wonder along the beach and plunge into the cool, silky waters of the Atlantic.
On our last day we check out the parade of restaurants sited along the seafront beyond the lighthouse. Platefuls of monkfish and prawns seemed like an apt way to round of our trip. After just one week on Gran Canaria we each feel reinvigorated and very happy to have had such a lovely time together. For assured sunshine within easy reach, the Canaries are hard to beat.
info
Seven nights at Seaside Palm Beach, departing on September 1 2016, costs from £825 per person (based on two people sharing). This price includes return flights from London Gatwick, private taxi transfers and a twin room with balcony on a half board basis. For further info, or to book, visit www.thomson.co.uk.