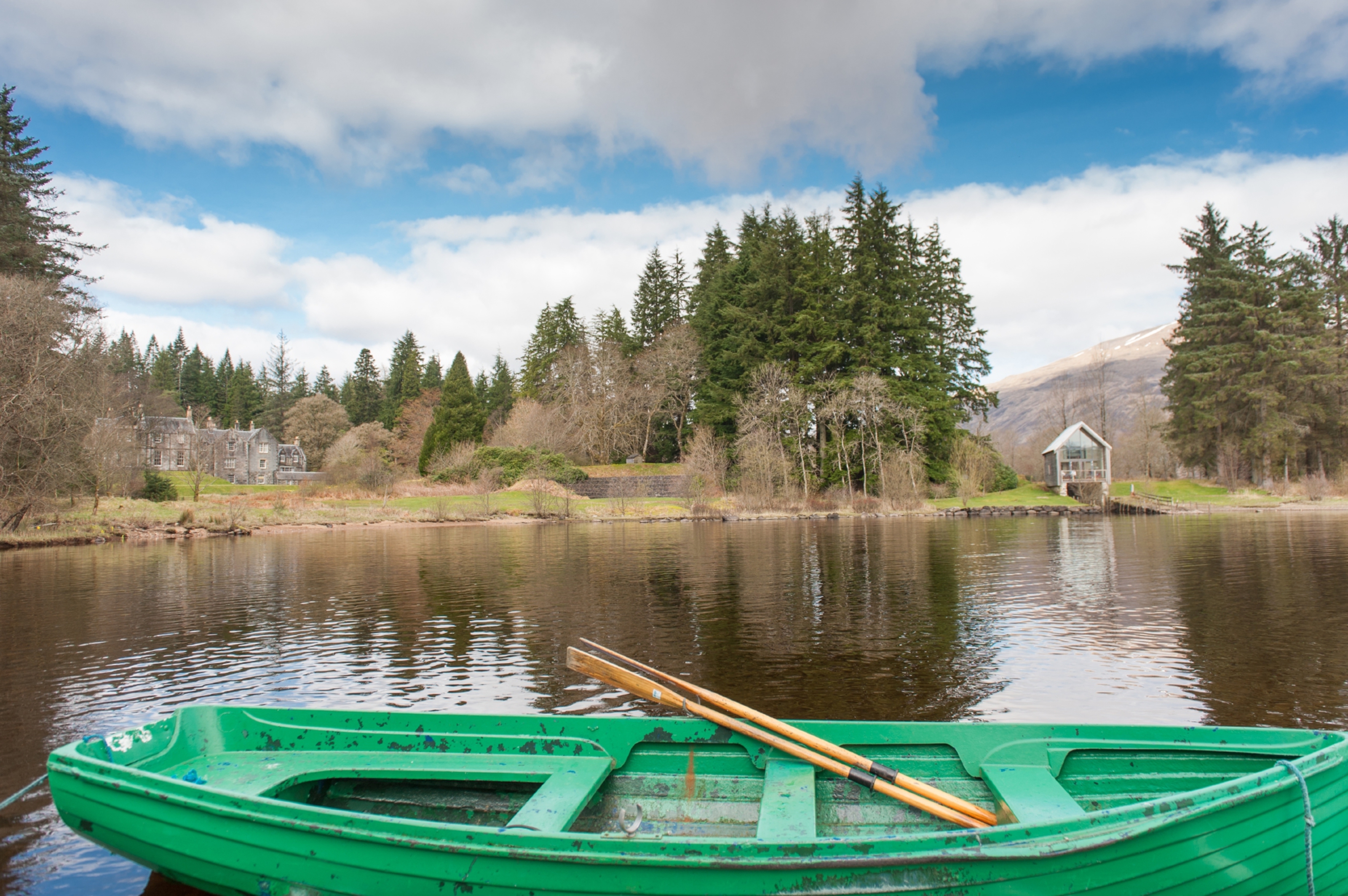 Jonathan Watson enjoys a tranquil weekend break on the banks on Loch Awe.
Tweets, instagrams, the ping of yet another email arriving into your inbox, the grating beat of someone's too-loud music on the morning commute… nowadays, people crave the holy grail of silence but is it really possible to find it? What are the chances that you might find a place so remote, so quiet, that the possibility of hearing absolutely nothing is a distinct possibility?
Well just over a two-hour drive from Fife I found a place that is so still, so calm, that I may just have experienced perfect solitude for the first time in my life.
Situated on the glorious banks of Loch Awe sits Ardanaiseig, a Grade II listed mansion house that has been transformed into one of Scotland's finest luxury hotels.
Situated in the shadow of Beinn a'Bhuiridh, it is a setting easily fit for the silver screen; another addition to the "places I would like to live if I win the lottery" list.
Built in 1834 by Colonel James Archibald Campbell, Ardanaiseig ("ar-den-ass-ay") is today owned by art dealer Bennie Gray, and is a property just as opulent and characterful as its surroundings- perfect for that romantic getaway.
But to find this hidden gem is no easy task in the first place, and for drivers of a nervous disposition, a few brave pills may be required to tackle the ten-mile single-track road from Taynuilt, the nearest village, to the hotel, but when you reach your destination you'll soon discover that the reward for completing the journey has been more than worth it.
This really is the middle of nowhere.
The driveway to the house itself is lined by stunning, colourful shrubbery and firs so tall they must have taken root centuries ago. The extensive grounds, which extend right down on to the shores of the loch, are spectacular in their wild beauty. As we discovered, hours can easily be whiled away exploring the many paths around the estate, discovering everything from the secret garden hideaway and wishing well, to hills affording the perfect vantage point to enjoy views out over the loch and beyond.
Pulling up with the sun beating down on us, the welcome at the front door was equally as warm. This is decadence at it's finest, minus the pretention- all you'll find here is luxury, splendour and a typically warm Scottish welcome.
We were swiftly checked in and shown to our room, "Tervine", which like all of the rooms is named after local villages or landmarks.
Inside we were greeted by a breathtaking view right over the Loch, picture postcard perfect in its splendour. While glorious during the daytime, there's something particularly special about looking out in the wee small hours to enjoy the stunning starry sky set against a perfectly inky backdrop.
The wild beauty of the house and its surroundings, the gently lapping water on the loch, the starry sky… it's easy to understand why Ardanaiseig has been named as Scotland's Romantic Hotel of the Year, one of just a host of accolades it has received in recent years. It's hard to think of anywhere more idyllic to spend a romantic weekend with a loved one.
As you would expect from a house of its age and splendour, the rooms are generous in size, filled with beautiful period furniture and quirky paintings, as one would expect from a property owned by an art dealer.
And then there's dinner…while it doesn't come cheap at £50 a head, it's a decadent feast full of flavour and creative twists, all to be savoured while enjoying the spectacular view of the sun setting over the loch.
In keeping with our fabulous lochside location, our five course extravaganza began with a delicious confit of salmon and poached oyster. Butternut squash with roasted pepper and coconut milk soup was served next, followed by a hearty dish of seared lamb loin and pan fried belly served with potato terrine, wild garlic and leek and a thyme jus – simple, fresh ingredients cooked to perfection.
If you happen to get bored of looking out of the window – unlikely, to say the least- check out the quirky art work in the room. I won't spoil the surprise, but let's just say you'll find a painting that'll get everyone talking over dinner…!
If you're worried you'll run out of things to keep you occupied, don't – guests are encouraged to make the most of Loch Awe so take some time out to hire one of the boats and sail over to one of the tiny islands that can be seen from the hotel. And, if you've still got some bravery in reserve after negotiating the drive to the hotel, the hotel directory suggests another activity that will certainly enliven the senses…take a dip in the loch itself. Cold but invigorating!
If manicured lawns, pristine flower beds and sleek modern luxury are your thing then this probably isn't the pace for you, but if you want to discover the wild, untempered beauty of Loch Awe and the quirky delights that come with staying in an ancient property whose walls pulse with the stories of the past, then Ardanaiseig could get the perfect place to add to your bucket list.
info
Jonathan stayed at Ardanaiseig, Kilchrenan, Taynuilt, PA35 1HE, on the banks of Loch Awe. Tel 01866 833333. www.ardanaiseig.com.
Rooms start at £185 per night via www.ardanaiseig.com.