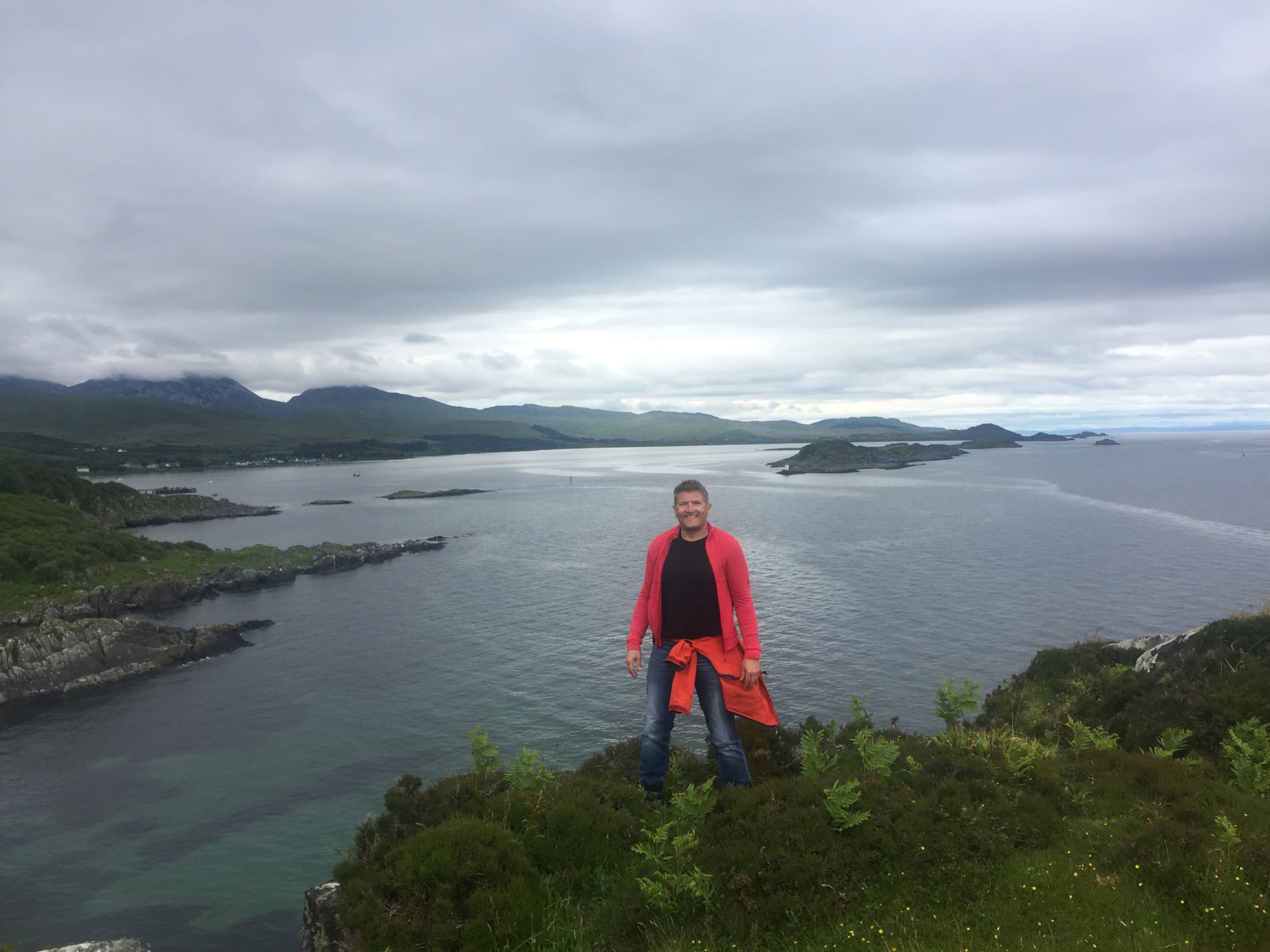 As a travel writer I've been lucky enough to embark on cruise ships around the world and hand on maritime heart I reckon the Hebrides offer the finest cruising in the world. This year brings two superb new options for exploring this epic archipelago.
I've just spent the best part of a week on both vessels and I'm here to report back on their very different charms. One offers the chance to journey under sail the old fashioned way and the other to motor around in luxury with an outdoor hot tub.
Both are brilliant ways to explore this epic wildscape of rugged mountains, shimmering white sand beaches and craggy coastline. Sitting on deck is a great place to scan the waters for porpoises, dolphins and even whales, with golden eagles and sea eagles soaring through the skies above.
First up was the St Hilda (www.sthildaseaadventures.co.uk), a graceful old dame who was built in St Monans in Fife in 1973 as a sail training ship. She has been taking passengers for a few years, but this is the first year that this graceful 54ft long wooden ketch has been based in Tobermory.
This new base on Mull opens up more of the Hebrides as you don't have to lose a day either side heading out of and back to Oban. I toured the Slate Isles, plus Jura and Islay with them, but their wide range of options this year also include swathes of the Hebrides and the Firth of Clyde, plus a couple of ambitious trips out to St Kilda.
The St Hilda is one of the smallest of the Tall Ships, having taken part in the famous Tall Ships races. She has bags of character and it's a glorious feeling sailing through the isles under canvas. Much of the actual sailing is, of course, weather dependent, but the captain Simon – it's always first name terms on the St Hilda – is always keen to let guests enjoy some sailing time.
I say let guests enjoy sail time, but it would be more accurate to say get stuck in at sail time. St Hilda, with only two crew and six passengers, is very much a hands-on experience. During my time aboard I helped with the sails and also in getting the dingy tender in and out of the water.
Striding along under sail as we approached Scarba was divine, totally different to puttering along with the motor running. The only sounds were the wind billowing through the sails, the gentle rush of the ocean and the distant squawk of a gull. It took me back to the days when I used to thrill through a ride on my late dad's yacht, Sisu.
The guest accommodation on the St Hilda is pretty basic, though there are plans next year to split the two twin bunk main sleeping space (which sleeps four) into two cabins. Already there is also the option of a private double room, which works best for couples.
Life aboard the St Hilda is very much a communal affair. We all bonded quickly helping the boson Lou (Simon's girlfriend) putting up the table for meals and helping pass the used dishes back down to the galley. Lou's cooking was hearty and wholesome, ideal after our outings ashore. With no guide on board we helped each other on shore, walking together and sharing our experiences and knowledge.
Our cruise took us south from Mull to the wee island of Luing. Here I enjoyed a lovely 12km hike along the green spine of the island, before retreating back on board to enjoy a spectacular sunset. The next few days were spent cruising down to Jura and in search of the whisky isle of Islay. I loved time on Jura. This rugged and remote isle is hard to reach when you're not on a cruise ship.
The Proud Seahorse, the new vessel from the excellent Hebrides Cruises (www.hebridescruises.co.uk), is a world away from the St Hilda in terms of luxury. I've been aboard their other vessel, the Elizabeth G, a couple of times and while she is a perfectly comfortable, sturdy little ship this is a serious step up in comfort and worth the higher ticket price.
I've been out on 15 cruises in the Scottish isles and the Proud Seahorse is almost up there with the Hebridean Princess (a favourite of the British Royal Family) in terms of comfort. She is much smaller, taking a maximum of just ten passengers. All rooms are en suite with showers. The best room is the cabin suite, which boasts a separate living area and plenty of space.
I loved that the Proud Seahorse offered myriad different spaces to enjoy during time at sea. There was a large lounge area bedecked with books and lots of outdoor options, including a high top deck that I particularly enjoyed during epic sunsets across to the peaks of Skye. Then there was that hot tub aft. It was a unique treat to be welcomed back on board in the evening after a walk with a glass of bubbly and the hot tub ready to go!
My favourite place to sit, though, was on the bridge in one of the comfy leather chairs next to captain James Fairbairn. He is the ideal man to negotiate the tricky waters of the Hebrides as he was long a leading light and captain with Mull Sealife Surveys, who pioneered marine mammal viewing in the Hebrides.
On our cruise James steered us towards numerous porpoises and a large pod of common dolphins. He is a real authority not just on these testing waters and various great anchorages, but also on all manner of wildlife. He gently persuaded me that the distant bird I could make out off Canna was not a sea eagle, but in fact 'just' a soaring young golden eagle with white flecked through its tail.
The Proud Seahorse had three more crew on our trip – ultra efficient boson Maddy Anderson, informative wildlife expert and walking guide Nigel Spencer and young chef Ross Harris. Harris is a real talent, who was named Scottish sous chef of the year last year was his work at the excellent Taynuilt Etive. It was a real treat enjoying his culinary creations.
Our cruise focus was on Skye and the Small Isles. James managed to skilfully get us into three of the four Small Isles – Rum, Eigg and Canna – as well as Skye, the largest of the Inner Hebrides. The rugged hulk of the Skye Cuillin provided a spectacular backdrop for much of our trip, during which we enjoyed some excellent weather.
My favourite day was on Eigg. Under brilliant blue skies four of us hiked up the striking volcanic plug of An Sgurr to enjoy jaw-dropping views of myriad Hebridean isles. One of my fellow passengers, Ken, was from the south of England. He was in his seventies and was torn between marvelling at the epic beauty of the Hebrides and kicking himself that he had not come on a cruise around the isles sooner!
The itineraries that the Proud Seahorse will take are varied. They range from testing adventures out to the wild waters around St Kilda a full 40 miles west of the already remote Outer Hebrides, through to gentler explorations of the waters around Mull. Then there are relaxed trips along Thomas Telford's glorious Caledonian Canal.
If you're thinking of cruising the Scottish islands – something I heartily recommend – then this season boasts a couple of great new options. The St Hilda and the Proud Seahorse may be very different ships and offer very different onboard experiences, but they share in common that they are both supremely enjoyable ways of exploring what is for me is the most dramatic and rewarding place to cruise in the world.
Hotel of the Fortnight
Gleneagles – This grand Perthshire dame is synonymous with traditional Scottish hospitality and sheer luxury. I've stayed a number of times over the years and it has had its fair share of relative ups and downs. I've just been back and I'm glad to report that it's looking better than ever having returned to a more traditional colour scheme and more understated style. New this year is the Birnam Brasserie, which brings together fresh Scottish produce and a touch of Parisian style. I've also heard about big plans for a new glamping area and further development in the estate rather than the main hotel so watch this space. www.gleneagles.com.
Travel Tip
Great Value History – I'm a huge fan of the myriad Historic Scotland properties dotted around the country, from the ruined abbeys of Dumfries and Galloway, through to the prehistoric sites of the Northern Isles. Rather than pay to visit individual sites I recommend snaring a three or seven day Explorer Pass or, even better, an annual membership. Just visit Edinburgh Castle and Stirling Castle and you've already pretty much paid off your family membership. You can read my Historic Scotland blogs at https://chainmailblog.historic-scotland.gov.uk/author/robin-mckelvie.