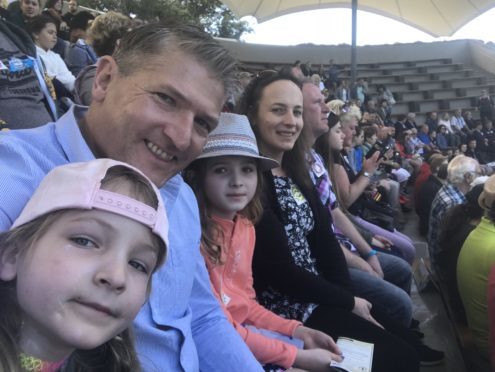 Robin McKelvie tops up his tan on the sunny island of Tenerife
As a travel writer I make over 30 trips a year, but there's one place that goes straight on my plans every year – Tenerife.
This glorious island offers so much more than perpetual sunshine. It constantly both improves and adds ace new attractions as we found once again when I took my family back last month.
Tenerife for me is a seriously underrated escape. Did you know it's home to the world's second largest Carnival after Rio? Or that it boasts a UNESCO World Heritage site and both Spain's most visited national park and Spain's highest mountain? In fact epic Mount Teide soars to 3,718m, almost three times the height of Ben Nevis.
Getting there is a breeze these days too. A number of airlines fly direct from Scotland. We usually fly with easyJet (www.easyjet.com) as their flight times from Edinburgh are spot on, their staff are great with the kids and return fares start from about £100, a steal considering it's over a four hour flight.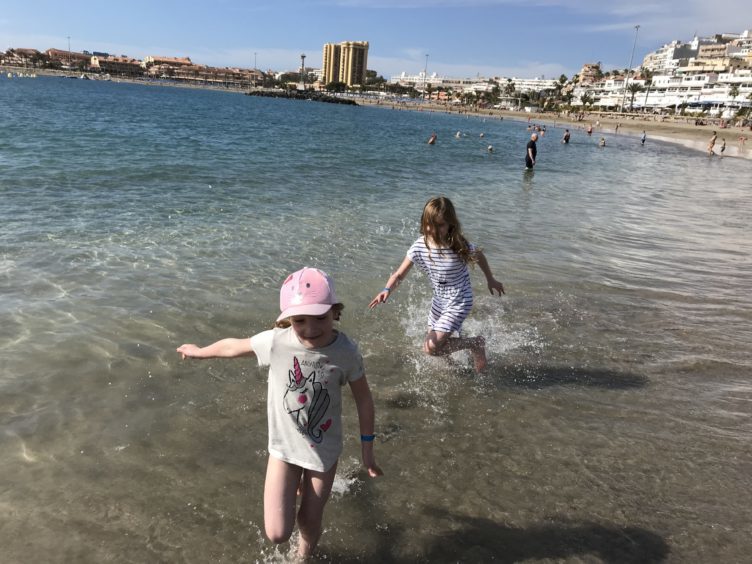 On arrival I recommend picking up a car. We opt for Holiday Autos (www.holidayautos.com). They tend to be better value than going to the car hire companies direct and if anything should go wrong they can simply sort you a car with another operator.
There are hundreds of hotels on Tenerife and we know by now what constitutes a good one. Our first on this trip was Marylanza (www.marylanza.com). The resort strip of Playa de las Americas and Los Cristianos is not everyone's cup of tea, but this quiet oasis reclines back from the action and overlooks both a golf course and the inland mountains, including Teide. It's great value given that it markets itself as an all suite hotel.
My kids loved the heated pool at Marylanza, but I didn't have to ask them twice about heading out on our second day. Not when our destination was Siam Park (www.siampark.net), quite simply Europe's finest water park. This is a water park for people who don't think they like them, as much fun for big kids as for little ones.
Siam Park is a microcosm of Tenerife as every year we visit they have upped their game. This time as well as the various thrill rides, gentler adventures and a massive beach with waves so good they hold surf championships, there was the new Champagne Club. Here you can recline on a comfy Balinese bed, as well as enjoy a bottle of bubbly. For a real treat book a cabana or a villa – the latter come with complimentary minibars and a private hot tub!
You could spend two weeks in Tenerife and not even realise that there is more than its deservedly popular resort laced desert south. The big secret to really discovering Tenerife is not just limiting yourself to the southern resorts. Head north and a whole different world awaits. We were bound for Puerto de la Cruz next, where tourism first really kicked off on the Canaries over a century ago.
Our base in this relaxed northern resort town was the Hotel Taoro Garden (http://en.taorogarden.com). They have done a great job of revamping what on my last visit here looked a tired old hotel. The bedrooms are as swish as the public areas. Try to snare one that comes with a balcony with a Teide view. Their large heated pool is a plus too.
When in Puerto de la Cruz you have to visit Loro Parque (www.loroparque.com) and we do every year. They do a brilliant job of creating an oasis of flora that doesn't just attract tourists looking to let their kids come face to face with exotic animals. It attracts botanists, wildlife research students, professors and surgeons from other institutions all over the world who come to witness its facilities and research first hand.
The big stars in the shows are the sea lions, dolphins and, of course, the famous killer whales. We like just wandering around exploring the exotic flora checking out the fauna, from red pandas high in the trees and jaunty pink flamingos, through to hulking sharks in the aquarium and stately penguins in their dramatically Antarctic-like home, which comes complete with real falling snow. New this year is a large area for the park's trio of lions.
The same people behind Siam Park and Loro Parque also run Brunellis restaurant just outside the Loro Parque. We didn't have time to eat there on this trip, but I thoroughly recommend you do. Their choice of steaks is superb and a highlight of the evening comes when the glass floor to ceiling restaurant window eases right down to allow the cooling ocean breezes in.
Tenerife's restaurants these days have moved well beyond all the old British cooked breakfast anachronisms. There are now half a dozen Michelin star restaurants. I like the simple Canarian restaurants just as much as the fine dining though. I found a great example of what they offer this time in Puerto de la Cruz.
At Bistro Antonio Aguiar ( http://bistroantonioaguiar.com) the gregarious and passionate owner was keen to tell his diners about the farm he runs on the island, which produces much of the fruit and vegetables that you will find served in their range of delicious Canarian dishes. Wash them down with the crisp Tajinaste white wine from the surrounding Orotava Valley (Tenerife's wines are finally getting the attention they deserve) and you have a real local feast.
After my decadent night it was off with the kids early the next morning to explore yet another side of Tenerife. The largest Canary Island for me is one of Europe's finest hiking destinations, from coastal forays and gorge walks, through to hikes up epic Teide. I promised my girls a walk in a rainforest in the primeval netherworld of the Anaga as they'd never been in a rainforest.
The Anaga is a gorgeously wild, green slice of northern Tenerife, little touched by man. It's easy to see why producers come here when they are looking for backdrops for dinosaur shoots. Our excellent guide, Norberto of Anaga Atrapies (www.anagaatrapies.com), fired up the kids' imaginations with dinosaur tales, while also letting me know more about the importance of the forests and their conservation.
It was time now to leave the north of Tenerife, but I didn't mind too much as we were headed for El Medano. This laidback oasis is my favourite resort. Our base, the three star Hotel Medano (www.medano.es), has just been revamped after being saved from the wrecker's ball. We gazed out of the windows here taking in the long beach, the kite boarders flying like butterflies above the surf and the hulk of rugged Montana Roja blinking back at us.
El Medano is a great place to relax for a few days. The famed local winds – ideal for kiteboarding and windsurfing – keep the masses away, but it's still a very sunny getaway. The waterfront is lined with a wooden boulevard and a sprinkling of cafes, bars and restaurants. I love that it's still very much a Spanish town that attracts visitors from other parts of the island and the mainland.
Our last stop was at what may just be the best family hotel in Europe. The Hard Rock Hotel (www.hardrockhotels.com/tenerife) works for all ages. It only opened in 2017, but already it's a firm McKelvie favourite. Music here is everywhere from a gospel singer in the lobby, through to a live DJ by the pool and a drum kit in the Kids Club!
There is real rock history too with all sorts of memorabilia. John Entwistle's striking red suit stands proudly by the lift, there is a rather fetching Elvis tracksuit by the superb restaurants and Bruce Springsteen's harmonica had me working my way through his back catalogue with my girls. Tenerife is that sort of place – a year round warm oasis where old and new constantly intertwine, with something for everyone to enjoy whether you are seven or seventy.
info
For more information on Tenerife see www.webtenerife.co.uk.
Hotel of the Fortnight
Radisson Blu Edwardian Vanderbilt – I love what Radisson have done with this historic old dame in London's lively South Kensington. The Scoff & Banter bar and restaurant is spot on with huge breakfasts (buffet and a la carte) and delicious dinners with their English beef steaks the highlight. The location is ideal too with Hyde Park a ten minute walk away and loads of shops and museums nearby. www.radissonblu-edwardian.com
Travel Tip
There have been quite a lot of new and reborn Scottish whisky distilleries of late as the industry booms. Most are our cities so it's great to see the new Clydeside Distillery emerge right on the river banks of Scotland's largest city. They have done a brilliant job of converting this old pumphouse and in a few years their first single malt whiskies will emerge. In the meantime they offer tours, a well-stocked shop and a café where you can enjoy a local produce stuffed lunch. www.theclydeside.com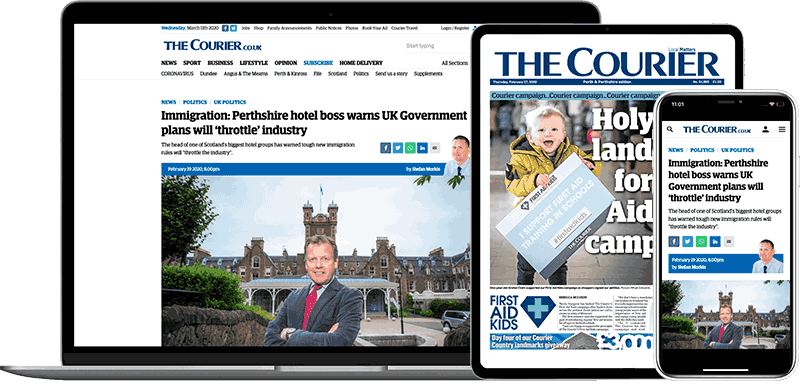 Help support quality local journalism … become a digital subscriber to The Courier
For as little as £5.99 a month you can access all of our content, including Premium articles.
Subscribe