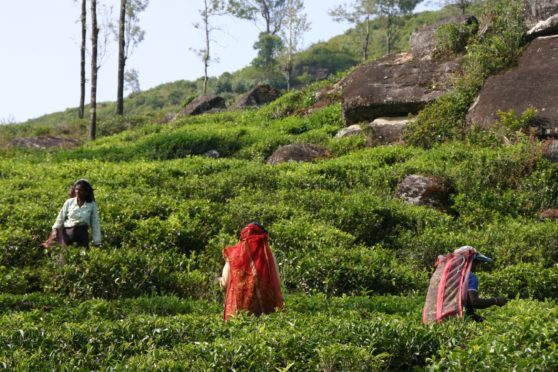 Silent in the cool morning jungle air we wait. Everyone in the safari truck is completely still. We wait. Then there she is – a large female leopard. She isn't alone. She plucks her two cubs down from a tree and spirits them across the dusty trail in front of us. Welcome to Sri Lanka!
Dramatic, life-affirming experiences are something I quickly learn to expect in Sri Lanka, a breathtaking country of superlatives. Sri Lanka has me on the drive in from the airport, as lush vegetation and exotic bird calls fringe the highway.
Handily getting to Sri Lanka is a breeze these days. I flew with Etihad from Edinburgh, enjoying their award winning in-flight service and a quick and smooth transfer in Abu Dhabi. They have proper flat beds in business class too if you fancy a treat.
Greeting me on arrival is Chaminda, my ever smiling and ever helpful guide and driver who makes sure my adventure runs ultra smoothly. He works with Indian Odyssey, the UK-based specialists who have organised all my hotels, sightseeing and travel around Sri Lanka. I thoroughly recommend you book a tailormade package like this to avoid the time-consuming hassles of trying to sort things out locally.
My first stop is the commercial capital of Colombo, a city often bypassed by visitors dashing for the famous beaches. I'm glad I stay on as soon as I check into the glorious Maniumpathy, a grand colonial-style retreat. I find a lot of those in an independent country once ruled by the Portuguese, then the Dutch and finally the British.
Maniumpathy lies in the evocatively named Cinnamon Gardens district, but I tear myself away from the pool to take a walking tour of the Fort district, which once bustled with maritime trade as the biggest port in Ceylon, as Sri Lanka was then known. My guide swishes me around the ramble of colonial buildings, my senses going into overdrive at the hectic Pettah market district, before we finally arrive on the cooling terraces of the old Dutch Hospital, now blessed with eating and drinking venues.
It is here that I savour my first delicious meal, something that soon becomes par for the course in a country bursting with fresh fruit, vegetables and aromatic spices. I'm at Ministry of Crab, a brilliant locally owned restaurant that in recent years has stemmed the export tide of lagoon crabs to Singapore by offering them here in a variety of delicious sauces.
Next up is Kandy, the cultural capital of Sri Lanka. The main religion is Buddhism and Kandy's Temple of the Sacred Tooth Relic is one of the most important places of worship and pilgrimage anywhere in the Buddhist world. Opposite is the Empire Café where I sample the national dish, 'rice and curry', for the first time. The name is deliciously deceptive as it's actually a variety of tasty dishes similar to an Indian thali.
After a brace of captivating cities it's time to hit the countryside now in Hill Country, the highlands where the British kicked off the country's now famed tea industry. I take the train to Hatton, a lovely experience. I gaze out the open window as we drift back in time on the vintage British-built railway network, climbing our way up through the jungle in search of cooler climes.
I have two bases in the hills. The first, Camellia Hills, is surreal as I drive there through the Dunkeld Estate and Blair Athol District, learning that Sir Thomas Lipton was a Scot as I go. Recently opened Camellia Hills is a gem, a five-bedroom escape overlooking a lake and the emerald tea plantations. I taste as fresh a brew as I ever have and it's divine, as is dinner.
The second night in the hills is away from the tea plantations amongst the rice paddies and thick jungles around Koslanda at Living Heritage. My 'room' is huge, a homestead with a large open living area modelled on a traditional family dwelling. It makes me wish my girls were here, but before I've time to miss them I'm off on a guided hike. We eke below thundering waterfalls and a venture through a wee village where smiling kids spring out to say hello.
Chaminda and I descend now towards my dramatic rendezvous with the leopards. By now we know all about each other's families and are friends. It's easy to make those in this land of smiles and genuine welcomes. Handily most Sri Lankans speak excellent English.
I make more new friends at Noel Rodrigo's Leopard Safaris in the Yala National Park, the country' most famous nature reserve. I'm cosy in my jungle tent, with a main living space and a secure wee zipped off bedroom that keeps out the creepy crawlies. I still get to interact with nature, though, as on my second morning I'm woken by macaque monkeys bashing around on the roof of my tent!
It's a brilliant set up at Noel's. I head out on two game drives a day and in-between safari drives there is a pool to cool off in. The food is superb, ultra local produce that the staff talk through in detail at mealtimes. The guides are wildlife experts too. On my drives I see everything from soaring eagles and lurking crocodiles, through to hulking water buffalo and lumbering elephants.
And then there are those leopards. Sri Lanka is home to the world's largest leopard species. Yala is no zoo and you have to be patient tracking this most elusive of big cats. Of my four drives we only see leopards on two, but that second sighting with the two cubs is extra special. The guides seem as excited as me to witness the leopard with her cubs just feet away from us.
All too soon it's time to prize myself away from Yala and drive along the beach fringed southern coast to the city of Galle. The beaches are picture postcard here and I resolve to come back with my kids to enjoy them. I won't be distracted, though, this time as I have always wanted to go to Galle, having heard it's Asia's most complete colonial-era fort.
My base is the old New Oriental Hotel, now impressively reborn as an Aman hotel, the Amangalle. This old dame, with its elegant veranda, tree shrouded pool, piano tinkling away in the lounge and old world luxury perfectly sets the tone for Galle itself, a dreamy Indian Ocean outpost awash with Portuguese, Dutch and British ghosts. It's very much alive with colourful Sri Lankan culture too.
The rambling old fort walls sweep around an ocean washed peninsula and provide a great vantage point for peering back into a core bursting with life as well as historic architecture. On a sunrise stroll around the fort walls I find a school band belting out a practice session and dozens of people doing their morning tai chi. There are intriguing colonial throwbacks – I stumble upon the Clan House, with its chalkboard that will never be used again still there waiting to mark the day's shipping arrivals.
Missing the jungle I ease off the next morning deep into the rainforests on a boat ride, before hopping on a bike to pedal between wee villages with the local Village Rider company. I'm delighted to find a fresh coconut and its juice waiting at the end of the trip, not to mention fresh hoppers (a local thin pancake served with gently spicy accompaniments) being cooked in front of my eyes.
My last Sri Lankan meal is dinner at the Church Street Social at the Fort Bazaar. It's a fitting venue. As I recline on their colonial-era veranda slipping back through the centuries exotic birds calls echo all around. I can hear the ocean thunder in the distance and know that the intensity and wild animals of the jungle are not far away. Welcome to Sri Lanka!
---
Hotel of the Fortnight
The Ship Inn – One of my favourite pubs in Scotland was recently given a makeover and it's now a great place to stay – make sure to book a room with a view over the Firth of Forth. Their restaurant boasts tempting local produce including Fife-landed langoustines. The Ship Inn is handy for walking sections of the Fife Coastal Path and there are some picturesque beaches within walking distance. Look out for cricket on the sands just outside in summer.
Travel Tip
Southern Charmer – I've long been a fan of often ignored Dumfries and Galloway so it's great to see light being shone on this beguiling region with the South West Coastal 300. This new driving route sweeps west right along the balmy shores of the Solway Firth before cutting north into Ayrshire. It covers some glorious scenery including a personal favourite, the Rhins of Galloway, an epic land of big skies, rugged cliffs and views over to Ireland. The lovely wee coastal village of Portpatrick makes a great base here. www.visitsouthwestscotland.com/attractions/southwest-coastal-route