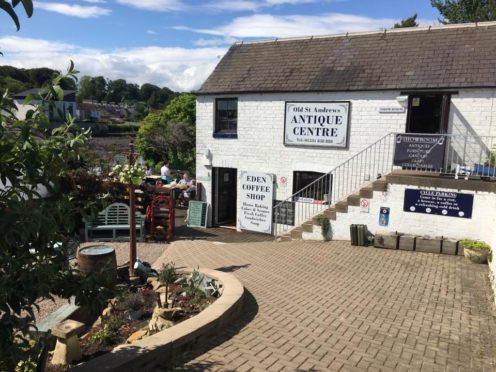 A 48-year-old man is awaiting sentencing after carrying out a heist at a Fife antique jewellery shop.
Thomas Reid pled guilty to raiding Macolm's Antiques on St Andrew's Road, Guardbridge on July 28.
He masked his face, forced his way in with a crowbar, broke into glass cabinets and made off with jewellery and other items estimated to be worth anywhere between £70,000 and £120,000.
Dundee Sheriff Court heard Reid kept some of the jewellery in storage at the city's Dryburgh industrial estate and listed it for sale on e-Bay.
Other items were melted down with a view to be sent away to have the gold valued, the court was told.
Reid, whose address was given in court as HMP Perth, has two previous convictions for robbery and one for possessing a knife.
Procurator Fiscal Carol Doherty said: "At 9.30am on July 28 staff observed the metal gate (of the jeweller's) had been forced off its hinges and the door was open.
"A large quantity of jewellery had been stolen from within – mainly rings, watches and earrings.
"A CCTV review showed the accused force open cabinets and put items in a rucksack and other bags.
"He was wearing gloves and a head torch and his face was covered."
Police linked a silver car, which had been in the area in the early hours of that morning, to Reid, its registered owner.
He was seen on CCTV at a petrol station on the A90 wearing the same clothes he had on during the raid.
Police searched his home and found a crowbar, a screwdriver, a head torch and jewellery the shop owner recognised as belonging to her.
Some of the jewellery was unique and handmade, the court was told.
Ms Doherty added: "A lot of the jewellery had been altered – it was broken down and in a state that implied the accused was going to have it sent away to have the gold valued.
"He was selling jewellery on eBay and had rented a storage unit at Dryburgh industrial estate.
"Police found a substantial amount of jewellery in the unit."
Most of the items were recovered but around £8000 worth of jewellery is still missing.
Reid had his sentence deferred until December 20 for a precise valuation of the stolen goods to be presented to the sheriff.