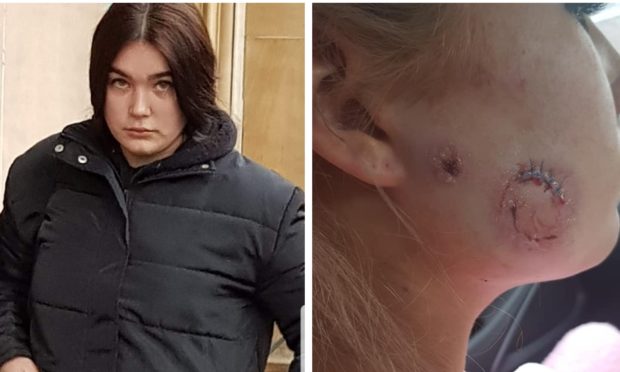 A teenager who bit a chunk out of a former friend's face in a "brutal" nightclub assault has been jailed.
College student Danielle Gaffar, 19, pounced on Kyra Strachan on the dancefloor of Aura nightclub in an "impulsive" attack.
Dundee Sheriff Court had heard that before the incident there had been ill-feeling between the females over a man.
The victim required plastic surgery after the assault and the attack has had a life-changing effect on her, the court was told.
Gaffar, of Tealing, pled guilty to grabbing Miss Strachan by the hair, forcing her to the ground, striking her head off the ground, putting her arm around her throat, restricting her breathing and biting her to her severe injury and permanent disfigurement on February 3.
Gaffar has lost a job, received death threats on social media and police have had to step in to prevent violence against her in the court building following the incident, solicitor Jim Laverty said.
"My client has no previous convictions prior to this incident and has led a pro-social life," he added.
"She accepted responsibility at an early stage.
"It is a matter she herself finds difficult to come to terms with, it is entirely out of character for her.
"It was not pre-meditated, it was more impulsive.
"There are credible and robust alternatives to custody.
"The imposition of a custodial sentence would be catastrophic for her and would make her future life impossible in terms of employment."
However, Sheriff Thomas Hughes said there was "no alternative" to custody.
He explained that had Gaffar been over the age of 21 she would be facing a "considerable" number of years behind bars but due to her young age he reduced her sentence to 16 months.
Addressing Gaffar, Sheriff Hughes said: "This can only be described as a brutal attack and there has been outrage in the community.
"It was reprehensible.
"The court cannot tolerate involvement in that kind of conduct.
"I also take into account the difficulties caused to you in your private life and everything that has been said by Mr Laverty.
"Custodial sentence is the only possible way of dealing with this matter."