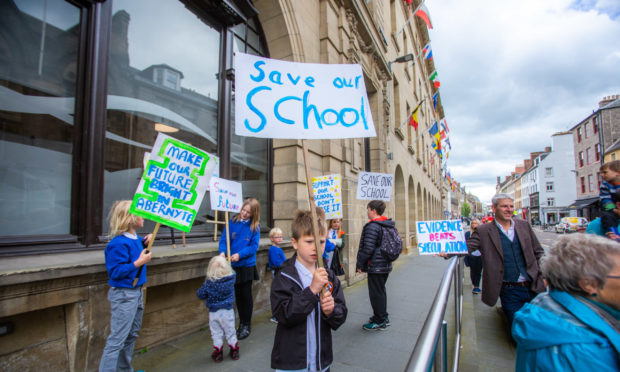 Perth and Kinross Council has failed in a legal bid to prevent the Scottish Government from reviewing a school closure decision.
The court of session has ruled that Holyrood can re-examine the fate of Abernyte Primary, which is set to shut permanently at the end of this tem. Pupils are due to transfer to Inchture Primary, three miles away across the A90, after the summer.
The council took legal action after the decision was called in by government ministers last summer.
It followed a knife-edge vote by the local authority's lifelong learning committee to axe the school, despite protests from local residents.
Now, it will be up to the independent School Closure Review panel to decide whether or not to uphold the Carse of Gowrie school's impending closure.
It will be only the fourth decision to be made by the Edinburgh-based panel.
A Perth and Kinross Council spokesperson said: "We have been made aware of the decision of the court, which we acknowledge, and will now proceed with the next steps in the process and provide the School Closure Review panel with the information requested."
A Scottish Government spokesperson said: "We welcome the outcome of the judicial review, and will consider the detail of the judgement in due course."
Perth and North Perthshire MP Pete Wishart has criticised the local authority for the legal move. He said: "This has been an unnecessary court case paid for by local taxpayers.
"The case has served only to waste public money in an attempt to remove the legal right of the school community at Abernyte to independent consideration of their case to keep their school open.
"There is no length that the council has not been prepared to go to in their attempt to close Abernyte Primary School.
"Perth and Kinross Council must now disclose how much this cost the public here and they must immediately confirm that Abernyte School will not close as it was scheduled to."
Education Secretary John Swinney relinquished any say he might have had over the case due to a conflict of interest as a local representative. He said he was satisfied with Lady Wise's verdict.
He added: "I am glad the decision of the Scottish Government to exercise that legal right for the people of Abernyte has been vindicated at the Court of Session."