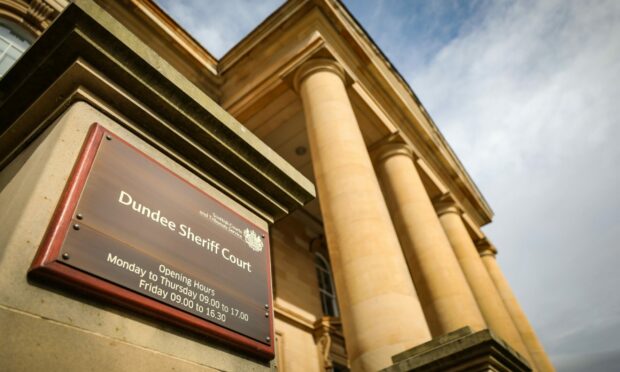 A police perjury trial was told a sheriff said "that's rubbish" during an officer's evidence in a previous Fife assault case.
Constables Steven Harker and Gordon Butchart are accused of assaulting Michael Wallace at his Dunfermline home and later lying about it in court.
At Mr Wallace's trial in June 2019, both officers gave evidence as witnesses and said Mr Wallace received a head injury after deliberately butting a wall.
But now it is alleged they assaulted him and tried to cover their tracks.
Harker, 36, and Butchart, 31, whose addresses are listed as Police Scotland's Professional Standards Department in Glasgow, deny assaulting Mr Wallace in November 2018 and committing perjury at Dunfermline Sheriff Court the following year.
'Walloped his pus off a brick wall'
This week, acquitted Mr Wallace and legal figures involved in his trial have given evidence at Dundee Sheriff Court.
Being cross-examined, Sheriff James MacDonald had told the court he asked "more questions than he would normally expect" of the two constables back in 2019.
Earlier in the week, the sheriff explained that both officers – now accused of pushing Mr Wallace's head into a wall – had said separately in the witness box that the complainer had deliberately headbutted the wall.
The court heard that a statement taken by a custody sergeant from Mr Wallace read that "he walloped his pus off a brick wall," however Butchart's counsel Donald Findlay QC explained that the wall Mr Wallace alleges he was struck against was plaster.
Sheriff MacDonald said he quizzed the officers on why this was omitted from both of their operational statements, but both described this as being an "oversight."
'I'm God in this court'
On Thursday, the sheriff said his assessment of what Harker had said at Mr Wallace's trial was indicative to him of criminality on the constable's part.
Sheriff MacDonald was asked by Harker's defence counsel Shelagh McCall QC if during Mr Wallace's trial he said "I'm God in this court" in relation to mobile phone footage shown.
The sheriff said he didn't remember the exact words he used, but told her: "I do recall having or raising with him my entitlement to make my own conclusions."
Mr Findlay QC told the sheriff: "Ultimately, you are the one individual tribunal of fact.
"However, fundamentally your role as a presiding sheriff is the referee or umpire of the proceedings as they take place.
"It is for the Crown to decide and the representatives of the defence what it is that they want to present to you."
Sheriff MacDonald replied: "At the time, I was struck by some of the detail which might have been something of a way to tie up lose ends."
Series of questions
After the sheriff gave evidence, prosecutor Alistair McDermid took to the witness box.
He told the trial that during part of PC Harker's evidence in the 2019 hearing, the sheriff had said "that's rubbish."
He also said that defence solicitor Ian Beatson had told Harker at the conclusion of cross-examination words to the effect of: "I would normally thank a witness, but I'm not going to thank you."
The fiscal depute added that prior to Butchart giving evidence in 2019, Sheriff MacDonald asked him "a series of questions about recording and how important it is to record how an accused person sustains a head injury and why that's important."
Mr McDermid will be cross-examined on Friday.
The trial, before Sheriff Ian Duguid, continues.