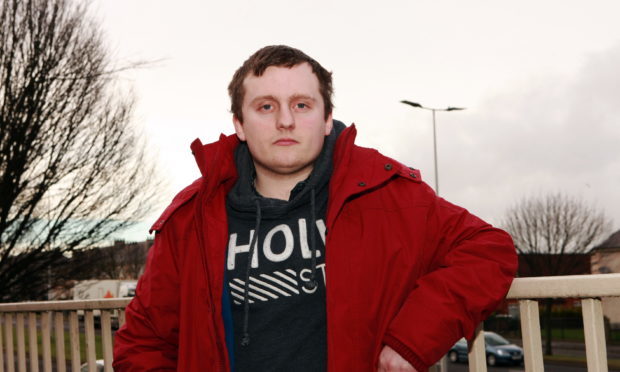 A sex offender is facing a fresh prison term after hatching a sick plot to blackmail three victims, including a schoolboy, into sending him naked images.
Reece Scobie befriended the trio on the social media site Grindr before plaguing them with texts and then, threats to ruin their lives.
Each reluctantly agreed to send him a naked picture which the 23-year-old used to extort further images.
Each time, he used the threat of posting the initial images on social media and sending them to family and friends.
His youngest victim was a 15-year-old schoolboy who, after days of persuasion, sent a single image to Scobie, who was using an assumed name and hiding behind a fake profile.
In return he sent the boy photographs of a slim, tanned model, which Perth Sheriff Court heard he had simply plucked from the internet.
Over the next few days he bombarded the child with messages requesting images before Scobie "tired of excuses" and told the boy he would post the naked picture on social media and send it to everyone he knew.
Scobie's was even more aggressive with his other two victims, telling them: "I'm going to go on your Facebook page and hack it and then distribute your dirty chat and pictures.
"I will send them individually to all your family and each and every one of your friends. It may take me all day but it will be worth it."
Scobie claimed he had the technical expertise to hack Google's computers and attach the pictures, along with his victim's names and phone numbers, to websites.
He claimed to have intimate knowledge of police methods and access to state-of-the-art encryption software to cover his actions. In reality, it took just one phone call to the police and a look at his mobile phone to bring him to justice.
Scobie, described as a prisoner at Perth, admitted two charges of attempted extortion in March last year at an address in Inchture.
He also admitted two charges of intentionally causing a 15-year-old boy to participate in sexual activity by inducing and coercing him into creating and sending indecent images and another charge of menacing the boy with the threat of publishing indecent images of him on social media and sending them to his family and friends in an attempt to extort him into sending indecent images.
Scobie will return to court for sentencing on July 27.
He remains on the sex offenders register and has been remanded in custody.
Catch Me If You Can
The offences are the latest in a string of crimes committed by Scobie, who is said to suffer from Asperger's syndrome and obsessive compulsive disorder.
In 2013, the Dundee-born offender was jailed for funding a jetset lifestyle with money taken from his employers, Thomson Travel.
Within weeks of being taken on as a trainee travel agent he secured access to accounts and passwords and used his computer skills to secure round the world trips to destinations including Dubai, Auckland, New York and Los Angeles and stays in top hotels.
The crimes saw him dubbed Perthshire's "Catch Me If You Can" conman in reference to the Leonardo DiCaprio film.
His offences took a darker turn in 2016 when he was caught posing as a policeman to get the phone numbers of stars in the West End play, Harry Potter and The Cursed Child, gaining backstage access to the Palace Theatre in London.
That same year, he was caught with thousands of indecent images of children by authorities in Iceland as he flew between Scotland and the United States.
He was jailed in connection with each of the offences.