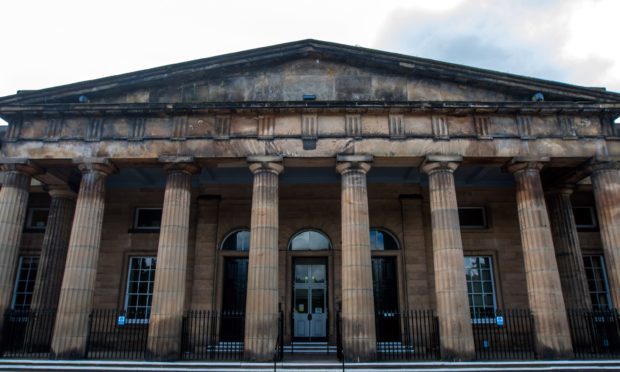 The daughter of a British aid worker murdered by Islamic terrorists has spoken for the first time of her ordeal at the hands of a jealous boyfriend.
Bethany Haines met Andrew Murray while still struggling to come to terms with the death of her father David Haines, who was publicly beheaded by the Islamic State group member known as Jihadi John in Syria.
After being introduced by friends, they embarked upon an on-off eight month relationship during which Murray took over the 20-year-old's life.
He "treated her like a servant" and left her feeling like "a prisoner" in her home, she said.
Perth Sheriff Court heard how Ms Haines' family and friends saw a difference in her appearance and demeanour when she was with Murray.
He stopped her from wearing makeup and certain clothes and prevented her from leaving her house. Neighbours noted while she had previously been "pleasant, outgoing and friendly" she had become insular and hostile.
Murray was repeatedly checking her mobile phone and social media messages and insisted she remove about 50 male friends from her Facebook account.
He even tampered with her phone contacts list, changing a friend's number to his own so that he could intercept messages.
As their relationship finally fractured, he destroyed a "treasured" scrapbook filled with pictures of her father and press clippings about his life.
It had been a tribute to her father and one means of trying to come to terms with his death.
Speaking after listening as Murray's offences were detailed in court, Ms Haines said: "There was a photo of me with my then-partner John in that scrapbook as he went to my dad's memorial service with me. He had 'beheaded' him and portrayed him as Jihadi John.
"It was a sick thing to do. Andrew was completely controlling. I wasn't allowed to watch the news or put photos of my dad up in the house. It was like he was jealous of how close my dad and I were.
"I was not allowed to talk about it or see the trauma counsellor, or wear jewellery that my dad had bought me. Obviously I was extremely vulnerable at the time.
"He took advantage of that fact. In the house he was in control of the finances even though he was contributing nothing. He treated me like a servant with the cooking and cleaning.
"It was especially bad because I wasn't allowed to talk about my dad. When so many attacks are still going on it is important for me to talk about it with people I am close to.
"Having to hold everything in like that was taking me back to the really dark place I had been in initially after my dad's death. I felt like I was prisoner in my own home."
Bethany added: "I still don't understand how he could have done that to me. I think he is a very disturbed individual who needs help."
Depute Fiscal Sue Ruta told the court the relationship had left Miss Haines feeling "scared and belittled".
It had regularly seen Murray shouting abuse in her face and damaging her home, smashing photographs, throwing cups at walls and punching a hole in a door.
Murray, 22, whose address was given as Greyfriars Hostel in Perth's Princes Street, pleaded guilty to charges that, between January and October last year, he tampered with her mobile phone, sent a compromising photograph of him and Ms Haines to a friend and damaged the home they shared in Coupar Angus and causing Miss Haines fear and alarm.
Murray will return to court to be sentenced on October 24.
The Crown has indicated it will seek a non-harassment order.