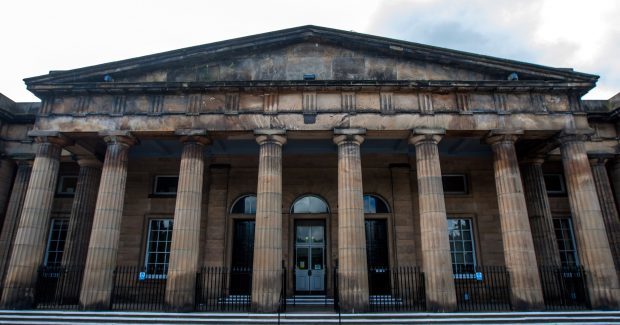 An 87-year-old man who forced drivers to swerve out of his way as he travelled the wrong way down the fast lane of the M90 motorway in Perthshire has been banned from the road.
Terrified motorists flashed their lights at Walter Halliday in an attempt to bring him to his senses after he apparently became confused on the busy Broxden roundabout.
The pensioner had decided on "a whim" to drive from his home in the Scottish Borders to visit a friend in Inverness, neglecting to check whether they would be in.
When he found they were not at home, he simply turned around and began the return leg of what would have been a 470-mile round trip.
Depute Fiscal Clare Kennedy told Perth Sheriff Court the journey could have ended in disaster on the outskirts of Perth.
"At around 7.40pm, witnesses saw the accused making a u-turn on the Broxden roundabout and then driving the wrong way," she said.
"The accused drove north into the southbound carriageway, causing a number of other vehicles to take evasive action.
"They tried to alert the accused to his mistake by flashing their lights at him.
"Initially he was driving slowly but then he increased his speed and continued to drive the wrong way in the outside lane of the southbound carriageway."
The depute fiscal said "a high number of calls" were made to the emergency services.
Halliday eventually pulled over to the side of the road, where he was joined by another motorist who had been concerned by his driving.
The police were soon on the scene. Halliday apparently made a point of telling officers that he was "a qualified advanced driver".
The pensioner, of Violet Bank in Dumfries, admitted driving his Suzuki Ignis dangerously on the M90 and A9 on October 14 last year by turning around on the Broxden roundabout and entering the A9 and M90 on the wrong side of the carriageway, causing several vehicles to take evasive action.
Solicitor Billy Somerville said: "Mr Halliday drove approximately 500 metres before realising his error and doing a u-turn.
"He had taken the decision on a whim to travel from Dumfries to see a friend in Inverness but he didn't check with his friend and got there to find he wasn't in.
"He was on his way back and had already had a fairly long journey.
"He was extremely tired and he was extremely unfamiliar with the area."
Sheriff Christopher Shead banned Halliday from driving for 12 months, ordered him to re-sit the extended driving test, and fined him £375.