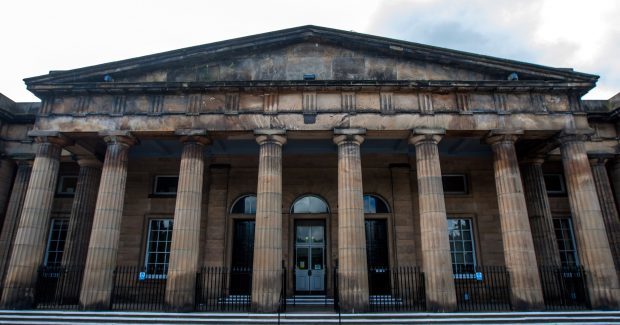 Armed police officers surrounded a respected Perth businessman's home after he sent his former wife a sinister countdown to suicide.
John Selkirk gave his partner of eleven years just 20 minutes to contact him, otherwise he told her he was going to shoot himself.
The ex army officer and director of Mercury Signs and Designs contacted Tracey Shanks detailing his intentions.
She immediately called the police and within minutes a six-strong firearms team was swooping on the 61-year-old's property on the city's Western Edge.
They moved in carefully, fearing that he might be in possession of a weapon.
However, far from sitting in his shed "gun cocked and safety off" and with his affairs in order, they found him sitting in his garden, enjoying a cup of tea with a friend.
According to a voicemail message, the friend was to have discovered his body but, instead, they were completely oblivious to the threats Selkirk had made on his own life.
Perth Sheriff Court heard Selkirk and Ms Shanks had been married for eleven years, but separated on November 29, 2017.
The split was difficult, the court was told, as the pair had also been partners in business.
Depute Fiscal Carol Whyte said matters between them had taken a worrying turn on February 2 this year, when Ms Shanks received a text message from the accused telling her to listen to her voicemail.
She then listened to the accused saying: "I'm in the lap of the gods now. In about 15 minutes I will end it.
"I have a gun in my hand. The gun is cocked. The safety catch is off. I'm in the shed."
He told his ex-wife funeral arrangements had been made before professing his love for her.
Selkirk then gave her 20 minutes to call him.
She contacted the police instead before receiving a second voicemail from the accused.
Ms Whyte said: "He told her 'You've been given the best part of 30 minutes already. You're obviously too busy. Have a good life. It's my decision to end it. Bye bye'."
The depute fiscal added: "By that time Mr Selkirk's friend had arrived. He was unaware of the threats that had been made.
"Both were enjoying a cup of tea when a total of six firearms officers arrived.
"The accused was traced in his back garden. He was not in possession of a firearm."
Selkirk, of Edradour Terrace in Perth, subsequently admitted behaving in a threatening or abusive manner by repeatedly telephoning his former partner and leaving voicemails threatening that he had a gun and was going to shoot himself.
Solicitor Donald Elliot told the court his client had enjoyed a distinguished military career, rising over 22 years to the rank of Warrant Officer First Class and had also had a successful civilian career.
"His partner in the business was his wife," the solicitor said.
"She took a major client with her when she left but that loss was nothing to the distress he felt at losing her.
"The threat was, of course, to self harm and not to harm her.
"She called the police because she was concerned for him."
Mr Elliot accepted the threats made had been "upsetting and unfortunate".
Sheriff Derek Reekie said: "They were far more than that.
"They must have been deeply distressing to your former partner.
"The consequences, of course, were that the police attended, with a number of armed officers responding to the threats made, albeit they were to harm yourself.
"This was a disturbing incident for all involved, including yourself."
He deferred sentence upon Selkirk until May 2, challenging him to remain of good behaviour.