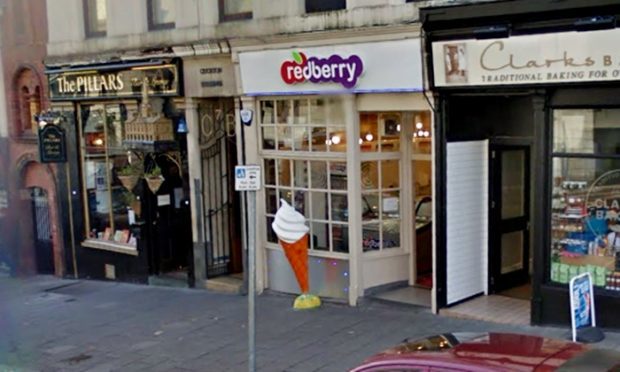 An Asian businessman who attacked a business partner over an ice cream parlour deal gone wrong has been told he won't have to start his punishment until Ramadan is over.
Imran Amin was placed on an electronic tag confining him to his home address overnight for 12 weeks following the attack on Muhammad Mehmood in Dundee's Lyon Street on November 2 last year.
He was told by a sheriff he had been "on the cusp" of a jail sentence, but the tagging order would not start until June 16 — the day the Muslim month of fasting ends this year.
Amin's lawyer said he was a "pillar of the community" and held a position within his mosque working with youngsters.
An earlier trial at Dundee Sheriff Court heard Amin and his victim were previously close friends and had gone into business together at the Red Berry ice cream parlour in Dundee's Crichton Street.
Amin told police that when the business was later sold he believed there was to be a "50/50" split of the proceeds.
When the verbal agreement went wrong Amin carried out a violent assault on Mr Mehmood after turning up at his house with two "heavies".
The court was told Amin threatened his former friend with violence and demanded money before grabbing him by the neck and restricting his breathing.
Amin then seized his thumb and bent it backwards, demanded the logbook and keys for Mr Mehmood's car and tried to forcibly remove them from the motor.
Fiscal depute Eilidh Robertson told the jury: "This trial is not about who owed who money over the Red Berry ice cream parlour.
"This is not the small claims court, this is not Judge Judy."
She went on: "The Crown case here is that there is a dispute between these men about money.
"Mr Amin is fed up of Mr Mehmood flaunting his wealth and decides to try and enforce this debt that he feels he is owed, and turns up at Mr Mehmood's home with not one but two 'heavies' with one goal – to convince Mr Mehmood to pay him back."
Amin, 41, of Mayfield Grove, Dundee, denied a charge of assault and robbery on indictment.
He was convicted of an altered charge of assault with intent to rob following a three-day trial.
Defence solicitor Anne Duffy said: "It wasn't his intention that any harm come to the complainer that day.
"At one point the two men had been extremely close — as close as brothers."
Sheriff Linda Smith imposed a community payback order with 300 hours unpaid work and a restriction of liberty order confining Amin to his home address from 9pm til 6am every day for 12 weeks.
She said: "To be frank my intention this morning was to impose a term of imprisonment.
"Having heard from your solicitor and read the reports I can step away from that.
"You have a place in the local community where you are respected but that respect has been flaunted."