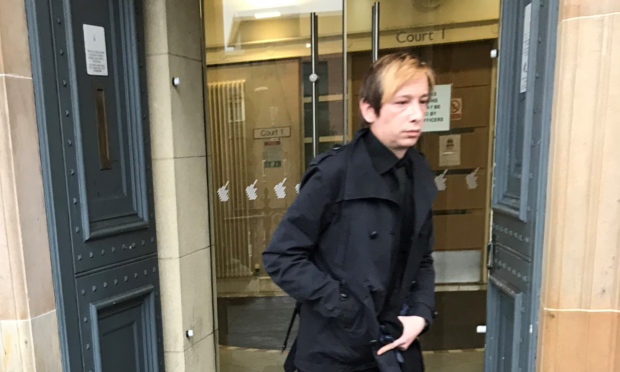 A callous thief who cleaned out more than £16,000 from a "vulnerable" pensioner's bank account has been jailed for six months.
Allan Lawson preyed on Benno Wolecki for more than a year, making money transfers using a bank card belonging to the 67-year-old, who was "infirm of mind".
Lawson, who has a drug addiction, had claimed that the OAP was a father figure to him and money was only being transferred so he could help the frail man pay his bills.
However, it transpired that the accused had hijacked Mr Wolecki's account to plug gaps in his own finances – and when his scam was exposed, he stopped visiting the pensioner in his sheltered housing accommodation.
Dundee Sheriff Court heard that the 39-year-old was unaware of his "friend's" death, which happened a few months after the theft was discovered, until he was informed of it by police.
Lawson, of Broughty Ferry Road, was found guilty of the theft of £16,259.21 between March 2016 and May 2017 following a three-day trial.
He had initially denied a charge of fraud said to have been committed between July 15 2014 and May 8 2017, whereby he allegedly obtained £22,259 by repeatedly accessing Mr Wolecki's accounts.
Dundee man found guilty of scamming vulnerable 'father figure' of more than £16,000
The court was told that Lawson's criminal record included convictions for dishonesty and that a social work report deemed him at high risk of reoffending.
Sentencing him, Sheriff Rafferty said: "You had a relationship with the late Mr Wolecki and you exhibited signs of friendship to him.
"He became infirm of mind and you had access to a bank account belonging to him.
"You emptied his bank account and on regular occasions made transfers, and in total stole over £16,000 from this man.
"When your actions were detected and when the account was closed down, you had nothing further to do with this supposed friend. You had no further contact with him.
"You didn't even know he had died until you were advised by police officers.
"In the circumstances, the only appropriate sentence is a prison sentence.
"It is necessary to punish you and to deter others from taking advantage of vulnerable people."