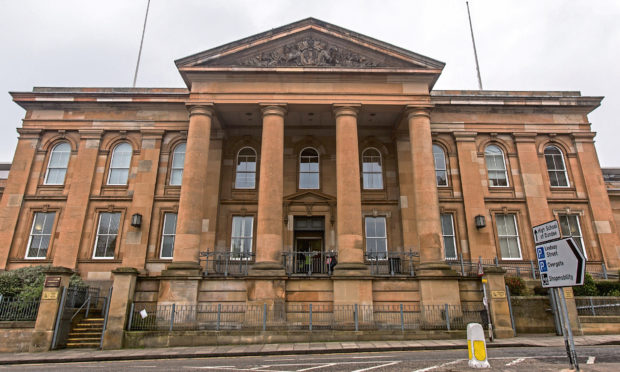 A handbag snatcher who targeted a petite woman in Dundee in a "mean spirited" attack has been jailed for 14 months.
David Stewart assaulted 5ft 2in Pamela Hagen and grabbed her handbag, causing her to fall to the ground, before running off with it in Dundee's South Road.
He then made his way through Buttar's Loan and Ross Gardens, where he was spotted carrying the bag by a member of the public who became suspicious and called the police.
Among the contents were a mobile phone, purse, £50 in cash, bank cards, a car key, sunglasses and a box of chocolates.
The court heard 48-year-old Stewart was "utterly ashamed" of the offence, which he committed on September 28 when he was in the grip of a Valium addiction.
The unemployed father-of-two has previous convictions including for police assault, break-ins and breach of court orders.
Procurator Fiscal Stewart Duncan said: "At around 6.10pm she (the victim) saw Mr Stewart leaning on a wheelchair user's chair.
"She continued walking and saw that the accused was unsteady on his feet.
"As she continued her journey home she became aware of the accused behind her.
"She felt the accused grab her handbag and he pulled her, causing her to fall to the ground.
"She tried to hold on to her handbag but he pulled it off her and she screamed.
"A witness saw this and went to help."
The court heard the woman was not physically injured in the attack.
Stewart's solicitor, Jim Laverty, said his client had been going through personal difficulties at the time, including the death of multiple family members through alcohol and drug abuse.
He said: "He acknowledges that that this was a mean spirited and serious offence and that this would have frightened the lady involved.
"It was not pre-meditated. It appeared to be a spur of the moment incident.
"Mr Stewart is absolutely and utterly ashamed of himself.
"He tells me he does not recognise the person who committed this offence as being him. He was in the grip of a Valium addiction after he suffered a number of personal tragedies and traumas."
Sheriff Alastair Carmichael told Stewart there was no alternative to custody and backdated his sentence to November 15, when he was first remanded in custody.