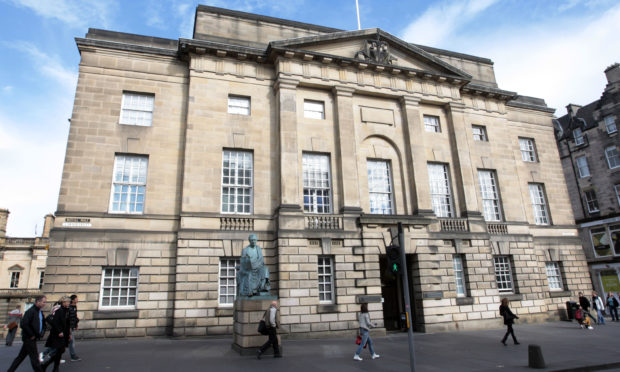 A drunken knife attacker who left part of a blade embedded in his victim's face during a vicious assault was jailed for six years yesterday.
Lee James, 35, savagely wounded Lee Deamer after arming himself with two knives and threatening regulars at a pub.
At the High Court in Edinburgh, Lord Boyd of Duncansby ordered that James be kept under supervision and monitored for a further three years.
Before assaulting Mr Deamer, James had already attacked John Allan on High Street, in Dysart, Fife, by striking him on the face with a bottle.
James, formerly of High Street, Dysart, was charged with attempting to murder Mr Deamer, who was aged 32 at the time, on May 31 last year.
The Crown accepted his guilty plea to a reduced charge of assaulting Mr Deamer to his severe injury, permanent impairment and disfigurement and to the danger of his life.
He also admitted assaulting Mr Allan on the same date, behaving in a threatening manner and illegally possessing two knives in a public place.
Advocate depute Barry Smith said the assault victims were at Baxter's Bar in the High Street.
He bought a drink in the pub and went to the front door with it. Another patron told him he was not allowed to drink outside and he should go back inside.
James immediately became aggressive and threatened to take him on. Mr Deamer also went outside and tried unsuccessfully to pacify James, said Mr Smith.
Mr Allan also joined the group outside and James declared "I'm gonna do you all".
He then swung a bag containing the bottle and struck Mr Allan on the face with it before walking off.
But five minutes later James returned to the pub with a knife in each hand and tapped on a window at the bar and shouted: "You're all f***ing dead."
Mr Deamer left the bar to speak to James and as he approached him saw he had a knife in his right hand.
Mr Smith said: "The accused then swung his left hand and struck Mr Deamer on his left cheek. As the accused drew his hand back, he became aware of something in his hand. He realised that he was bleeding."
The victim was taken to hospital for treatment and police were contacted.
James, who has previous convictions for violence and weapon possession, had drunk "a considerable amount of alcohol".
Defence solicitor advocate Iain Paterson said: "Because of the amount of alcohol he consumed clearly his level of ability to control himself was vastly reduced."