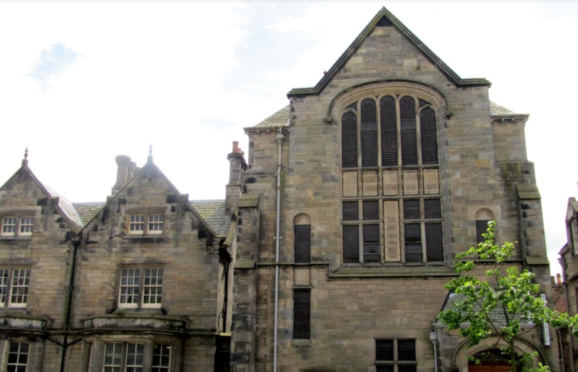 A "mean" thief who has been jailed 41 times is back behind bars after stealing a man's wallet during a Sunday church service.
John Copeland sneaked into the Baptist Church in South Street, St Andrews, and stole a wallet which was in the pocket of a jacket left near the door.
He then bought tobacco and other items totalling £154.30 from Morrison's supermarket with a bank card from the wallet,  splitting up the purchases into smaller groups to get them under the £30 contactless payment limit.
The 41-year-old was caught when Mr Miller's bank contacted him to alert him to "suspicious" activity relating to his card.
The theft came after another identical offence weeks earlier in which he stole a man's wallet from a car parked on the victim's own driveway.
Copeland used a card he found in the wallet to buy £200.92 worth of alcohol, tobacco and other items from Spar and Morrison's.
His spending sprees were captured on CCTV and when confronted by police, he said he had "found" the credit cards, adding that his recollection of events was "vague".
Copeland, a prisoner at HMP Perth, pled guilty to two charges of theft and three of fraud committed on November 26 and December 2 last year.
Defence solicitor David Bell said: "He has accepted responsibility.
"He has been using heroin for a number of years. On January 16 last year he was released from prison and remained clear of drug use until late summer.
"It got out of hand and he was resorting to theft to fund his addiction. He has had many disposals and 41 previous jail sentences."
Sheriff Alastair Brown rejected the suggestion of a community-based sentence and  jailed Copeland for a total of 16 months.
Addressing Copeland, he said: "I'm satisfied that nothing other than a prison sentence is appropriate.
"It might have been different if you had shown signs of getting help when you were at liberty, but I'm not going to spend public resources when you have made no effort to get any help for yourself.
"These were mean offences which will no doubt have caused the victims inconvenience and loss.
"People ought to be able to go to places of worship – Christian or otherwise – without worrying that someone is going to come in off the street and search through their property."