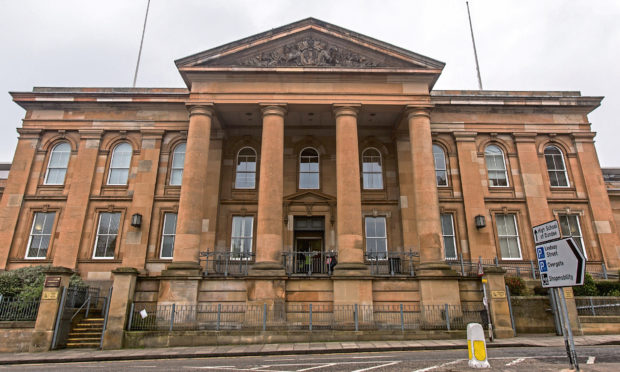 A 58-year-old man will stand trial accused of having sex with a child, stalking her when she was at church and threatening to disclose intimate photographs of her.
Derek Scotland faces a total of seven changes in relation to the same girl, who was aged between 13 and 16 at the time of some of the alleged offences.
He faces a further five charges relating to nearly a decade of alleged drug dealing and possession at his home in Peddie Street.
Scotland is accused of engaging in sexual activity with a child on a number of occasions between August 2, 2013 and August 1, 2015 by having her perform an intimate act on him, carrying out a sexual act on her and attempting to have sex with her.
On an occasion between August 2, 2014 and August 1, 2015, he was alleged to have taken a photograph of the girl naked and to have photographed himself engaging in sexual intercourse with her.
A further two charges accuse him of taking or permitting to be taken indecent photographs of a child and possessing an indecent photograph of a child with a view to distributing it to others, on occasions between April 23, 2017 and November 16, 2017.
Scotland is also said to have engaged in a course of conduct causing the girl fear and alarm by repeatedly calling her, sending messages of a threatening and menacing nature, repeatedly going to her home address and trying to gain entry, between November 1 and November 21, 2017.
Between the same dates, he was alleged to have repeatedly threatened to disclose a number of photographs showing the girl in an intimate situation, with the intention of causing fear, alarm or distress.
On December 25, 2017, around a month after having been granted bail, Scotland allegedly breached a condition banning him from contacting or approaching the alleged victim.
He was said to have approached her at Nethergate and South Tay Street, as attending at a church he knew she frequented and pointing a mobile phone in her direction.
A further three charges accuse Scotland of being concerned in the supply of cannabis, cannabis resin and Ecstasy at his home address between  January 16, 2006 and November 21, 2017.
On November 21, 2017, he was alleged to have been in possession of Ecstasy and  Amphetamine.
Scotland denies all of the charges against him and the case has been continued until June 5.