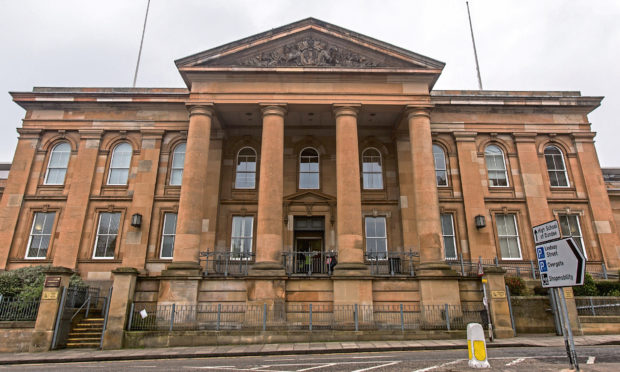 A former drug trafficker who broke into a Dundee woman's home was traced through Facebook after he repented and left his phone in the flat so he could be identified.
Joseph Hughes was in the "depths of despair" due to arrears and crisis loan repayments which had left him with less than £5 a day to live on, a court heard yesterday.
The 54-year-old was previously sentenced to five years in prison after being caught with £25,000 worth of heroin when he was acting as a drug courier for the Dundee-bound haul in 2014.
Dundee Sheriff Court was told that after coming out of jail, Hughes tried to clean up his act by giving up drugs, studying at college and applying for more than 100 jobs.
However, his applications were rejected and he ended up relying on benefits, food banks and churches for help.
On January 12 he broke into a flat on Magdalene Yard, before changing his mind and leaving behind a hat containing his DNA, as well as a mobile phone on which the occupant was able to see his Facebook profile.
Hughes' solicitor, Paul Parker-Smith, said his client did so intentionally so he could be caught.
"He tells me he started to dabble in drugs aged 25," he said.
"He had been associating with the wrong sort of people and found himself incarcerated.
"When he was in jail he was introduced to heroin and became addicted. This has led to a number of convictions.
"He knew something had to change, and during his last sentence he successfully came off the drugs.
"He did his best to better himself. He obtained some qualifications and applied online for over 100 jobs, but was not successful."
Hughes was released in December 2017 and signed on benefits, but was left with £144 a month after debt payments.
Mr Parker-Smith added: "He found himself in the depths of despair.
"He relapsed into drug misuse and he tells me it was in those circumstances he found himself breaking  into the premises.
"He tells me that after he removed the window he changed his mind and walked away leaving his hat and phone so that he could be discovered. It was intentional."
Hughes admitted the offence. He also pled guilty to reset involving a bag of stolen photographs and passports at Shepherd's Loan on March 30.
Sheriff Alastair Carmichael jailed him for 11 months, saying he had no other choice due to his criminal record.