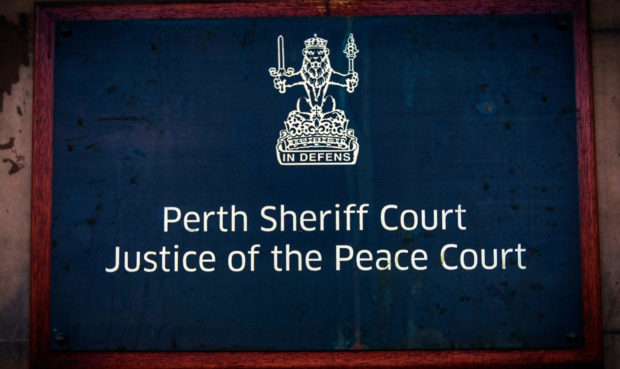 A Dundee mugger who targeted frail elderly women stole from one's zimmer frame and knocked another to the ground as he robbed her of just £10.
David Stewart, 49, carried out both robberies to get drugs money after being released early from a prison sentence imposed for an identical crime.
On Tuesday at Perth Sheriff Court, Stewart, from Dundee, was jailed for 33 months after he admitted carrying out the robberies in his home city.
The crimes were branded "vile" by Shadow Justice Secretary Liam Kerr, who said the case underlined the need to support drug users.
Depute fiscal Eilidh Robertson told the court Stewart would have been in jail for another six months if he had not been freed early.
He was back on the streets of Dundee begging on September 16 when his first victim, a 76-year-old woman, was getting money from a cash machine.
Miss Robertson said: "She went to the ATM on Lochee High Street and withdrew £50. She put it under the pouch on her zimmer frame.
"The accused told his friend he was rattling for a hit and was begging to get money for drugs. He followed her.
"The accused reached on to her zimmer frame pouch and snatched her purse before running away. "
Miss Robertson said Stewart then targeted an 83-year-old woman as she walked home from buying a newspaper and lottery ticket at a local shop.
She added: "She became aware of the accused grabbing her handbag and jerking it away. This caused her to fall to the ground. It contained personal items and £10 cash."
She told the court the victim – who had to be lifted into an ambulance and taken to Ninewells Hospital – suffered a number of injuries including a broken wrist. She also underwent an operation.
Sheriff Lindsay Foulis noted Stewart had been jailed for 14 months for assault and robbery in 2019 but was already free by the time of the incidents last year.
Stewart admitted theft and robbery charges.
The sheriff said: "It goes without saying both these offences are nasty. The consequences may have a significant bearing on her for what remains of her life, bearing in mind she is 83."
Solicitor Kevin Hampton, defending, said his client had returned to heroin abuse within days of being released from prison in June.
He said his client was desperate for drug money and had acted "opportunistically" when he saw his first victim taking money out of the ATM.