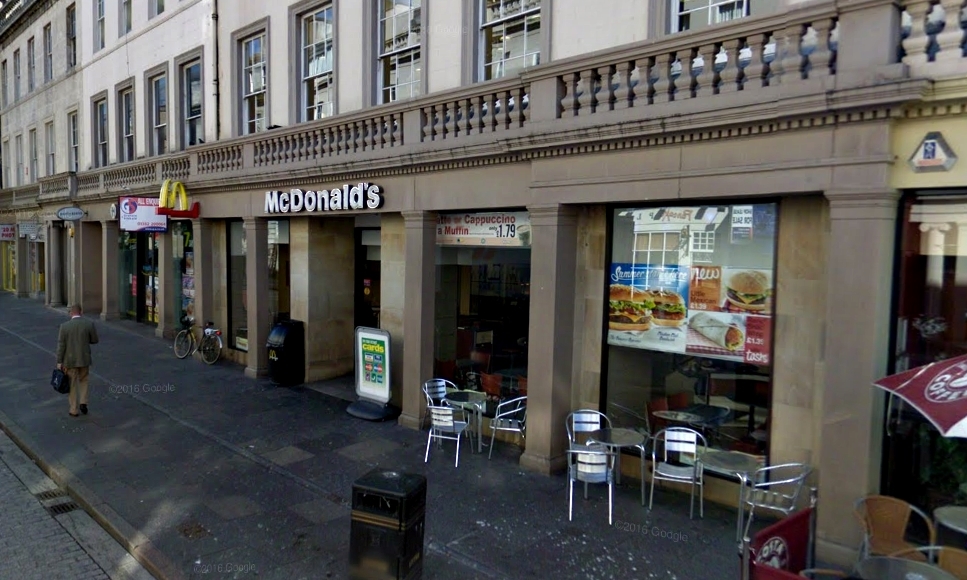 A Dundee man who  threatened staff at a fast food restaurant while drunk and then forgot all about it has walked free from court.
Peter Stewart was so drunk he failed to realise he had abused workers in McDonald's on Reform Street – until he 
casually walked back in to order breakfast.
Stewart entered the McDonald's branch around 10.40pm on December 1 last year and told servers: "Get me something to eat, I'm starving".
After issuing a number of unintelligible orders, he began to swear at staff and then directed a tirade of homophobic remarks towards the manager as he intervened.
Dundee Sheriff Court was told Stewart was asked to leave and did so – but only after making a number of threats.
He said: "You're lucky I haven't punched you" and then "You're lucky I don't jump over there and break all your bones".
Stewart then told the manager he'd "better watch out" before leaving after being told the police had been called.
Officers arrived and viewed CCTV footage but could not trace him.
The 55-year-old delivered himself into their hands, however, when he re-entered the branch a few days later and calmly ordered breakfast.
He was recognised by staff and identified to police who arrested the shocked diner. He told them he could remember nothing of the incident.
Stewart, 55, of Perth Road, admitted behaving in a threatening manner on December 1 last year by repeatedly shouting and swearing, uttering threats of violence, making homophobic remarks and making rude gestures with his hand.
His solicitor told the court: "He has no knowledge of this and perhaps that is supported by the fact that he came back for breakfast a few days later."
Stewart was admonished during a short hearing at Dundee Sheriff Court.
Sheriff Tom Hughes allowed Stewart to walk free from court because he was convinced the 55-year-old has been of good behaviour since the incident took place.