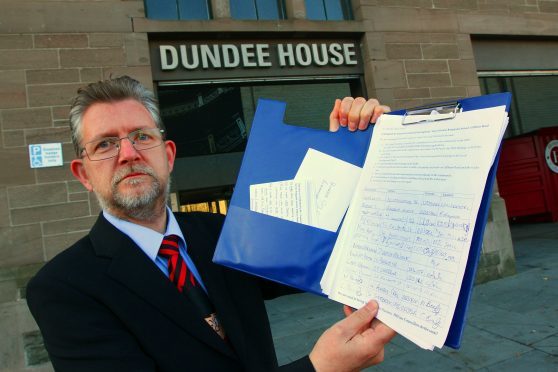 Dundee activists have lodged a last-ditch effort to block a bid to build homes on their local green space.
Land at the site of the former Kingspark School, on Gilburn Road, has been the subject of fierce debate for years.
People living nearby say they feel "betrayed" by Dundee City Council and have accused the authority of backtracking on previous promises to leave the area to the public.
The land was sold to Persimmon Homes North Scotland in a rumoured £3 million deal last year.
The firm is now proposing to build 62 new properties on the site.
Campaigners have repeatedly called for the plans to be rejected and yesterday Stephen Cragg, who lives near the hotly disputed space, handed in a petition with 360 signatures to Dundee City Council.
Mr Cragg wants councillors to reject the scheme and rethink their decision to allocate the space for private development.
Mr Cragg said: "Our primary aim it to get the council to hold their promise from 2003 — that the land should be given to the community as promised.
"At this stage, there is a planning application in place which we want councillors to reject.
"The land has never been built on before, it is a beautiful open space used since the turn of the last century.
"There is a sense of anger and betrayal. What's the point in making promises to the community if you're not going to follow them through?
"It destroys your faith in what you're being told by the people you elect."
Mr Cragg said protesters were delighted by the show of support in the local area and have vowed to continue the campaign to prevent building.
He said: "We want to see this defeated and for Dundee City Council to say let's honour the wishes of the community and make this a community greenspace.
"This petition was submitted on behalf of the Kirkton Community and Safety Partnership. We are really delighted at the level of support we got from the community."
A spokesperson for Dundee City Council said: "While it would not be appropriate to comment on individual applications, the planning system allows opportunities for people to have their views considered as part of the process."