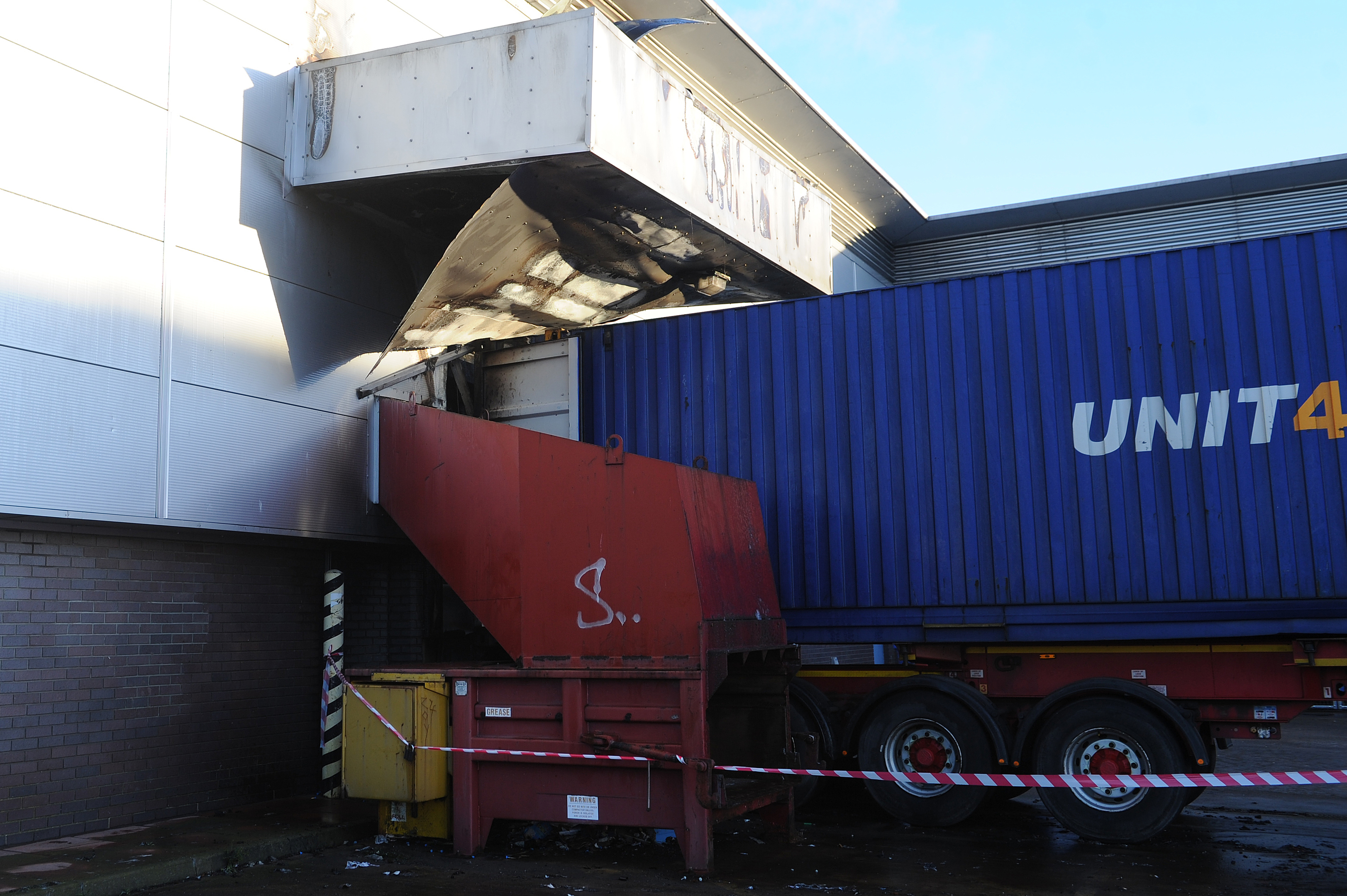 Two hapless crooks who sped on bikes to steal fire-damaged toys from a skip after hearing on social media they were to be dumped have avoided jail.
Scott Ney and Michael Pattie broke into a lock-up full of toys, children's equipment and car seats which had been written off following a fire a the Toys' R' Us store on the Kingsway n Dundee.
The pair heard on social media the items were to be sent to a landfill, following a fire which tore through the popular store in March.
The fire-damaged goods had been written-off by the company's insurers and both Ney and Pattie initially believed they were not committing theft.
In fact, they claimed they had been told by a lorry driver at the Kingsway site where they would be able to find the lock-up the doomed toys were being kept, prior to their disposal.
Depute fiscal Isma Mukhtar told Dundee Sheriff Court: "On May 3 a member of staff responsible for ensuring the premises were secure noted the door had been damaged and it looked like it had been kicked from the inside.
"They found a mobile phone which was not recognised but at this time there was no confirmation anything had been taken.
"On May 5 it was noted a vehicle had returned to the locus with two males inside.
"The two were confronted as they made their way to the side of the building, telling a member of staff they were just there to 'collect something'.
"Both males had a handful of boxes and began loading these into a vehicle.
"Police were called and CCTV was viewed. Police were able to identify the accused and on May 26 a search warrant was granted.
"Police attended Ney's home address where some of the items were discovered and recovered and as a result Ney was arrested.
"He was detained, cautioned and charged and made no reply. The co-accused was arrested following the first accused's arrest."
The court heard the stolen items had been valued at £400, but they could not provide a definitive full value.
Defence solicitor advocate Kris Gilmartin, representing Ney, told the court his client was expecting his first daughter with his partner before the crime took place and Ney was looking for items for the baby.
He said: "The items had been written off and were heading for landfill.
"The accused cycled to Toys' R' Us to see if they could get any of the items.
"A lorry driver said the items were being taken to a unit then to the landfill site.
"He advised them the site…was only secured by a perspex sheet.
"Mr Ney then removed it.
"I am advised from the summary of evidence that the unit contained the smoke damaged goods written off by the insurance company, which were to be taken to landfill and had no value.
"Had they been gifted by Toys' R' Us then the pair would not be in court today.
"Mr Ney had been told by a driver where the items could be found.
"He formed the view that because these items were going to be scrapped he would not be committing an offence by taking them.
"When police attended his house they took a large number of gifts which had been given to him and his partner from friends.
"He is still engaged in attempts to recover some of these from the police."
Pattie's defence solicitor Lesley Beats told the court her client had taken a similar view to Ney, that because the items were headed for landfill, he was not stealing, but now he had been through the court process he accepted the fact this was not the case.
Sheriff Alastair Brown said: "Let's try to get this understood. It may seem to you like splitting hairs that something damaged and going to landfill is someone's property, but it is someone's property.
"Had it gone to landfill it then becomes property of the council and you would still have been stealing.
"Had these items not been destined for landfill and you had not realised what Scots Law in the 17th and 18th century had deemed property then you would be going to jail."
Ney, 25, of Moncur Crescent and Pattie, 26, of Rosefield Street, pleaded guilty to braking into the commercial premises of Gregory Cosgrove GRC Skip Hire on Nobel Road and stealing a quantity of prams, push chairs, toys, buggy boards and baby car seats between May 2 – 4, both days inclusive.
Sheriff Brown imposed a restriction of liberty order on Ney for a period of 22 weeks and deferred sentence on Pattie for four weeks for a restriction of liberty assessment.