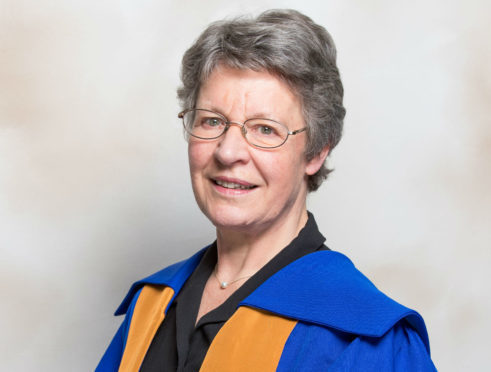 An eminent astrophysicist has been named as the new chancellor of Dundee University.
Dame Jocelyn Bell Burnell was unveiled as the institution's new ceremonial head on Tuesday afternoon following a meeting of the university court.
She will take over the role from Lord Naren Patel, who announced his retirement last year and joins the likes of Her Majesty the Queen Mother and Sir James Black as figurehead for the 50-year-old university.
The world renowned space scientist was the first ever female president of the Royal Society of Edinburgh and is credited with the discovery of pulsars — rotating neutron stars that appear to pulse as the radio beam they emit sweeps repeatedly across the planet.
The discovery is regarded as one of the most significant scientific breakthroughs of the 20th Century.
Dame Jocelyn said she was honoured to have been offered her new role, which involves presiding over academic ceremonies such as graduations, as well as acting as president of the graduates' association.
She received an honorary degree from Dundee in 2017 and is a visiting professor at Oxford University.
Dame Jocelyn detected the first radio pulsating star in the late 1960s during a PhD project alongside her supervisor, Antony Hewish and researcher Martin Ryle, who both went on to collect the Nobel Prize.
She said: "I am honoured to accept the position of chancellor of the university.
"This is one of the world's top 200 universities, a centre of excellence in teaching and research, and I look forward to playing a role in Dundee's development in the coming years."
Ronnie Bowie, chair of the university's governing court, said: "We are delighted that Dame Jocelyn will be our new Chancellor.
"She is someone who will be hugely inspiring to our staff and students and who will ably represent the university's interests across a wide spectrum of activity."
Dame Jocelyn has endeavoured to become a role model for young students and female scientists across the globe.
She was appointed to CBE for services to astronomy in 1999, followed by a DBE in 2007, as well as being named Woman of the Year in 2015.
Her appointment follows the announcement last week Dundee University principal Professor Sir Pete Downes is to step down from his position as chief executive by the end of the year.