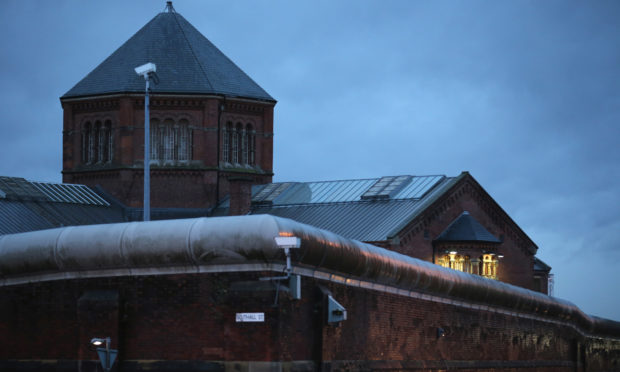 A prison lifer from Dundee who harboured a fantasy about committing murder tried to strangle a fellow inmate to death after he smoked the drug spice in his cell.
Wayne Hay, 41, who had served 16 years for trying to kill his ex-boyfriend had told an official he wanted to murder someone since he was a teenager.
He was placed in a cell with inmate Cameron Mann.
After taking the synthetic cannabis drug behind bars, Hay forcibly rubbed skin cream into Mann's head then used a cord from his prison issue tracksuit bottoms to throttle him.
Mann began struggling and kicking out with his legs as Hay warned him that he would kill him. He was able to force his fingers under the cord to ease the pressure.
The incident at Manchester Prison ended when an alarm was triggered and guards burst into the cell.
Mann recovered from the assault but was left with "prominent scarring".
It emerged Hay had revealed his fantasy to an offending manager in 2002 after he tried to suffocate his ex-boyfriend with a pillow and stabbed him with a knife.
He had also attacked other prisoners while serving his sentence.
At Manchester Crown Court, Hay admitted attempted murder and was given another life sentence with a recommendation he serve seven years before he is considered for parole.
Before the attack on August 4 2017 the pair had shared a cell for around three weeks and were described as "acquaintances".
In the weeks prior Hay had been heavily reliant upon drugs and had built up debts with other inmates for purchasing spice.
Prosecutor Mr Rick Holland said: "In the period leading up to the attack, nothing untoward had happened.
"Mr Mann suffers from psoriasis and uses cream. On some occasions, without invitation, the defendant had rubbed cream into his head. On the morning of the attack when they had been watching television, the defendant had rubbed cream on to his head again. He did not react, but Mr Hay took Mr Mann by the neck and took him off the top bunk.
"He put him on to the floor and thought he was messing about. He climbed on top of him and punched him to his eye. He realised that he was wrapping something about his neck and was pulling it tightly and could see anger and aggression in his face.
"He thought he might die if he could not resist the attack. He was struggling and kicking out with his legs. Mr Hay warned him that he would kill him.
Hay has 71 offences on his record.
Sentencing, Judge Michael Leeming told him: "Your violence is unpredictable and a sentence of life imprisonment is necessary. If and when you are released, you will be on licence for life."