VIDEO: Fife mum's Abertay tribute to Dundee-based son, 36, who died after passing of younger brother, 28
A Fife mum who lost two sons within four months has created a scholarship at Abertay University in Dundee.
Jackie Rowan, of Kirkcaldy, set up the scheme to support computer arts students from low income households in memory of her son Jody Gallagher, a talented video games artist who died in March.
Dundee-based Jody, 36, had struggled with the loss of his younger brother. Robert, a former scout for Celtic Football Club and the Scotland team, died from cardiomyopathy in November last year. He was just 28.
After studying at Abertay University, Jody went on to work for gaming companies including Blade Interactive, Outplay, and 4J. He set up his own games company and lectured for Dundee and Angus College.
Jackie said she wanted others to enjoy the kind of opportunities he was given. Video of her talking about the project is above this article.
"Jody studied at Abertay in the early 2000s, and always said his time there had been very important to him," she said.
"He'd been able to meet people who shared his passion and work with tutors who treated students as their equals. I wanted to create the scholarship to help someone who had the same passion for computer arts and desire to do well that Jody did."
Jackie said her son had a passion for art from an early age, and a drive to pursue it as a career.
"When he was 11 years old he got his first computer, and although he played games he wanted to look deeper into what made them work," she said.
"I wanted to do something to keep Jody's name out there."
She has launched a fundraising drive, including a crowdfunding campaign on the website justgiving.com.
The appeal has raised almost £3,000 towards its £5,000 target to date, pulling in donations from Jody's friends, family and work colleagues as well as complete strangers.
The total also includes £305 raised at Jody's funeral.
Jackie said: "We had already been raising funds in Robert's name for the charity Cardiac Risk in the Young, and as a parent I wanted to do something for Jody."
Fourth-year computer arts student Becka Clark has been named the first recipient of the Jody Gallagher Scholarship.
Becka said: "I am honoured to have been awarded this scholarship. It means a lot to me. I can't thank Jackie enough. This will make a huge difference to me as I move forward with my studies."
Dayna Galloway, head of the Division of Games and Arts at Abertay, said: "Jody was a much-loved member of the Dundee games community, and I would like to thank Jackie for this generous and meaningful scholarship.
"I think it's important to acknowledge just how hard she has worked to make it a reality. Her tireless drive to help people in the name of both Jody and Robert is nothing short of inspiring."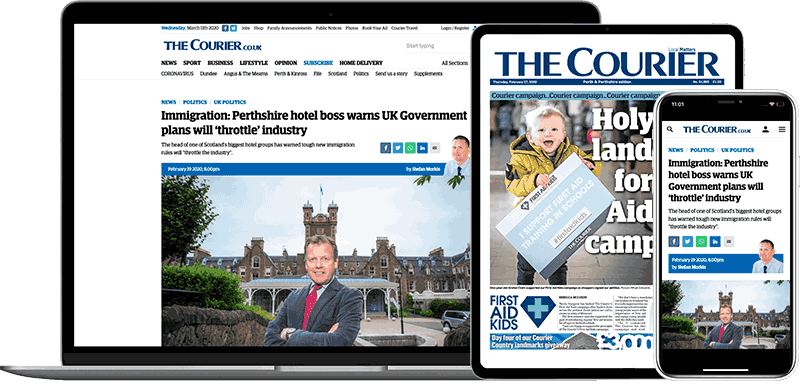 Help support quality local journalism … become a digital subscriber to The Courier
For as little as £5.99 a month you can access all of our content, including Premium articles.
Subscribe