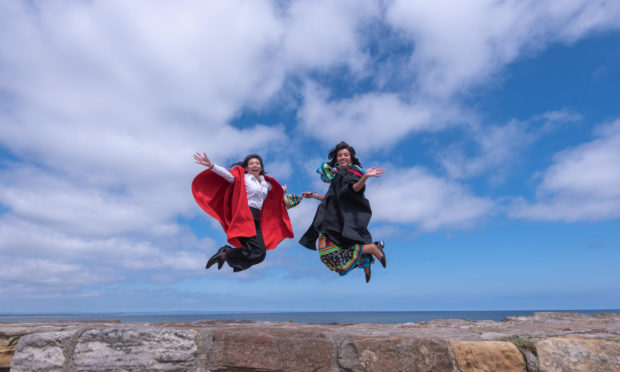 St Andrews University has retained its position as Scotland's top university and one of the top three in the UK, according to a new league table published on Tuesday.
For the second year in a row, The Complete University Guide has ranked St Andrews as the best in Scotland in its annual assessment of universities' teaching and research strengths.
It is just a few points behind rivals Oxford and Cambridge, which take second and first place respectively in the UK poll.
Dundee University has been named joint top for medicine along with Glasgow, with St Andrews ranking eighth in the subject, strengthening Scotland's position as a global leader in medical excellence.
St Andrews is one of  three Scottish universities to make the top 20, along with Edinburgh in 15th and Glasgow in 19th.
St Andrews principal, Professor Sally Mapstone said the ranking was an honour.
"These are encouraging and very cheering results for St Andrews and a testament to the hard work and commitment of our staff and students," she said.
"It's an honour to be top in Scotland in such a competitive and high-quality field north of the border.
"The global strengths of our universities in Fife and Tayside are something of which we should be proud."
She said she was particularly pleased by the gains made by the School of Medicine, at a time when strengths in medicine and medical research are more crucial than ever.
"It is, however, vital at a time of global change and unrest that St Andrews and other Scottish universities are able to continue to compete on a world stage and use our collective expertise for a better world," she added.
"The future of universities has never been so fragile in light of the current coronavirus pandemic but this is also a time when universities can demonstrate their true value to society."
Dundee University also welcomed the ranking for its school of medicine.
Professor Rory McCrimmon said: "This is an excellent result that shows once again that Dundee is among the very best places to study medicine.
"We see our students as doctors in training from day one so they are engaged with clinical practise right from the start of their  course.
"This means they are ready and prepared to make an immediate impact to our health services by the time they graduate.
"That is something which has been exemplified  by our most recent graduates, many of whom have answered the call to help the NHS in these challenging times."