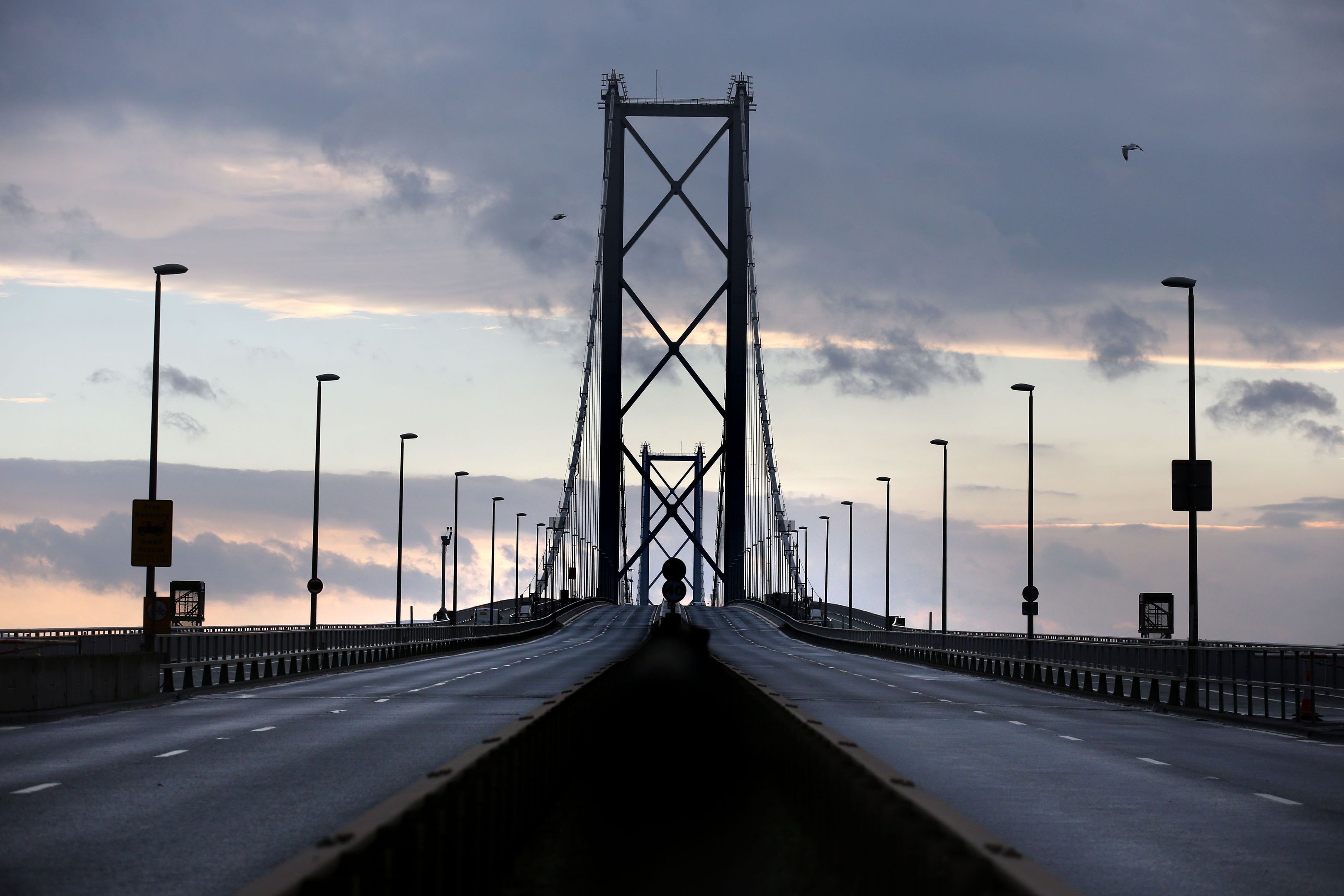 One of the busiest bridges in Scotland was left completely deserted this today after its new £1.35 billion neighbour opened to motorists.
The Queensferry Crossing connecting Fife and Edinburgh began welcoming motorists in the wee hours of Wednesday morning following six years of construction.
There were delays during morning rush hour as hundreds took to the tarmac of the new structure, with huge tailbacks after a lorry broke down on the route at about 7am.
However excitement around the Queensferry Crossing has left its neighbour, the Forth Road Bridge, completely empty.
Absolute scenes on the Forth Road Bridge @edintravel pic.twitter.com/pmKcgzEMmz

— Edinburgh Spotlight (@edinspotlight) August 30, 2017
Remarkable video footage taken this morning shows the normally busy route, which was opened in 1964, completely deserted – save for the odd dog walker.
Alastair Dalton live on the Forth Road Bridge https://t.co/JPrIBE4tY6

— Alastair Dalton (@AlastairDalton) August 30, 2017
The official Twitter account for the Forth Road Bridge has even posted to its followers, urging them not to forget it.
Come Friday, the Queensferry Crossing will close again to allow for 50,000 lucky ticket holders the once in a lifetime chance to walk over the new bridge on September 2 and 3.
See you on Friday everyone – don't be a stranger! 😉

— Forth Road Bridge (@forthroadbridge) August 30, 2017
The Queen will officially open the crossing on September 4 – the 53rd anniversary of the day she opened the Forth Road Bridge.
Hey @forthroadbridge (both of you) don't fret despite @FRC_Queensferry getting all the attention (rightly!) you're still loved…!

— Humza Yousaf (@HumzaYousaf) August 29, 2017
The Queensferry Crossing has an initial 40mph limit, put in place amid fears of "driver distraction", but will become a 70mph motorway in due course.
VIDEO: First journey across the new £1.35 billion Queensferry Crossing
Let's not forget the old bridge which has done it's job so well over time @TheForthBridges #scotland #scotspirit #edinburg #photography pic.twitter.com/A1THU44h3L

— PK Perspective (@PKPerspective) August 28, 2017