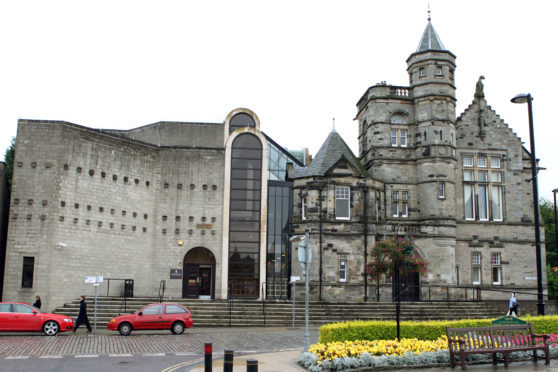 A violent thug who stabbed his victim in the eye with a broken golf club during an hour long attack has been jailed for four years.
Christopher Kelly launched the savage assault at a property in Cullen Park, Glenrothes, on July 6 following a drug-related dispute.
The 37-year-old entered the property and began to stab and slash Alexander Fyffe on the head and body while he lay on a bed.
He then beat his victim with a golf club, which broke into three pieces, before dragging Mr Fyffe into the living room of the property, where he questioned him for an hour.
The court was told how Kelly demanded his victim call him "sir" or "master" during the ordeal and said he would stab him if he did give satisfactory answers.
Kelly, a prisoner at HMP Perth, appeared at Kirkcaldy Sheriff Court  where he admitted assaulting Mr Fyffe to his severe injury, permanent disfigurement and to the danger of his life.
Depute fiscal Sarah Lumsden said: "The accused dragged Mr Fyffe to the living room.
"He sat witness Fyffe in a chair for around an hour or so, questioning him.
"He demanded that witness Fyffe call him sir and master and continued to stab and strike him on the head if he felt witness Fyffe failed to answer a question to his satisfaction.
"The accused continued to assault witness Fyffe with the golf club and the top section of the club broke off.
"The accused then stabbed Mr Fyffe to the right eye with the sharp broken shaft of the club."
She said that Kelly eventually left the property, taking his victim with him, before calling an ambulance.
Kelly, a father-of-two, held a knife to Mr Fyffe's throat and told him to tell the call operator he had been attacked after being caught breaking into a shed.
Mr Fyffe was eventually taken to the Victoria Hospital in Kirkcaldy suffering multiple injuries including five puncture wounds.
Witnesses told how he was "almost unrecognisable" because of the amount of damage to his face.
Defence solicitor Graham Inch said the assault came about as a result of a "fall out between drug users".
He added: "There are no hard feelings between the two and matters appear to have been resolved."
Sheriff James Williamson handed a four year prison sentence to Kelly for the "grotesque attack", backdated to July 9.