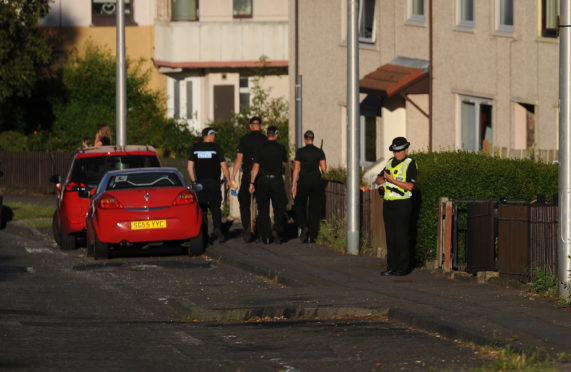 Two men from the west of Scotland are to stand trial in relation to an alleged firearm incident in Kirkcaldy.
David Hough, 38, and Alan Steele, 28, are accused of threatening a man as they demanded payment of a debt and pointing a firearm or imitation firearm through his letterbox.
The incident is alleged to have happened in Valley Gardens last summer.
A heavy police presence was reported in the town's Templehall area in the early evening of July 3.
Locals reported seeing an armed response unit and dog handlers.
A cordon was erected as a search of neighbouring gardens and roadside undergrowth was carried out.
Hough, of East Kilbride, and Steele, of Glasgow appeared on petition the next day at Kirkcaldy Sheriff Court.
They returned to the court on Tuesday for the latest hearing in the case.
Both men deny they behaved in a threatening and abusive manner, and are due to stand trial shortly.
The pair are alleged to have travelled to the home of Harpal Singh Sehra in Valley Gardens and to have demanded payment of a debt.
It is alleged they repeatedly struck his door and a window as they tried to get into his home and tried to open Mr Sehra's windows.
Prosecutors allege the pair put a threatening note through his letter box when they were unable to gain access.
The court heard a vehicle had been seized and searched during the police investigation into the incident.
A ballistic examination was conducted and the front door of Mr Sehra's home was removed for inspection.
At an earlier hearing, the court heard a police search for the weapon referred to in the charge had been unsuccessful.
Steele's solicitor, advocate James Mulgrew, said he needed more time to conduct investigations for his defence.
A further hearing was set for July 9 and the 12-month time bar was extended.