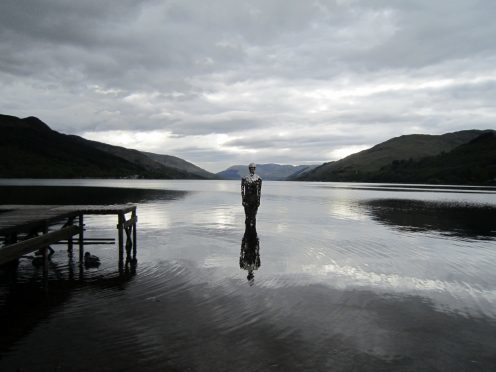 The artist behind one of Scotland's most photographed artworks has vowed to provide a replacement after it was permanently removed from its loch-side home.
Still, which was made from hundreds of mirrored tiles and became popularly known as Mirror Man, has been a popular tourist draw since it was installed in Loch Earn at St Fillans in 2014.
However, the statue was "put into retirement" over the weekend after its owner decided to move it to a new home.
Artist Rob Mulholland, who gave much of his time for free when creating the statue, said he only found out about its removal through a Facebook post.
The nearby Four Seasons Hotel came in for criticism after posting pictures of the removal process. However, bosses insisted the move was out of their hands.
Writing on Facebook they said: "Unfortunately Still does not belong to the hotel, the community or the council.
"His owner has decided it is time he leave his place watching over the loch and move on.
"We do not have a say in this and we are saddened by his loss."
Still has drawn comparisons to Anthony Gormley's Angel of the North or the Little Mermaid statue in Copenhagen after figuring in countless photographs over the last three years.
Artist Rob said he was "disappointed" by the removal, but planned to work with the owner , whose identity has not been revealed, and the community to either reinstate Still or provide a replacement.
He said: "When I made the sculpture it was under the proviso that it was to be there for the public – that was one of the reasons I agreed to make it.
"I'm determined that there will be a positive outcome – even if I have to make another sculpture and gift it to the community.
"As far as I'm concerned it will happen but it will take a bit of time.
"I'm not going to let the community be let down – if they want it, I will do it."
He added that rumours that Still had been put up for sale for a five-figure sum were "hearsay" and insisted that he has an agreement giving him first option to buy  the sculpture.