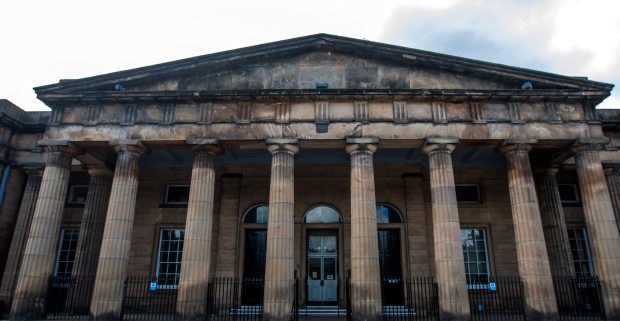 A court has heard how two groups of young men met for a mass brawl in the centre of Dunkeld and then chased each other at speed along the A9.
The combatants gathered in the tourist town's Atholl Street at around 6.30pm where they faced-off and traded threats and insults.
As matters threatened to spin out of control one member of the party is said to have flashed what is believed to have been a knife.
Perth Sheriff Court heard the two groups then broke up, with one set of friends jumping in a Ford Fiesta and driving-off toward the A9.
A second group piled into a Seat Leon and gave chase, following through Dunkeld and out on to the A9.
At the wheel of the second vehicle was Liam Robb, then aged 19, who put his foot down to close the distance.
Depute Fiscal Michael Sweeney said: "The two groups had been within the centre of Dunkeld for an arranged fight, though the fight did not take place.
"In order to catch up with the other vehicle, Mr Robb's car was travelling at excessive speed – though there is no indication of the actual speed.
"He drove for around two miles at this speed before catching up with his target vehicle.
"There was then a separate incident, which has been the subject of another prosecution. It did not involve the accused."
Robb was subsequently cautioned and charged though for one reason or another it took two years for the case to be resolved.
Robb, of Bruce Gardens in Dunkeld, admitted driving carelessly on the A9 on November 4, 2015, and at excessive speed for the road and road conditions to enable him to catch up with a second vehicle.
He also admitted driving without insurance.
Solicitor David Holmes said: "One of the protagonists in the other group had produced what is understood to have been a knife and then fled the scene.
"One of the persons in Mr Robb's company has wanted to 'speak' to the individual, for want of a better word.
"This resulted in a separate prosecution that led to a community payback order.
"Mr Robb stupidly got into the car and decided to drive after the individual."
Mr Holmes said his client, now 22, worked as a tractor driver on a number of local farms and had not been in trouble since the incident.
"His employer has found him to be a sensible young man," Mr Holmes said.
Sentence was deferred until January 15.