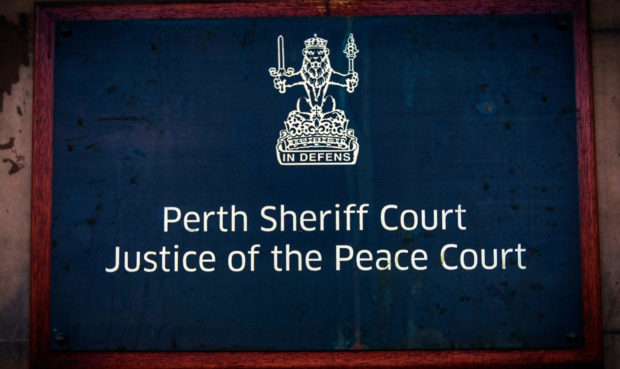 A serial rapist found one of his victims and taunted her with a sinister threat just six days after being released several years early from prison.
Alan Radcliffe left his victim terrified when he confronted her in the street after being freed four years into an eight-year prison term and said: "It's not over."
The sex offender then forced her to give evidence against him in front of a sheriff and a jury at Perth Sheriff Court.
After the jury found him guilty of acting in a threatening or abusive manner towards a woman he previously raped, Sheriff William Wood jailed him for two years.
The sheriff said: "There is no doubt in my mind, and in the jury's, that this is a lady who has been seriously traumatised by you on more than one occasion.
"You made the remark and it was clearly threatening. It was a significant threat to her health, welfare and safety.
"There's no doubt she remains fearful of you given the context this offence took place in. I am taking into account the significant effect and retraumatising of her by forcing her to give evidence in court yet again."
His victim, who cannot be named, said: "I have no words to describe the anger I feel at this man being allowed out of prison early and being able to find me.
"I've lost my life; lost everything because of what he did to me. Now I've had to relive it all again and give evidence a second time because he was allowed to get to me.
"I shouldn't have to feel like this. It's a disgrace. Who is the system protecting – me or my rapist?
"The two-year sentence is nothing. Will he do the two years? That's what's going through my head. What's he going to do when he gets out? He shouldn't be out at all."
Radcliffe claimed he had simply turned the corner and bumped into his victim by accident.
Radcliffe, from Perth, was jailed for eight years at the High Court in Edinburgh on March 19 2014 after forcing his victims to give harrowing evidence against him for several days.
The 34-year-old was convicted of assault, two rapes and making threats against four women.
Ch Supt John Thomson, of Police Scotland, said: "Radcliffe is a dangerous and manipulative man.
"Women were frightened of him but they spoke to police, detailing some of the horrors they suffered at his hands."
Radcliffe was approved for early release and was freed on October 24.
A Scottish Government spokesman said: "Any breach of sex offender notification requirements can lead to a further conviction and sentence."