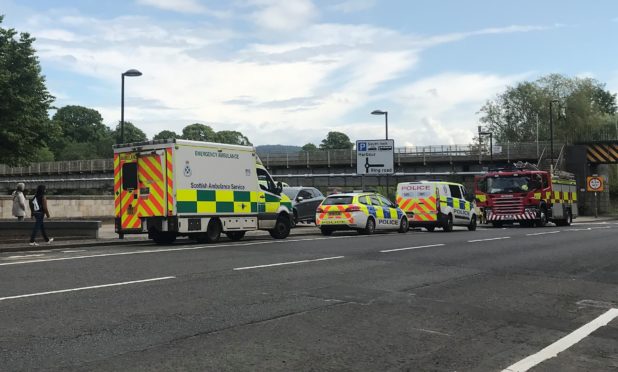 A wife jumped into a fast-flowing river and refused to get out until the emergency services brought her husband from jail to speak to her.
Sheila Wyllie, 46, stood in the River Tay and listed her demands as a full-scale rescue operation was mounted over fears she would be swept away.
She was eventually pulled out of the water by firefighters but three days later Wyllie returned and hurled herself into the river a second time.
When rescue officers again managed to drag her out of the water, she told them that she would continue to go back in until her demands were met.
Wyllie, of New Row, Perth, admitted breaching the peace on 15 and 18 June by entering the River Tay in Perth and refusing to leave the water unless her demands were met.
Sheriff Gillian Wade told Wyllie: "Public services were brought out for no good reason other than for your attention-seeking and that will not do.
"People having real emergencies were deprived of the services of these people because you were not doing what was being asked of you.
Emergency services rush to Perth city centre over concern for woman in River Tay
"It is serious offending when it comes to the cost of bringing out the Scottish Fire and Rescue Service on two occasions."
Fiscal depute Tina Dickie told Perth Sheriff Court yesterday: "At 3.30pm a member of the public called police to say there was a female in the water.
"Police tried to engage with the accused. She stated she was in the water because she wanted to speak to a friend and demanded the police brought the friend to her.
"She was repeatedly asked to leave the water but refused to do so unless the friend was brought.
"Ambulance and fire crews attended and it was the latter who entered the water and brought her back to shore."
Wyllie was given medical and mental health checks but was deemed fit and allowed to return home. Three days later she got back into the Tay.
"She was traced by police in the water up to her knees. She was near the shore and leaning against one of the pillars of the railway bridge.
"Police asked the accused why she had entered the water and she stated 'I want my husband brought here.'
"Although the water she was in was relatively shallow, it was fast moving and there was great concern she would fall and become involved in a far more serious situation."
Again, the firefighters got into the River and pulled Wyllie out. "She told police she would simply keep entering the water until she got what she wanted," Mrs Dickie said.
"She said she was simply using the situation to get what she wanted, namely meeting her husband who was in prison."
Sheriff Wade deferred sentence for six months for Wyllie to be of good behaviour.