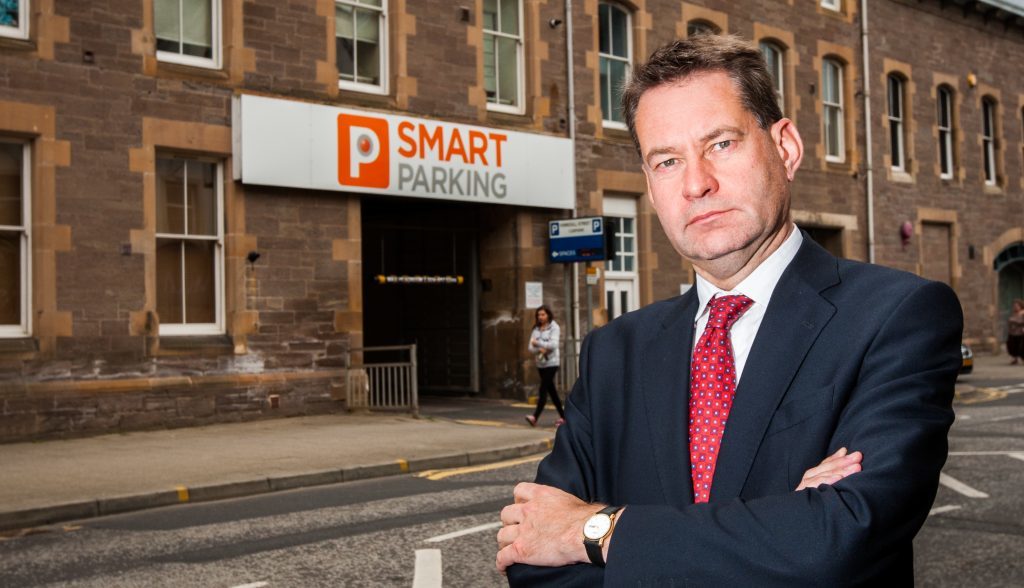 In the fifth and final part of our pre-election mini-series, Michael Alexander meets Perthshire-based Scottish Conservative candidate Murdo Fraser who leads the Mid Scotland and Fife regional list for the Tories.
Asked what he thinks his biggest achievements have been during his 15 years as a Conservative MSP for Mid Scotland and Fife, Murdo Fraser replies that it's his involvement in the campaign to dual the A9, his "relentless" criticism of wind farm proposals and his push for more devolved powers at Holyrood – particularly finance.
But the Perthshire-based 50-year-old father-of-two laughs when he highlights another, perhaps lesser known claim to fame.
"I was the first person who got into parliament without being elected!" he smiles.
"When the first elections to the Scottish Parliament happened in 1999, I was number four on the Mid Scotland and Fife regional list for the Conservatives.
"Three members were elected and I just missed out.
"But then in 2001 one of the sitting members – a chap called Nick Johnston who nobody remembers now – resigned due to ill health.
"So completely out of the blue, I became an MSP because I was next on the list.
"It'll be a pub quiz question one day – who was the first person to get into the Scottish Parliament without winning an election?  It was me!"
Born and raised in Inverness, the former deputy leader of the Scottish Conservatives studied law at Aberdeen University and worked as a lawyer for 14 years prior to his entry to Holyrood in 2001.
Joining the Conservative Party at university aged 19, he went on to become chairman of the Young Conservatives both in Scotland and at UK level, unsuccessfully running for leader of the Scottish Conservatives four years ago.
Yet as the only member of his family ever to enter politics, he admits his parents and his older brother are probably "a bit bemused" by his political ascent.
"We didn't come from a well off background at all," he explains.
"My father Sandy was a car mechanic and a special constable with the police. My mother was a nurse and latterly a full time carer for her elderly parents. She was in the WRVS.
"My parents were not at all political, and I couldn't even have told you until recently how they voted. They were involved with the church.
"But we always kind of grew up with a sense of being here to be involved in the community, helping other people. I grew up in a home which had 'small c' conservative values and the belief you are responsible for your own actions, you look after yourself and your family and neighbours, and you don't expect the government to do things for you."
Murdo said it was his experiences growing up in the 1970s that persuaded him to join the Conservatives. Thinking back to the days of power cuts and the 1978-79 Winter of Discontent under the Labour-led Callaghan government, he says: "I remember when I must have been about 13 thinking– 'this can't be right, this is no way to run a country'. "
Murdo says being an MSP is a "fascinating life". He adds: "What makes it so interesting is the infinite variety of different things that you do.
"As an MSP you feel you are making a difference either at a macro level in terms of policy and legislation, or perhaps more importantly at a micro level where you are trying to help individuals who come to you with their problems and you are trying to make a difference for."
He has, however, been taken aback by the "unprecedented" pace of change in Scottish politics over the past three years.
The pro-UK, pro-European, who has previously called for a Scottish Conservative Party distinct from Westminster, adds: "We've seen huge swings in voting behaviour that nobody would have predicted. Who could have seen the SNP winning 56 out of 59 Westminster seats, sweeping away Labour strongholds that people thought would be Labour for centuries to come? That's extraordinary.
"And I don't think anyone would have foreseen the Conservatives being in a position of potentially making the recovery that we are making."
Taking advantage of recent turmoil within the Labour Party, a central plank of the Conservatives' campaign during this election has been the notion of them as a "credible and strong" opposition to the SNP.
Some have criticised the party for not saying they are fighting to become a government.
But Murdo thinks the stance is "just being realistic."
He adds: "I feel quite sorry for Kezia Dugdale (Scottish Labour leader), because Kezia has got to maintain this pretence that she will be First Minister. Everybody knows that's not going to happen!"
Away from politics, Murdo's biggest passion is hillwalking. He has climbed 170 of Scotland's 282 Munros and says the potential perils of climbing are not dissimilar to the precipices of politics.
"Hanging off a rope on the edge of a rock face is quite fun – it puts the rest of your life into some sort of perspective! A bit like putting your head above the political parapet!" he laughs.
But his other passion is football. The Rangers fan, who used to have a season ticket at Ibrox, recently sparked a social media storm after tweeting that the "Queen's XI" had won the Scottish Cup semi-final at Hampden Park.
Rangers 5 Celtic 4 – The Queen's 11 deliver Her Majesty the perfect Birthday present #ScottishCup #GSTQ

— Murdo Fraser (@murdo_fraser) April 17, 2016
Twitter was soon overflowing with comments condemning Fraser for his "ill-thought tweets".
"I get into trouble sometimes for the things I Tweet about football! " he smiles reflectively.
"I support Rangers. People say 'why do you support Rangers when you grew up in Inverness?'
"Of course at that time, Inverness Caley Thistle didn't exist. We had our local teams. We supported Inverness Thistle and you used to go along and watch them.
"But you also supported a 'big' team and mine was Rangers.
"If you go into the Highlands it's full of Rangers fans. The biggest Rangers supporters club in Scotland is in Stornoway!
"I used to have a season ticket at Ibrox which I haven't had for many years. I was very unhappy at events affecting the club recent years, but I'm very happy to see them back in the Premiership on an even keel."
With Scottish voters going to the polls on Thursday, time will tell if Murdo is celebrating the Scottish Conservatives' return to the political 'big time' by the end of the week.
In addition to Murdo Fraser (Scottish Conservatives), the other candidates standing for Perthshire North are Peter Barrett (Scottish Liberal Democrats); Anna McEwan (Scottish Labour Party) and John Swinney (SNP).
In addition to the Scottish Conservatives, the other parties with candidates in the Mid Scotland and Fife regional list are Rise – Respect, Independence, Socialism and Environmentalism; Scottish Green Party; Scottish Labour Party; Scottish Liberal Democrats; Scottish Libertarian Party; Scottish National Party (SNP); Solidarity – Scotland's Socialist Movement and the UK Independence Party (UKIP).