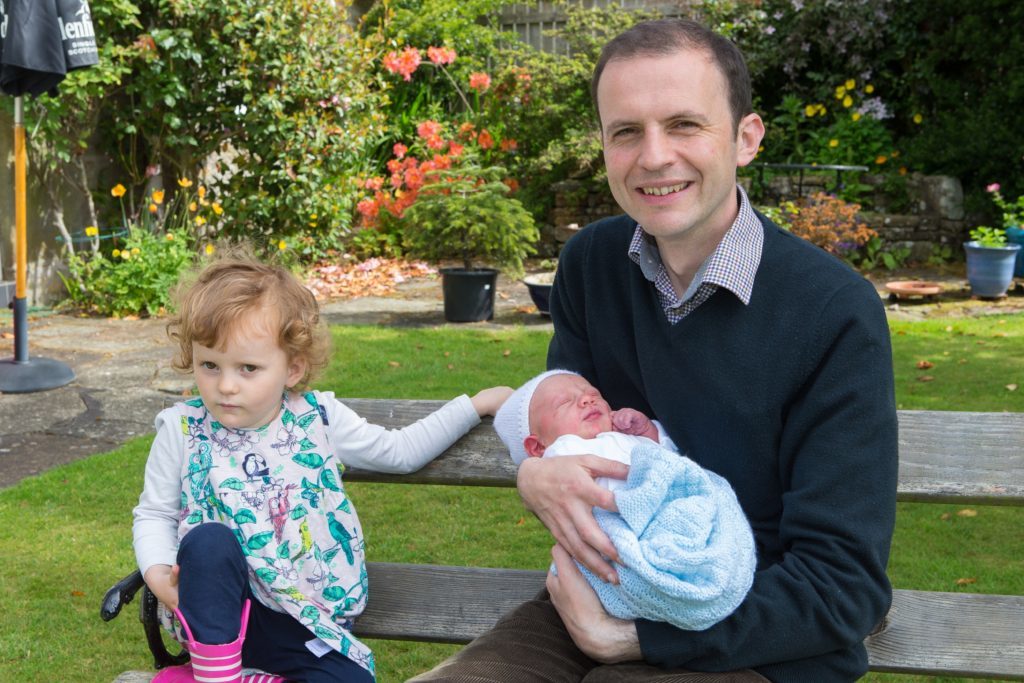 As the General Election approaches, Gayle Ritchie goes on the stump with some of the candidates vying for your vote. Today, she meets Stephen Gethins, the SNP Westminster candidate for North East Fife
Stephen Gethins hasn't slept for three days.
He and his wife Anya are just back from hospital with their newborn baby when I show up at their house in a charming village in the heart of rural Fife.
"I've been off the campaign trail for three days because I've been in a labour suite at Ninewells," says Stephen, who's been the MP for North East Fife since 2015.
"It's been pretty exhausting! We didn't plan for a general election nine months ago!"
Stephen, 41, scoops tiny baby Patrick – who is barely 48 hours old – into his arms and we head outside into the garden.
His two-year-old daughter Mairi is keen to get involved and she sits beside her daddy, swinging her legs and smiling, as he talks about his campaign.
Despite the lack of sleep, Stephen is buzzing with energy and enthusiasm. This is a man who can't contain his excitement.
But there's no denying he's got a tough job ahead.
The Liberal Democrats are confident of winning back a constituency they held for 28 years, having placed it in their top three target seats for Scotland.
Meanwhile, the Tories gained 12 new seats across Fife at the council elections and claim they have a "fighting chance" to win in the North East Fife constituency.
"I've no doubt there's a strong challenge from the Tories – there's been a big surge in support for them recently," says Stephen.
"That's why it's more important than ever to ensure Scotland has a very strong voice at Westminster. But you can always rely on the SNP to stand up for Scotland."
As the SNP spokesperson on Europe, Stephen says he's the man to "sit down and define our relationship with the EU" with the next parliament.
He's equally keen to talk about local issues and is campaigning for investment in rail connections and affordable housing, as well as against "unfair" changes to women's pensions. He's also working with communities to ensure local banks, libraries and post offices stay open.
"The next parliament will decide a lot of things about where there country goes from here," he says.
"There are a lot of awkward questions I'll want to ask. What happens to research cash vital to our universities after 2020? What happens to the food and drink industry?
"The SNP has been described as the effective opposition (to the Tories) because of Labour's troubles, and the Lib Dems are a small group.
"People feel strongly about a wide range of diverse issues, from healthcare and education to local issues like better broadband and building a new Madras College in St Andrews.
"I'm happy to deal with anything and everything – any concerns that people may have.
"On the same day as I was on the foreign affairs committee taking decisions on whether to go to war in Syria, I was talking about how to protect a library from closing in Pittenweem."
When Stephen deems baby Patrick needs his mummy, we make a move to the bunting-bedecked SNP campaign rooms in St Andrews, just off the town's South Street.
Inside, there's a flurry of activity as volunteers young and old help to fold and package leaflets and prepare election materials for delivery.
Everyone is smiling and clearly enjoying themselves. "This is great fun!" declares one activist.
"In just six weeks, we've designed, printed and distributed leaflets to 45,000 houses in this constituency," says Stephen.
"It's a big logistical exercise but thankfully, we've had no shortage of volunteers – around 130 across North East Fife – and many of them are students and retired people, who've all been fantastic."
International relations student Paul Anderson, 19, has been involved with Stephen's campaign for a year, via STAUFSI (St Andrews University Students for Independence).
"We want to promote the case for independence and get Stephen re-elected," he says.
"Since my uni exams finished, I've been canvassing in Guardbridge, Tayport and St Andrews – wherever I can."
Philosophy and politics student Ellie MacCallum, 19, had planned to help Stephen in his office through the summer, but the general election scuppered this.
"Since then, I've been helping out in the SNP campaign rooms three times a week, plus posting leaflets," she says.
"I've been really into the SNP since the referendum. I like their stance on international policies and I think being a member of the EU is very important, as it is to a lot of people at university who currently have the chance to study abroad."
Leafing through the SNP literature, I notice there's no mention of independence, but, Stephen insists, the general election is not about independence.
"People know we're in favour of independence and there's no doubt the independence question is a big one," he says.
"In 2015, there were those who voted yes and those who voted no to independence, so people will have a say in whether they want it.
"It's important to remember that people want to know my views on issues beyond independence, such as freedom of movement, pensions, benefit cuts and food banks."
Door-to-door canvassing is one way of garnering support and getting a feel for how people intend to vote and while most of Stephen's experiences have been positive, some have been anything but.
"There was one guy who came out drunk, in his pants. It was only 10 in the morning," he recalls, frowning.
"I've also had a few naked people answer the door to me, and some seemed quite keen to chat."
It goes without saying that he backed away, rather swiftly.
"Some folk have pretty strong views and don't always favour the SNP, but the overwhelming majority of people are actually quite glad someone's come round to chat," he says.