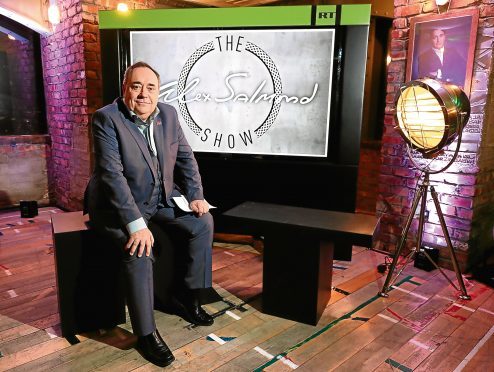 Alex Salmond's television show is being investigated by Ofcom over a claim it misled viewers.
The regulator is looking at whether the former first minister's programme, which airs on the Kremlin-backed Russian channel RT, broke its rules on accuracy.
The debut episode of The Alex Salmond Show on November 16 saw its host read out tweets that were presented as coming from the audience.
It is believed the probe centres on whether that was true.
An Ofcom spokeswoman said: "We are investigating whether this programme breached our rules on due accuracy."
Rule 2.2 of the broadcasting code states "factual programmes or items or portrayals of factual matters must not materially mislead the audience".
The show, whose guests have included Catalan president Carles Puigdemont and Tory MP Crispin Blunt, has been criticised for airing on a "Russian propaganda channel".
A spokesman for Slainte Media, which produces the show, said: "This is an investigation by Ofcom into a single complaint in relation to tweets and messages used on the first edition of The Alex Salmond Show.
"As we said when the complaint was first made public on November 17, we will be happy to co-operate with the Ofcom investigation and are confident of a satisfactory outcome."
The spokesman added it is "worth noting" there are nine other investigations that have been launched by Ofcom in a two-week period, include those relating to BBC and ITV programmes.