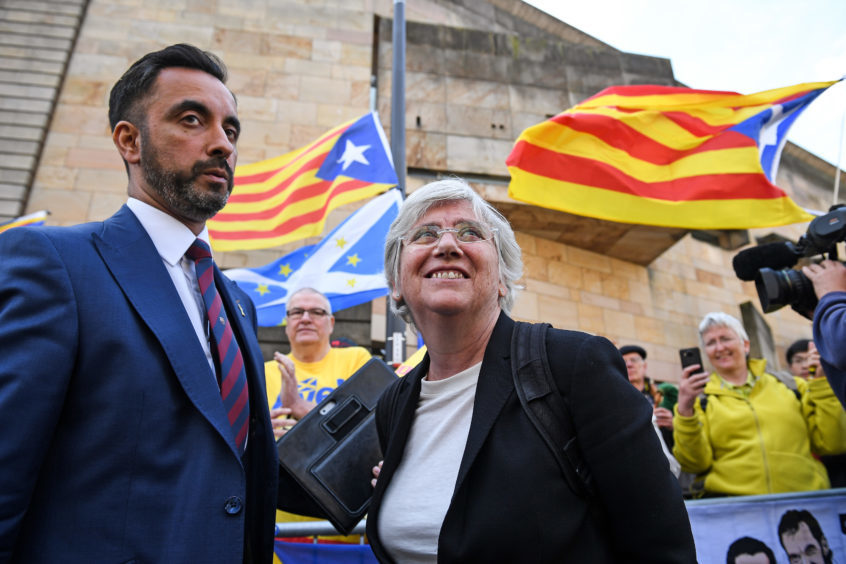 The lawyer for Catalan exile Clara Ponsati has called for "more than soundbites" after Spain's Prime Minister softened the government's rhetoric on the constitutional crisis.
Hopes were raised for the St Andrews professor on Sunday when new leader Pedro Sanchez said the stand-off must not be resolved in the courts.
Professor Ponsati, who served in the Catalan Government, is fighting extradition to Spain for her part in an unsanctioned independence referendum held in the region last October.
Mr Sanchez, who became the Spanish PM earlier this month, appeared to temper the government's approach to the stand-off in an interview with El Pais newspaper.
"The crisis in Catalonia must be resolved from the political arena and not by the courts," he said.
Professor Ponsati faces charges of violent rebellion and misappropriation of public funds, which carry sentences of up to 33 years in jail.
Her extradition hearing at Edinburgh Sheriff Court is due start on July 30.
Aamer Anwar, who represents the economics lecturer, said Mr Sanchez's words must be backed up by action.
"Clearly such a view is welcome, but we need more than soundbites," the Glasgow lawyer said.
"If the Spanish Government is genuinely interested in peaceful resolution then the starting point has to be the withdrawal of all European Arrest Warrants and release of all political prisoners without condition."
Mr Anwar said his team continues its preparations for court, adding: "Whilst Sanchez's words are a departure from the aggressive tone adopted by the previous regime, they remain empty words.
"In recent days we have seen the Spanish authorities actually increase their actions against the Catalan politicians as they desperately scramble to find evidence."
Tricia Marwick, Holyrood's former presiding officer who has been supporting Professor Ponsati, said Mr Sanchez's words were "sensible and long overdue".
"Now he needs to show he means it by releasing the political prisoners and dropping the arrest warrants," she tweeted.