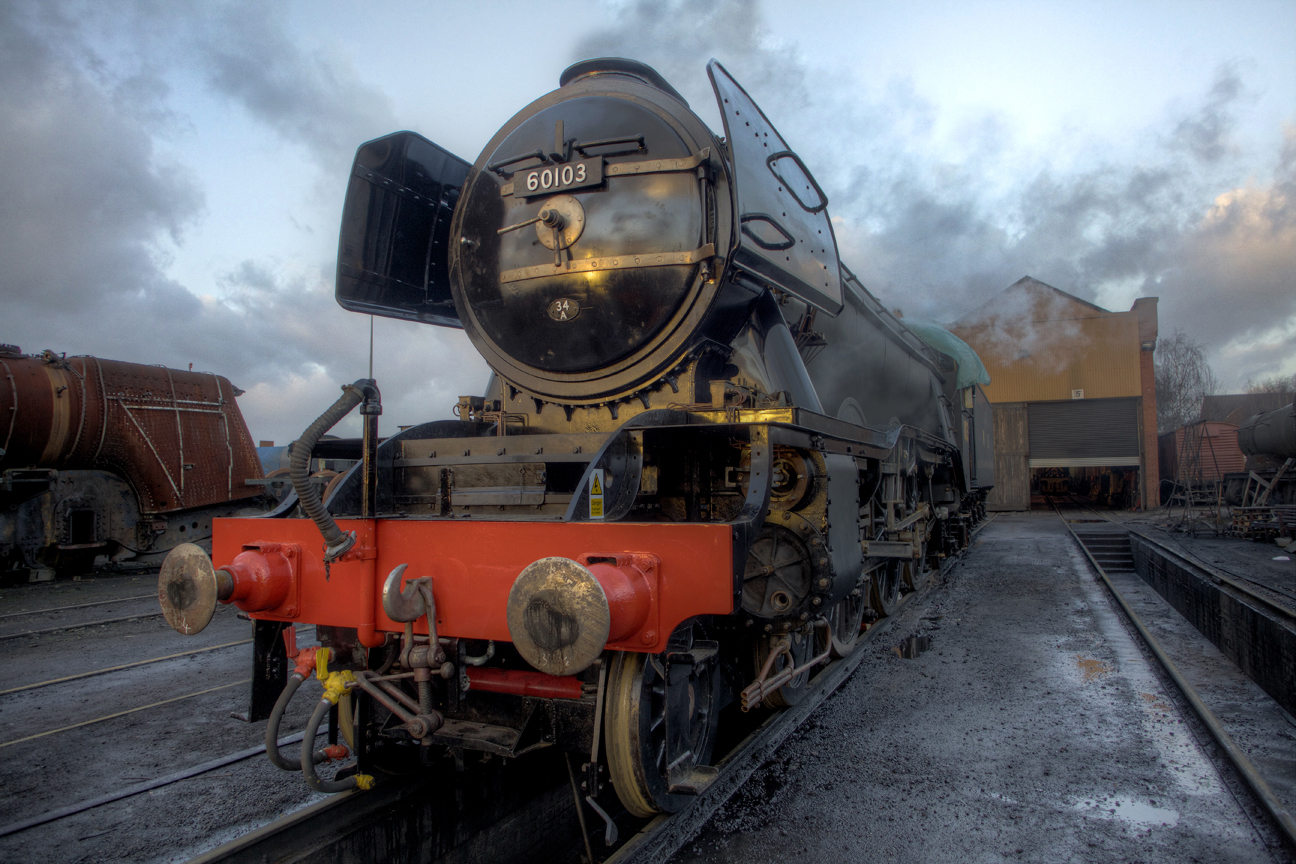 Once the nation's darling, legendary locomotive Flying Scotsman has now been restored to its former glory after a 10 year labour of love. Caroline Lindsay looks back at the engine's colourful history and discovers that it's had a far from  smooth ride.
As a blur of glossy green roars down the track before gradually slowing to a standstill in a cloud of steam at York Station, a legend is reborn – Flying Scotsman is back.
The most famous locomotive in the world has had a 10-year £4.2million facelift and next weekend, following its inaugural run to York in February this year, it will return to Scotland for the first time in 16 years, as part of a historic journey from London to Edinburgh.
It's fair to say the history of Flying Scotsman hasn't had a smooth ride over the decades. The first train to officially reach 100mph, it was originally built in Doncaster for the London and North Eastern Railway (LNER) at a cost of £7,944, completed in 1923 and initially numbered 1472.
It was designed by engineer Sir Nigel Gresley as part of the A1 class – the most powerful locomotives used by the railway.
By 1924, when it was selected to appear at the British Empire Exhibition in London in front of more than 20 million people, the loco had been renumbered 4472. By now LNER had christened it Flying Scotsman after the 10-hour London to Edinburgh rail service which started daily at 10am in 1862.
In 1928, it was given a different type of tender with a corridor, which meant that a new crew could take over without stopping the train. This allowed it to haul the world's longest non-stop service on May 1, reducing the journey time of 392 miles to eight hours.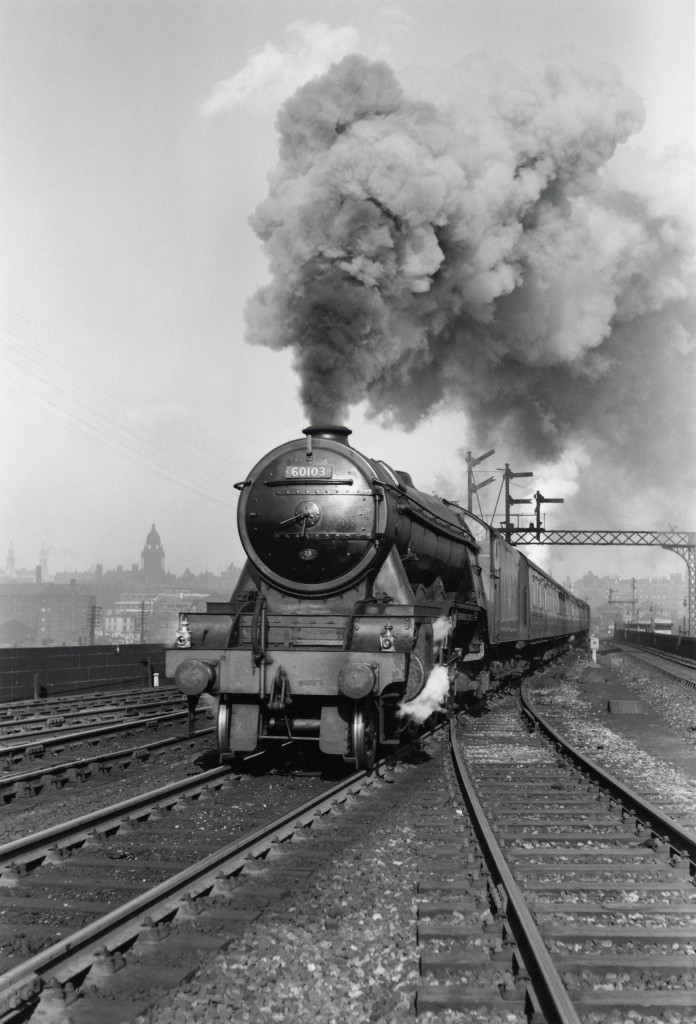 Six years later Flying Scotsman was clocked at 100mph on a special test run, officially the first locomotive in the UK to have reached that speed – and even today the maximum speed is only around 125mph.
Between the wars, the Flying Scotsman with its original LNER number of 4472 became an emblem of modern Britain. The British Empire Exhibition had turned Flying Scotsman into a celebrity and it went on to feature in many more publicity events for the LNER. The locomotive and the Flying Scotsman train starred in the first British talkie movie, The Flying Scotsman, starring Ray Milland, and the locomotive also regularly appeared at displays and charity events.
And in another publicity stunt in 1932, the engine's crew spoke by telephone to the crew of an Imperial Airways plane overhead, as both machines travelled north at 90mph.
After the Second World War, the once-beloved locomotive's popularity declined. Re-numbered 60103 in 1948 it was no longer an aspirational symbol of the modern age, but an outdated relic of a bygone era. In 1962 the LNER celebrated the centenary of the Flying Scotsman service by displaying a Deltic, the fastest and most powerful of the new diesel locomotives, at King's Cross station.
One witness to Flying Scotsman's exile from the centenary celebrations at King's Cross was Alan Pegler, a British businessman and railway preservationist who had also seen the engine in its glory days as a young lad at the British Empire Exhibition. He wrote that he "felt very sorry for 60103" and bought Flying Scotsman outright in 1963, before having it restored to its former apple green glory at Doncaster Works.
In August 1968, the locomotive became the only mainline engine allowed on the BR network, and in 1969-73 began its first high-profile tour of the USA. Sadly Pegler ran into financial trouble and the engine was sent for storage at an army base in California before being passed from owner to owner until the National Railway Museum (NRM) in York acquired it in 2004.
Flying Scotsman had winkled its way back into the public heart and its last excursion in December 2005, from York to Scarborough, was so successful it resulted in the decision to overhaul and restore Flying Scotsman, and enable it to once again pull trains around the UK.
Nobody imagined it was to become a labour of love for the next 10 years but, as is the way with such ventures, the project took much longer and cost a lot more than was initially anticipated when it turned out how extensive a renovation was required.
A huge cast of skilled engineers, welders and painters rallied round, ensuring the project stayed on track and didn't hit the buffers. A major chunk of the work took place at engineering firm Riley & Son in Bury, as well as at the National Railway Museum (NRM) in York, the engine's home.
Rail operations manager at the NRM Noel Hartley has been involved with the project for the past 18 months and for him it's a dream come true to see the engine restored. "I've had a keen interest in railways since I was tiny – my dad was a steam loco driver and I'm sure there are photos of me on the footplate at a week old!" he laughs. "Before I came to the NRM I was a volunteer steam train driver on private railways in the north of England and so to see new life being breathed into Flying Scotsman has been wonderful.
"Every part of the engine, from the frames to the cylinders, has been replaced or, where possible, restored while the front end of the loco required specialist welding," he continues/
A new airbrake system was fitted and then particular attention had to be paid to the boiler: "As it's a pressure vessel and any corrosion can lead to a leak or an explosion, it needed a complete overhaul," recalls Noel.
The NRM's engineering manager Simon Holroyd picks up the story: "The further we got into the project the more needed done. Flying Scotsman has done more than three million miles over the decades so years and years of repairs have taken their toll. The only solution was a proper massive renewal.
"Behind the engine there's 5,000 gallons of water and nine tonnes of coal so there was lots of old fashioned pipework that needed attention.
"But working on the project has been like a dream ticket for us – it's been wonderful too see the engine come back to life," he smiles.
Once the innards of the engine had been restored to their former glory, the external paintwork could begin. LNER passenger locomotives had always been painted apple green but during the Second World War, Flying Scotsman was repainted in wartime black, in common with all railway stock, to avoid being targeted by the enemy, and was transformed into a wartime workhouse, hauling heavy loads.
In 1948, rail travel in Britain was nationalised with the formation of British Railways. Scotsman, now numbered 60103, was painted blue for a time, then BR Green and it is this shade that now adorns the glossy engine.
Ian Hewitt of Heritage Painting, a company that paints engines and traction engines, says: "We've been involved with Flying Scotsman for the last five years.
"You have to paint the bits you can't see as well like behind the wheels, the boiler and so on. Because it had been temporarily painted black beforehand, it took about nine days and eight coats of specialist paint. The finish is very hardwearing and works as well as old traditional enamel – it has to cope with a harsh environment, from big changes of temperature in the boiler boiler, to whatever the weather throws at it."
The small team of five, including two new apprentices, had to make a heroic final push as the day of the inaugural run loomed. "We managed to do what would normally take three weeks in nine days," says Ian.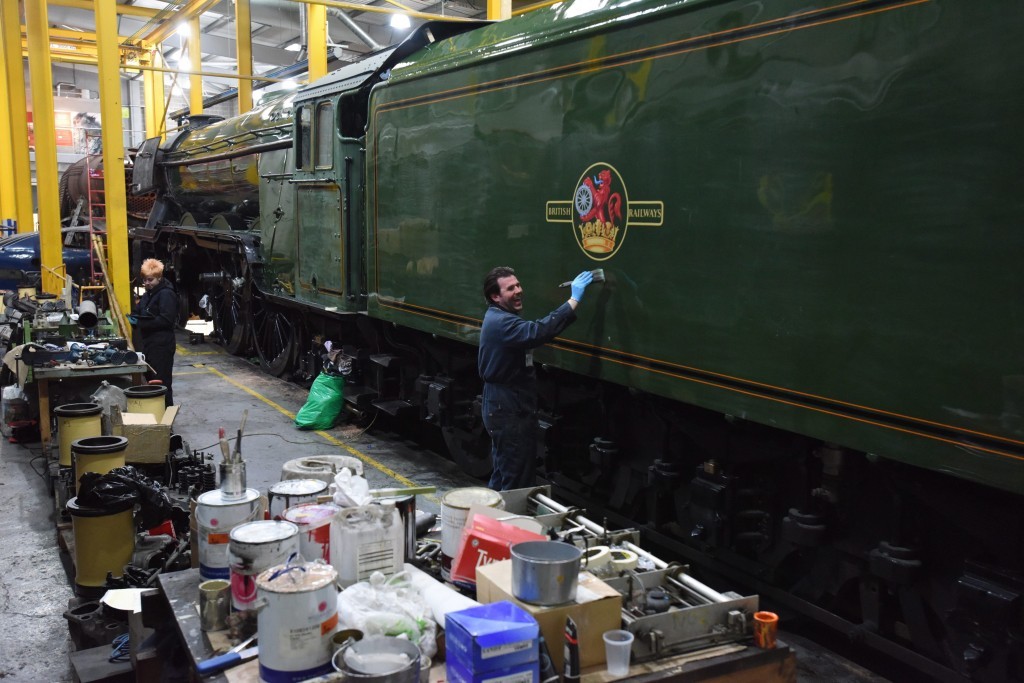 Flying Scotsman has broken two world records – as well as being the first steam locomotive to be officially recorded to reach 100mph in November 1934 (although now it can only travel at a maximum of 75mph because of restrictions on Heritage trains), it also travelled for 422 miles non-stop during a tour of Australia in the late 1980s, thereby obtaining the record for the longest ever non-stop run of a steam locomotive.
Proving the engine's appeal to all ages, it featured in The Railway Series books by the Rev. W. Awdry, starring Thomas the Tank engine. A new movie based on the story is out this month – Thomas and Friends: The Great Race, sees Flying Scotsman visiting the island of Sodor to cheer up his only surviving brother Gordon.
No stranger to the the silver screen, the engine has also appeared in Agatha starring Vanessa Redgrave, and 102 Dalmatians when it was shown pulling the Orient Express out of London.
And now the globetrotting screen star is travelling around the UK as a working museum exhibit, demonstrating the engineering science behind steam traction to new generations of fans.
Railway buff Angus Bell of Forfar was just one of hundreds of steam train lovers young and old, who made a special pilgrimage to York in February for Flying Scotsman's inaugural journey.
"Seeing Flying Scotsman at York was quite emotional for me," he recalls. "I've loved trains since I was a wee boy, when I used to travel to my aunt's home in Morpeth for holidays.
"In fact, I have an old primary school exercise book with an essay called My Holidays and, as you'd expect, the spelling is atrocious, except the engine name which was perfect!
"I got my first train spotting book in 1958 when steam ruled and as I lived in Dundee, which was mainly an east coast railway town, locomotives of the same class as Flying Scotsman were common on the Edinburgh-Aberdeen route," he continues.
Seeing the legendary loco at York really brought back happy memories for Angus. "I had seen it in the BR days and also travelled behind it from Edinburgh to York in 2000 when it was in its old guise of LNER apple green, but the spectacle of it in all its BR green glory was really something for me."
Angus aims to get another peek at the iconic locomotive when it comes to Scotland next Sunday, May 15 but anyone hoping to hop aboard had to be quick off the mark – tickets for the Fife circular evening tour from Edinburgh Waverley went on sale on February 22 and sold out within a couple of hours of appearing online! Lucky ticket holders will travel behind Flying Scotsman as it heads over the Forth Bridge and into Fife, but if you're hoping for a glimpse of the train as it passes through the countryside, the route will take in the coast towards Kirkcaldy, before turning back inland via Dunfermline.
Noel Hartley has the last word: "Everyone is fascinated by Flying Scotsman not just because of its celebrity status but also because it's British engineering at its absolute best.
"Of course there were problems along the way but we overcame them.
"Flying Scotsman is keeping our heritage and the age of steam alive and the crowning glory will be seeing it come back to its old stamping ground in Waverley Station."