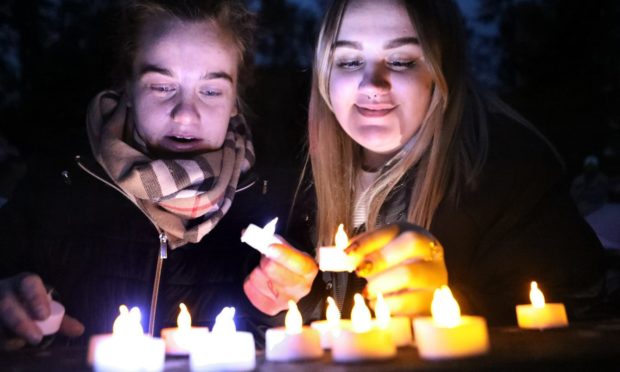 Bereaved parents across the UK united to remember their children as part of a "wave of light" on Thursday night.
A candlelit vigil was held at Birkhill Cemetery in Dundee as local families paid tribute to their youngsters on the final day of Baby Loss Awareness Week.
Parents wrote heartfelt messages on cards and wore T-shirts and jumpers in memory of their children.
The Dundee ceremony was organised by local mum Ashley Stevens, who formed Itty Bitty Baby Things for support group Angel Wings Tayside.
The event took place as people across the UK marked Baby Loss Awareness Week by sparking candles and sharing photos and messages using the #WaveofLight hashtag on social media.
Scotland's First Minister Nicola Sturgeon was among those to take to Twitter in solidarity with other bereaved families.
#BabyLossAwarenessWeek #WaveofLight https://t.co/Z8qVxwWfA2 pic.twitter.com/bJEATUZ3ns

— Nicola Sturgeon (@NicolaSturgeon) October 15, 2020
Light your candle and remember all babies gone too soon in the global Wave of Light now at 7pm local time. Share a photo or a video of your candle with the hashtags #WaveofLight and #BLAW2020 You can also light a virtual one here 🕯️ https://t.co/tyFLpm7BLX 🕯️ pic.twitter.com/sn9VOWVZ2Y

— Baby Loss Awareness Week (@BLA_Campaign) October 15, 2020
💙 To mark #BabyLossAwarenessWeek, the @LibertyStadium is lit in blue for an hour this evening in support of the families in our community, around the world, and the babies who lit up our lives for such a short time.#WaveOfLight pic.twitter.com/aqAB6vplxa

— Swansea City AFC (@SwansOfficial) October 15, 2020
💖 #QPR lit up pink and blue last night to mark #BabyLossAwarenessWeek. #WaveOfLight 🕯 pic.twitter.com/hQCgm6Wmwd

— QPR FC (@QPR) October 16, 2020
With @floetry at our first #WaveofLight

With 2 candles remembering Teddy & Rafe, who are never forgotten #BabyLossAwarenessWeek 2020 matters and happy / sad to be joining in with the Global Wave of Light. For all those grieving a loss, know that #YouAreNotAlone pic.twitter.com/82haiZ4WPD

— Guy Opperman (@GuyOpperman) October 15, 2020
Baby Loss Awareness Week, which is in its 18th year, aims to unite bereaved families and end feelings of isolation for those that have lost children.
The organisation says the struggles of those affected have been worsened by the coronavirus pandemic.
A statement from the charity reads: "Parents and families tell us how important it is that they each find a way to remember their baby in a way that suits them.
"Some join with others at special services organised by their local hospital or a local support organisation, some find solace in events organised by their faith community while others will remember alone in a way unique to them.
"It is important to remember there is no right or wrong way and it can change as the years pass too.
"During last night's #WaveOfLight messages of remembrance and hope brought many people together.
"As we close this immensely important week please take care of yourselves and know that we are here for you now and throughout the year. You really don't have to feel alone."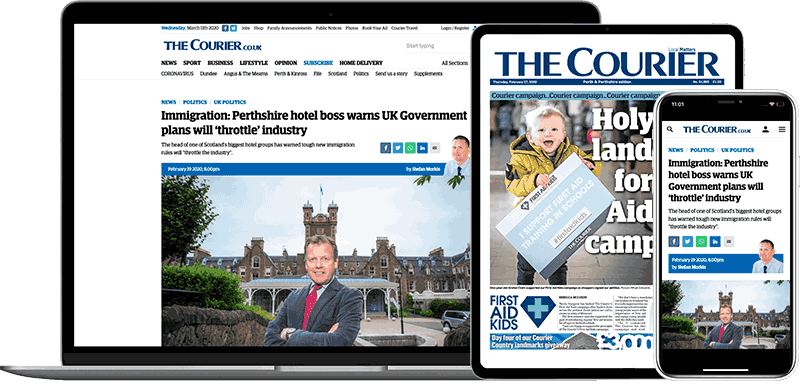 Help support quality local journalism … become a digital subscriber to The Courier
For as little as £5.99 a month you can access all of our content, including Premium articles.
Subscribe