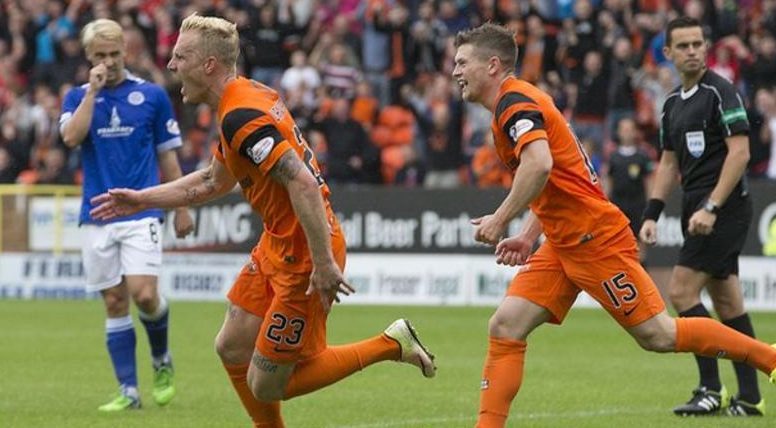 A member of a prominent Dundee United supporters club has written a letter of complaint to BBC Scotland director Ken MacQuarrie after it emerged that Sportscene is no longer showing footage from the Scottish Championship.
In a hard-hitting letter to the BBC Scotland boss, Ceres Arabs member Chris Bennison claimed that the decision of BT and Sky to no longer send cameras to the second tier of Scottish football was "entirely down to Rangers" gaining promotion to the top flight.
He also claimed that if Rangers were still in the lower division, BBC Scotland would have "found a way, by hook or crook" to continue with second tier coverage.
Mr Bennison, 36, a lifelong fan of Dundee United — who were relegated to the Scottish Championship at the end of last season — believes coverage of the lower leagues only started due to the presence of Rangers.
However, now that the Glasgow club have fought their way back to the top flight after years in the enforced wilderness, he believes TV executives no longer see it as necessary to cover the lower leagues.
Mr Bennison, an Edinburgh-based digital marketing consultant, told The Courier: "I know what some will say – 'You're only bringing this up because you're a United fan.'
"That's not true — this is about the BBC acting like a commercial broadcaster towards Scottish football.
"They're supposed to redress the balance and cover areas that the commercial sector overlook. They're not supposed to bother about audience share either. It's neither here nor there if Sky or BT have stopped their footage of the Championship. So what?
"It's still incumbent on the BBC to provide coverage. I respectfully suggest that this contravenes the BBC's mandate."
Prime time
The long-running Sportscene highlights show has a new prime time one-hour Sunday night slot.
But fans were left fuming at the weekend about the lack of second tier action with many taking to social media to voice their frustrations.
Disappointed with the result yesterday ?, but happy with my first goal for @dundeeunitedfc @btsportfootball pic.twitter.com/fQG3ibzbCA

— Nick van der velden (@Nikinho23) August 7, 2016
Writing to the BBC as an individual rather than on behalf of Ceres Arabs, Mr Bennison said Rangers enjoyed  "saturation coverage" on TV, radio and online.
He said that while he expected commercial media to "indulge in breathless, obsequious and sycophantic Rangers happenings", the BBC is "guilty of acting like a commercial organisation on numerous occasions when it comes to the Ibrox outfit".
Footage
A spokesman for BBC Scotland – which has been in dispute with Rangers over perceived negative stories about the Ibrox club – said footage could only be shown from where Sky/BT Sport had sent cameras.
From the start of season 2012/2013, Sky and BT Sport, as the main rights holder of Scottish Premiership coverage, asked for an extension to cover the lower leagues – where Rangers then resided.  That contract extension has now ended, the spokesman confirmed. He said BBC Radio Scotland still provided coverage of the lower leagues. TV coverage of some lower league games would still feature on BBC Alba.
Asked about the alleged breach of the BBC mandate, the spokesman said the BBC had a responsibility to cater for all – not just football – audiences. With tighter budgets, it had to "cut its cloth accordingly" and the BBC already paid £1.5 million a year to the SPFL, he said.
A spokeswoman for BT Sport said: "We did send cameras to Championship games last season. This year we will cover the play-offs and we may show selected Championship games where editorially relevant. BT Sport broadcasts games from the SPFL as well as exclusive coverage of the SPFL League Cup."
Sky Sports were asked for comment but did not respond.
North East Fife MP and Dundee United fan Stephen Gethins told The Courier he has been approached by constituents and had now written to the BBC to raise his concerns.
He said: "The Championship is an incredibly competitive and exciting league so the decision by the BBC is all the more difficult to understand. There is a simple question of fairness here and fans from across Scotland should continue to enjoy the games in this league this season just as they did last season."
Rangers Football Club declined to comment when contacted by The Courier.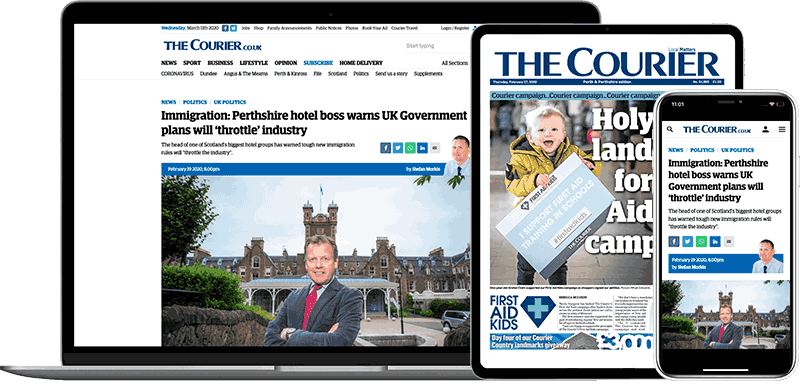 Help support quality local journalism … become a digital subscriber to The Courier
For as little as £5.99 a month you can access all of our content, including Premium articles.
Subscribe