On the 60th anniversary of his famous gold medal victory at the 1956 Olympic Games, boxing legend Dick McTaggart tells Michael Alexander why he will always be proud of his Dundee roots.
Ask Dundee's greatest ever sportsman Dick McTaggart about his memories of winning boxing gold at the Melbourne Olympics on December 1, 1956, and he still recalls every duck and dive of the fight he won on points against European champion Harry Kurschat of Germany.
But the "greatest thing in the world" was when he returned home and found his mum and dad waiting for him in London.
"They'd never been on a plane before but had been flown down to meet me especially," recalls Dick in an exclusive interview with The Courier from his home in Troon, Ayrshire.
"Then when we got the train back to Dundee, thousands of people turned out on the streets to welcome me home. It brought tears to my eyes.
"Fellow boxers John McVicar and Peter Cain hoisted me up on their shoulders and carried me up the stairs out of the station.
"Thousands of people lined the streets cheering. I couldn't believe it. We got in an open topped motor and made the journey up to our house at Dens Road. It was unbelievable."
Dick, now 81, laughs off any suggestion that he is a legend.
But there's no denying that he put Dundee firmly on the map – and his knockout achievements remain undimmed.
To date, he remains the only Scottish boxer to win Olympic gold, and he is regarded as the finest amateur boxer Britain has ever produced.
His performance earned him the Val Barker Trophy as the most stylish boxer of the 1956 Games.
The light weight fighter twice returned to the Olympic arena, winning bronze in Rome in 1960 and going out early in 1964 in Tokyo, Japan.
Other achievements included gold at the 1958 Commonwealth Games in Cardiff, and silver at the 1962 Commonwealth Games in Perth, Australia.
He won gold at the European Amateur Championships in Belgrade in 1961 and was a five-time winner of the ABA Championship.
Priceless memories include the time he had dinner with Mohammed Ali at the Rome Olympics, went skinny dipping in Honolulu and turned down a party invitation from Tom Jones in Los Angeles because he was busy.
It was all a far cry from his early life as one of a family of 18 children raised in a Dens Road tenement in post-war austerity Dundee.
But more than 50 years after he gave up boxing and as many decades after he left Dundee, he remains grateful for the way the city shaped his early life.
He still wears the Rolex watch that was presented to him by the Dundee city fathers in 1956.
The former St Mary's Forebank and St John's pupil said: "My brothers and I were always fighting with each other. One day my dad said, 'that's it, if you want to fight you're going to the boxing club'.
"I was 10, 11, 12 years old at the time, and I thoroughly enjoyed it. I enjoyed the shouting, the crowds, and loved to be fit in those days. Kids used to pick on me at school, and when I took up boxing they stopped."
McTaggart had his first taste of success when he beat his brother Archie in the final of the 1948 Belmont Amateur Boxing Club championships, held in the Blackness area of the city.
He left school at 14 and got a job at the former Alex Munroe butcher shop in the old Overgate.
When he was called up to do National Service in the RAF, he felt he wasn't getting anywhere in the sport and quit for three months.
Only when an RAF coach told him he was too good to give up did he continue.
McTaggart famously went on to win 610 out of 634 amateur contests.
But despite pressure from promoters, he was never tempted to turn professional.
"I started taking a lot of punches in 1965 and decided this was a mug's game. So I retired " he explains.
He went on to work in circulation for the Daily Express, became a member of the Olympic boxing squad's coaching team and famously worked for a spell as a 'rodent exterminator' with Glasgow Council.
Today the grand father of 11 enjoys his seaside retirement and earlier this year renewed his wedding vows with his wife Doreen.
He also recently travelled to London when the Ex-Boxers Association awarded him the Best British Amateur Boxer award in their prestigious hall of fame.
Dick doesn't make it to Dundee too often these days.  He admits age has started to catch him and recently he's been using a zimmer. "I was like a duck!" he laughs.
But he still hopes to travel to Dundee for an event to commemorate tragic boxer Mike Towell who died after a fight two months ago.
"I hope I'm well enough. I'm so sorry for the family. It's such a shame," he adds.
He also hopes it won't be too long until Scotland sees another Olympic boxing champion.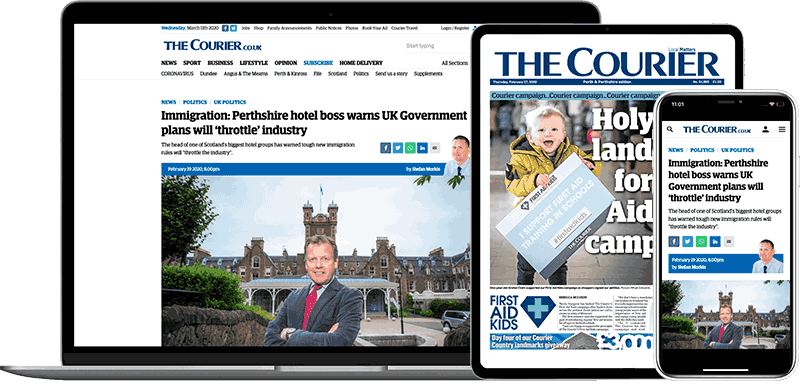 Help support quality local journalism … become a digital subscriber to The Courier
For as little as £5.99 a month you can access all of our content, including Premium articles.
Subscribe