As mobile phones ring the death knell for our iconic red public phone kiosks, Caroline Lindsay discovers that many phone boxes have found a second calling thanks to their communities and a special adoption scheme
Every six months or so, Steve Cumming rolls up his sleeves and prepares to give his local phone kiosk a good clean.
Steve, a solicitor from Bendochy in Perthshire, bought the classic red K6 kiosk from BT for just £1 seven years ago under their Adopt a Kiosk scheme.
Once the lifelines of local community, the growth of the mobile phone industry has inevitably meant phone box usage has dropped dramatically, and nearly half of the phone boxes in the UK have been removed. However, rather than lose their local landmark, many communities have opted to give them a new lease of life by "adopting" them from BT. In fact, since the Adopt a Kiosk scheme was launched in 2008, more than 3500 communities across the country – including 155 in Scotland – have seized the opportunity to do something wonderful with local red phone boxes that had little or no usage.
When Steve discovered the Bendochy kiosk was available for adoption, he swung into action.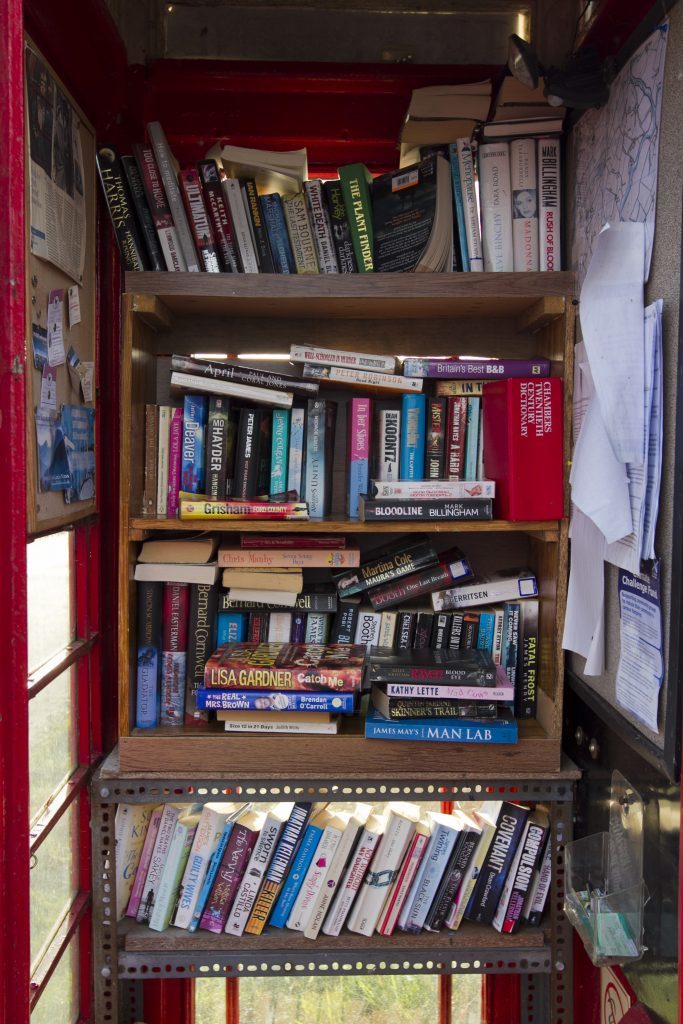 "There are only about 20 houses in Bendochy and they're quite spread out so the phone box has always been a useful landmark for visitors. We tell them: 'We live a mile down the road from the phone box' and then they know how to find us!" he smiles.
"None of us wanted to see it go so we adopted it and decided to use it as a mini book and DVD exchange."
No money changes hands – people simply leave their unwanted books and take away a couple of new ones to curl up with back home. With the nearest main library in Coupar Angus a couple of miles away, the book box is a handy commodity.
"I go out and wipe it down every so often and will give it a coat of paint when it needs one," says Steve, clearly proud of the iconic acquisition.
"The community council have given us a hand with funding to look after it and one of the residents put shelves up for the books."
But watch this space – Steve reckons the box would also make an ideal location for geocaching.
It's no surprise that people want to preserve an important part of British heritage – a delve into the history of phone boxes reveals that the first standard public telephone kiosk was produced in concrete in 1920 and imaginatively named K1 – Kiosk number 1.
Come 1935, the K6 was designed to commemorate the silver jubilee of King George V. It was the first red telephone kiosk to be extensively used outside London, and was made in cast iron rather than concrete.
The K6 was designed by Giles Gilbert Scott – if the name rings a bell, he was the architect behind Liverpool Cathedral and Battersea Power Station. The kiosks' distinctive domed tops were inspired by a memorial in London's Old St Pancras churchyard, erected by Sir John Soane in memory of his wife Eliza – Scott was a trustee of Soane's museum.
At their peak in 2002, there were 92,000 payphones across the UK; today that number has been slashed by half. With more than 200 kiosks to be removed from Courier Country over the next three years, there's one phone box at least whose future is secure – the original concrete K3 to be found in the Perthshire village of Rhynd is Scotland's oldest working phone box and its white exterior makes it unique.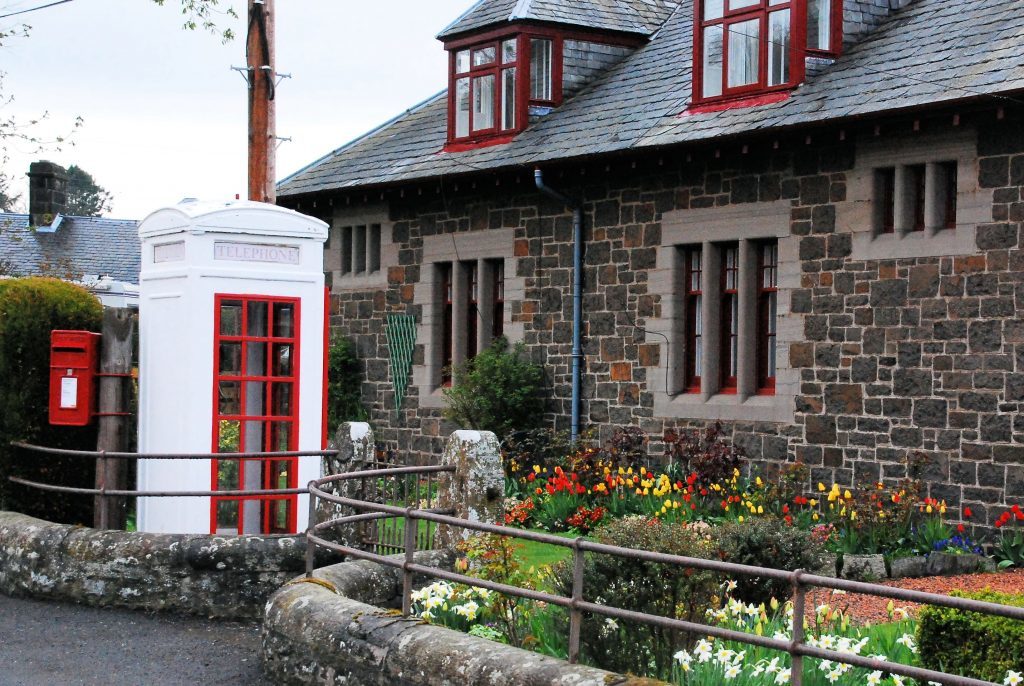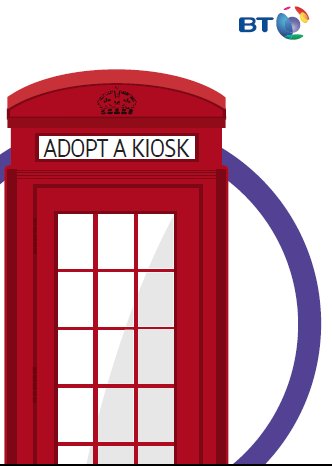 Luckily, 63 of the kiosks due to be commissioned will be adopted and continue to play a part in their communities – just like the one in Monikie. When the chance to adopt their local phone box arose it was a no brainer for the Monikie & Newbigging community council, as chairman Iain Richmond explains: "The telephone box is situated right in front of Monikie War Memorial Hall and when one of our committee members spotted a notice in the telephone box offering it for sale for £1, we felt it was too good an opportunity to be missed."
The kiosk was in a dilapidated condition with a couple of broken windows and the paintwork faded to pink rather than the iconic bright red that's so familiar.
"We hired local painters who were given details by BT of the correct paint to use (currant red) in the refurbishment to bring it back to its original colour," says Iain.
The villagers got their thinking caps on and decided that the phone box would make an ideal information point and installed a notice board where anyone can leave messages or pick up useful local information. In a poignant touch, the original "Telephone" signage now reads Community Information decorated with a poppy motif, in keeping with its proximity to the memorial hall. And it won't get forgotten at Christmas – it will be part of the village festivities and decorated with lights.
Future plans may include the siting of a defibrillator – a popular choice for adopted kiosks – but in the meantime, Iain feels the iconic structure has enhanced the village.
"We did pretty well for the initial outlay of £1," he smiles.
Meanwhile in the pretty Fife village of Letham, residents already have a defibrillator installed in their K6 kiosk.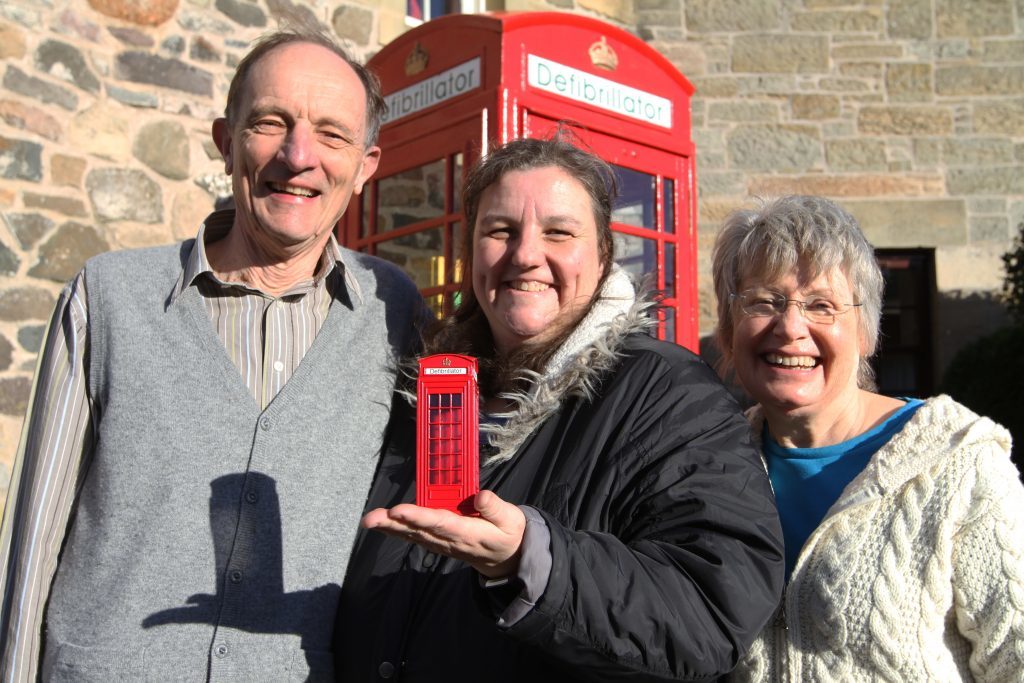 John and Karin Vaughan's house is situated directly opposite the old phone box and community councillor John found himself on the Community HeartBeat Trust website which suggested the use of a kiosk for a defibrillator.
So the seed was sown. "Installing one was seen as a wise precaution particularly in areas that are remote from the NHS and ambulance services," says John.
But first the money had to be raised to buy the defibrillator and this pulled the whole community together.
"Initially, we put a leaflet through everybody's letter box in the village asking for donations and support," explains John.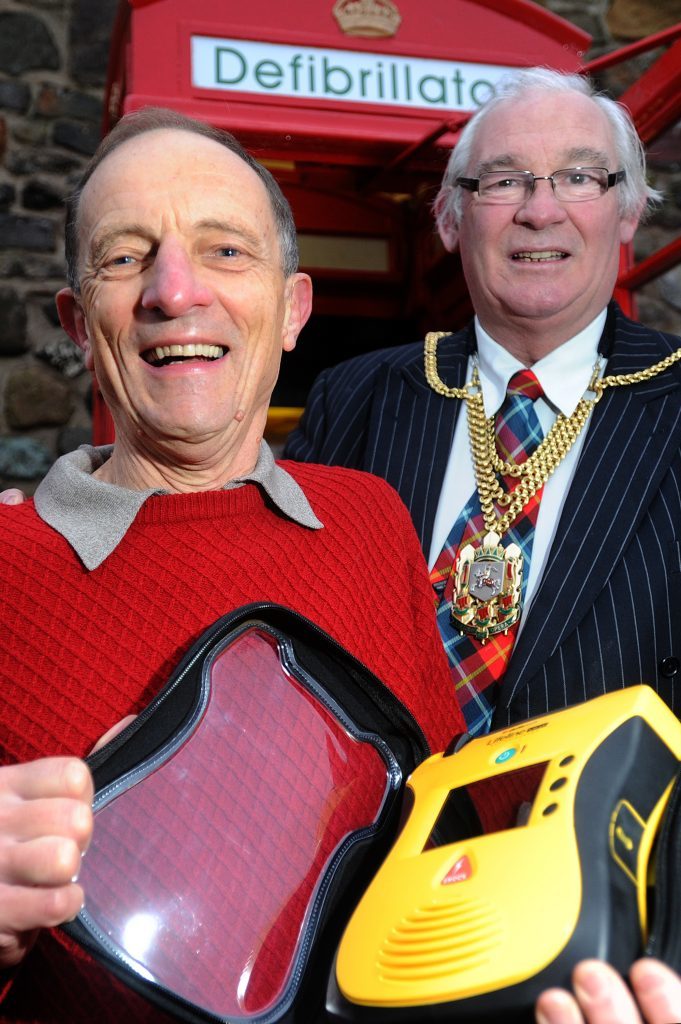 "Then we had an afternoon tea with a cake competition for the school pupils, and a shiatsu practitioner and her colleagues gave their time free on a Sunday to do shiatsu massage for donations."
Over the months, the "temperature" on the giant thermometer crept steadily towards, and then past, the target figure of £2000 – in the end the residents raised nearly £3000.
Fortunately the defibrillator hasn't been needed as yet but is a valuable insurance for the local residents. The box itself was refurbished by village members and redecorated, with flower beds installed on each side.
And enthusiasm for the project has rubbed off on the younger members of the community – not only have they received training in how to use the defibrillator and in CPR but the defib was also included in the school children's Christmas pantomime story.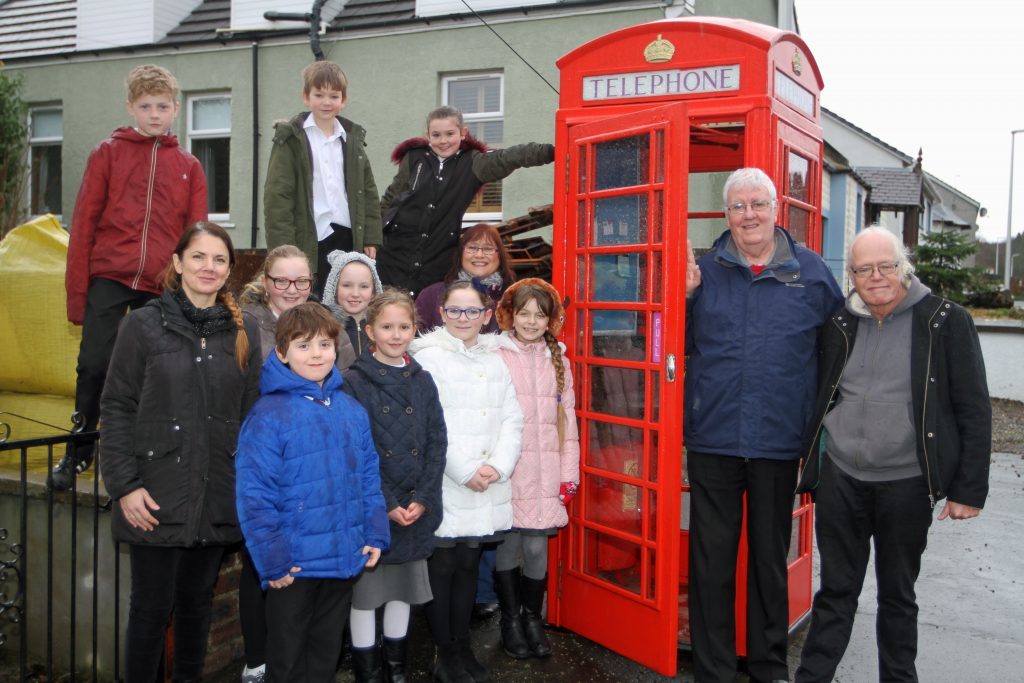 Some phone boxes have been adopted but not yet found their true calling. When John Emery was chairman of Torryburn and Newmills Community Council he was approached by a local resident Charlie McVicar who wanted to tidy up what had become a run-down looking phone box.
"I made enquiries and discovered that the best solution would be to adopt the phone box," John recalls.
Charlie duly repainted the phone box in the correct colours turning it from an eyesore into an asset for the community. At present it serves as an attractive noticeboard for the village while Torryburn & Newmills Development Trust wait to hear if their application for funding to use the phone box as an art gallery is successful.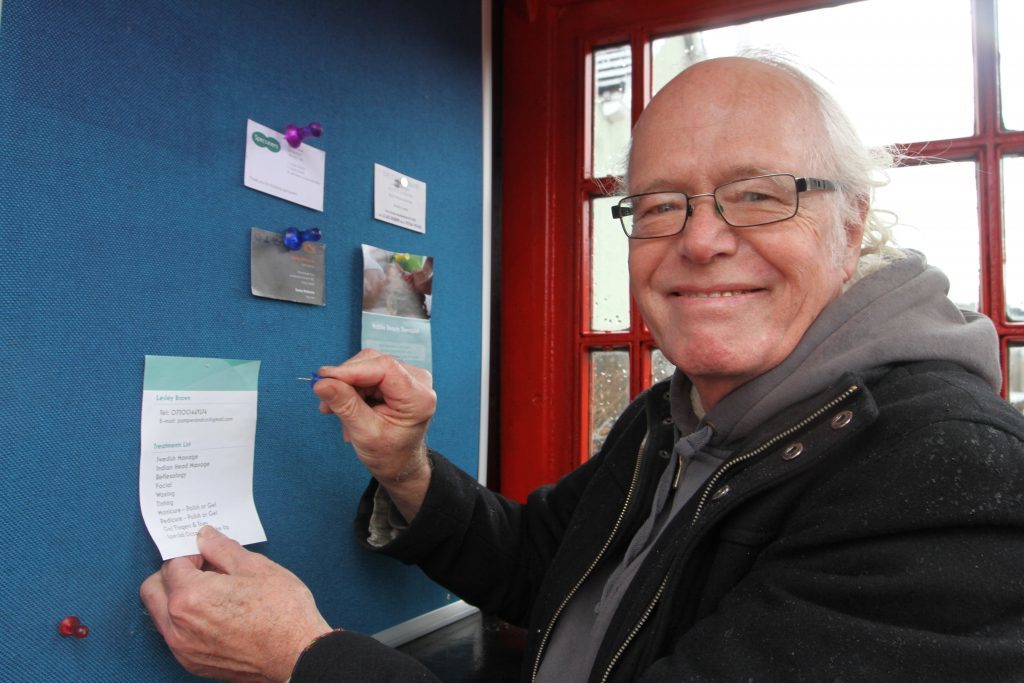 "The plan is to hold up to three shows of paintings by local artists and primary pupils over the next year and link it with art lessons in the village hall," says John.
He is keen to encourage other communities to adopt phone boxes and preserve a link to a past that is all but lost.
"Times have changed and phone boxes represent a way of life that for most people has gone. But it's important not to totally forget the past, and preserving at least some of our old phone boxes is a way of doing it."
And if you want to go back in time like Doctor Who in his Tardis, head to Alyth's Story Box – an adopted phone box that houses Scotland's smallest museum – for a free community-led oral history of the town, daily at 2pm.
www.bt.com