Michael Alexander meets The Very Rev Andrew Swift who will be consecrated Bishop of Brechin at a ceremony in St Paul's Cathedral, Dundee, on Saturday August 25.
When the Very Rev Andrew Swift is consecrated Bishop of Brechin in St Paul's Cathedral, Dundee, on the afternoon of Saturday August 25, the ceremony will reach a potential world-wide audience of millions when it is live streamed on Scottish Episcopal Church social media channels.
Yet as he reflects on the "privilege and the honour" that comes with overseeing 27 churches in the Diocese of Brechin – taking in Dundee, the southern Carse of Gowrie, Angus and the Mearns – Bishop Elect Swift is most looking forward to getting out into the local communities and getting to know the people he will serve.
"It's a privilege and an honour to be picked to be the bishop," said Bishop Elect Swift in an interview with The Courier at St Paul's.
"The expectation that comes with any new ministry is enormous and it's going to take me weeks, months and possibly years of listening to where people are coming from and understanding how I can help them.
"However, I also approach it with a large amount of trepidation as I think any sensible human being would.
"It's a big big job – especially in the 21st century, when the whole question of what religion means, 'is it relevant in the world today?' is an enormous question that's asked all the time."
Born in Aberdeen in 1968 and raised in Dunblane, Bishop Elect Swift has been Dean of Argyll and The Isles since 2012, Rector of Dunoon and Rothesay in that diocese since 2010 and a member of the Scottish Episcopal Church General Synod from 2011.
He has been a Depute Lieutenant of Argyll and Bute since 2016.
He previously served in the Diocese of Gloucester, following a career as a shipbuilding executive, civil service research engineer with the Admiralty and a junior officer in the RAF.
He studied at the universities of Edinburgh, Aberdeen and Oxford.
Married to Mary, the couple have three children – Frances (16), Peter (19) and Eleanor (21).
For leisure, the family enjoy narrow-boating on the Scottish canals with their Collie, Molly.
Bishop Elect Swift is excited to be taking up his post just weeks before the opening of the V&A Dundee Design Museum.
Having literally moved to the city with his family over the past few days – and helping his youngest daughter settle into Dundee High School – he's excited by the "wow factor" around the city's £1 billion Waterfront.
But like the Right Rev Dr Nigel Peyton who held the Bishop of Brechin post before him, he's also conscious of the challenging socio-economic issues facing many in the city – and he says the church will not shy away from "rolling up its sleeves to get its hands dirty".
"I've helped set up food banks – I've just finished as supervisor of a credit union over in Argyll," he said.
"People quite often have chaotic lives through no fault of their own. But organisations like churches can bring skills, a really solid route that can help with problems in society.
"We as churches believe there are problems with the social security system and immigration at the moment. Sometimes there's a need to challenge society at a structural level."
Bishop Elect Swift acknowledges that church attendances across all denominations face challenges.
In the case of the Scottish Episcopal Church, he describes it as something of a "gentle decline".
But he is strongly of the view that a church confident in itself has a strong role to play at the heart of communities and in the 21st century, he is also pleased that multi-denominational churches also manage to work together on so many issues.
"When you look at all of the churches it's a bit like being lost in the country: 'How do I get to such and such a place? Well I wouldn't start from where you are now!'," said Bishop Elect Swift when asked about how the Scottish Episcopal Church stands alongside other denominations.
"We have all these churches that are accidents of history from all these different times.
"But my own experience is that churches do work together really really well.
"We are all in the same business trying to persuade people that they are worthwhile, communities are worth building up. Each church has a message about God's love.
"There are things we vary on – the way we worship, the way we dress, even the way we speak.
"But my own experience of church isn't one that is declining.
"The churches that I've been involved with as a lay person and an ordained person generally have grown.
"All sorts of different styles of worship have been present but they've all been confident.
"A church can be a confident presence in a community. The buildings are lovely. But you have to get out of the buildings and involved in your local community, get involved in running of foodbanks and credit unions, get involved in local politics.
"A church will grow in confidence and people will be drawn in."
Bishop Elect Swift said that "all over the place" churches are bucking the trend of decline. There are churches that are steady and even growing.
Having served with the RAF and then working as a civil servant in the Admiralty – including working on the design of Type 45 Daring Class Destroyers and the new £3 billion Queen Elizabeth aircraft carrier recently launched at Rosyth – some might question how helping to design war machines can equate to life as a churchman.
Bishop Elect Swift admits that his conscience was often "tested" in the military.
However, he says there's actually a lot of similarities and ethical questions that cross over between the two areas.
For example, war ships are ultimately designed to kill people. But on the Daring Class Destroyers, the designers also sized the on-board sewages treatment plants for humanitarian evacuation of huge islands.
"We don't live in a black and white world," he said.
"We need to keep it safe. We need to protect people from the bad things that happen in the world. There's a good ethical debate to be had in any industry.
"Use of violent force is a last resort for any civilised society."
Bishop Elect Swift was about 30 when he first realised he wanted to be a priest – and it was almost another 10 years before he embarked upon training.
Having been raised as a Catholic, and then joining the Scottish Episcopal Church through his wife, he said it felt like a "real homecoming" – describing the Episcopal Church as a "very rational, thoughtful, intelligent form of Christianity."
It's this perspective he brings with him now as he moves forward.
He added: "We can challenge almost any part of faith or piece of history and there's an openness to that. It's a church you can join without leaving your mind outside or your rationale faculties outside.
"But it's also a church that has beautiful buildings like this and a strong sense of the sacred. It felt like coming home. Everything fell into place. I'm really looking forward to all the good work that can be done here in Dundee."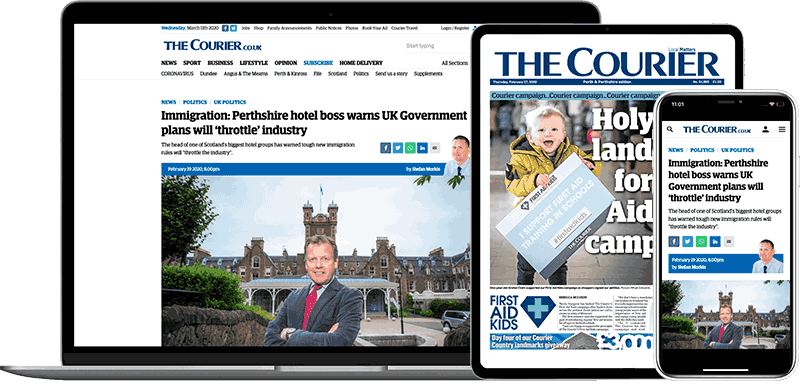 Help support quality local journalism … become a digital subscriber to The Courier
For as little as £5.99 a month you can access all of our content, including Premium articles.
Subscribe