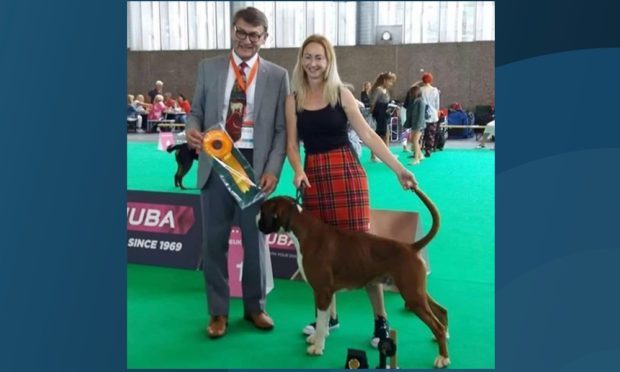 A Tayside dog has made canine history by becoming Scotland's first  world champion at the World Dog Show.
Capo, a four-year-old Boxer from Lundie, came top in the Best Male Boxer, Best of Breed and Best Working Dog categories at the event, held in Amsterdam.
His proud owner Caroline Conway, who breeds Boxers, said that Capo is now "retired" from competitions as he has reached the peak of his doggy career.
He has won so many awards over his lifetime that Caroline stopped counting.
She explained: "I've had boxers for 15 years and I've breeding them for about four.
"I've seen so many examples of bad breeding practices, so I wanted to do things properly  and make sure that all my dogs were in good health.
"I now have about ten boxers and four of them are stud males, while some are just pets.
"Capo is from one of my studs and a friend's female. He has won so many titles because of his build.
"They judge based on things like correct back angulation, bones and muscles.
"Of course I'm very proud and delighted for Capo to have been recognised at the World Dog show."
The show, hosted by the Dutch Kennel Club, was attended by over 33000 dogs between August 9 and August 12.
Caroline explained that Capo often does better in international competitions rather than solely UK-based ones.
She added: "Capo has been bred as a working dog, but the status of Boxers as working dogs has largely been forgotten in the UK and not all competitions recognise them as such.
"This isn't the case abroad.
"Capo has done so well, but I've now retired him as he has reached his peak.
"Unlike other breeders, I don't sell on my dogs when they're past their peak, I continue to keep them as pets."