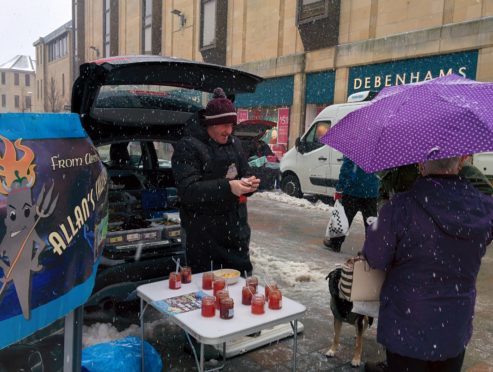 Perth Farmers' Market bosses say they are fighting back against the downturn blighting Scottish high streets.
Recent research from accountants PWC showed almost two stores a week closed in 2018, with some experts branding it the most testing time for retail in five years.
Perth Farmers' Market manager Adeline Watson said the scheme – which celebrates its 20th year of trading next year – had worked hard to combat the challenges.
Ms Watson said; "Like all retailers the market is not exempt from the current difficulties facing the country. We have found consumers more price sensitive and provenance and quality aware.
"The vast majority of our stallholders tend to be small scale, high quality producers based in the Perthshire area and any downturn in sales hits them hard. We have worked extremely hard to attract as many visitors as we can to the market in order to give the producers the maximum opportunity to showcase their offering for the five hours they are in town."
The last market of the year takes place in King Edward Street/High Street this Saturday from 9am until 2pm and Ms Watson said the team were determined to go out on a high note.
---
---
"Our stall numbers are higher than ever," she said.
"As the market enters its 20th year of operating it has transformed from being predominantly meat sales to now embracing a much wider selection encompassing local produce.
"It is a reflection on consumer desire for quality and an understanding of where their food comes from and the market has adapted to these needs."
Gillian MacEwan, FSB director and Perthshire businesswomen, said the stallholders were helping to draw additional trade into the city centre, to the benefit of established traders.
"Perth Farmers' Market has played an important role driving footfall into the city over the last 20 years – giving a boost to retailers and hospitality businesses," she said.
"While the needs of permanent bricks and mortar operators need to be balanced against pop-up operators, the key thing we need to do is continue to attract people, and their money, into the centre.
"At FSB we've continued to make the case for consumers to seek out independent businesses both because they often provide fantastic products you can't find elsewhere, but also because the quality and service is second-to-none."