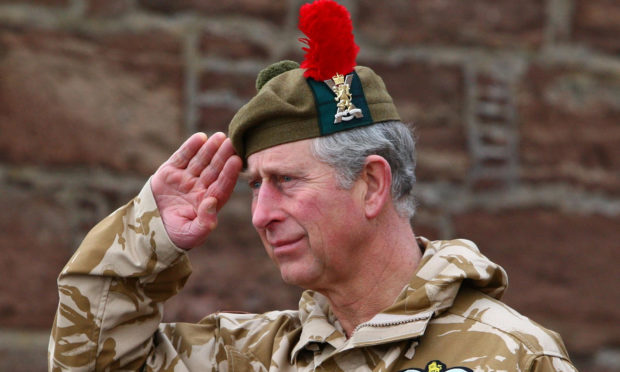 Sir, – I find it exceedingly sad to daily observe the public going out of their way to avoid one another instead of the customary greeting of a peck on the cheek, hug, or even a handshake for fear of contacting the dreaded coronavirus.
As a man who served most of my working life at sea with the Royal and Merchant navy I would like to offer a simple but meaningful alternative which is a 'salute' which may be offered to friends and family from a safe distance.
Not only that, it would be encouraging and uplifting to see our high streets, supermarkets and parks full of smartly saluting men, women and children going about their daily tasks and thereby lifting spirits at a time when they are low.
Ron Blanchard.
177 Kinghorn Road,
Burntisland.
Defer minimum wage rise to aid small firms
Sir, – With the two lowest paying sectors of the economy, hospitality and retail, being amongst the hardest hit by the effects of the Covid-19 virus, the government should give thought to postponing the increase in the minimum wage.
Demand, and hence the income of businesses, in the hospitality sector is plummeting.
The last thing such businesses with heavily depressed income and often negative cash flow need is an increase in their employment costs right now.
For some businesses, deferring the rise in the minimum wage could mean the difference between closing and continuing, or between shedding and retaining staff members.
For their employees, it could mean the difference between a job and no job.
A postponement of next month's rise in the minimum wage would also help the morale of the forgotten army of owners and managers of the country's smaller businesses.
Otto Inglis.
6 Inveralmond Grove,
Edinburgh.
Indomitable human spirit
Sir, – The human spirit seems truly indomitable during difficult times.
Those wonderfully melodic Italian voices coming from isolated apartment balconies in Italy are indeed heartening.
While we don't expect either the scientific fraternity, or the medical profession, to recommend singing to relieve cabin fever during the coming weeks/months; surely the theological gurus are capable of some appropriate suggestions.
Perhaps TV's "think tankers" could produce programmes to ameliorate this sad state of affairs such as singalong and other such viewer participation programmes.
Kenneth Miln.
6 Swallow Apts,
Union St,
Monifieth.
EU powerless against virus
Sir, – Ernie Fleming (Argument to stop Brexit, Courier,March 13) laughs at me for suggesting the four nations of the UK working together against Covid-19 is preferable to arguing as the SNP does that the union should be broken up.
He believes this is an argument to "stop Brexit". Why?
The coronavirus emergency has revealed that the EU is powerless and that nation states are responsible for their own bio-security.
Thus the Czech Republic has banned travel from Germany and Austria. Germany has stopped shipments of masks to Austria and Hungary. Austria has closed its border with Italy. Italy cannot devalue or increase borrowing unless it leaves the euro.
It is China which has come to Italy's help with the medical equipment the beleagured state needs. The UK Government's Chancellor Rishi Sunak in his budget, and in previously announced measures, has given Scotland £2 billion in Barnett consequentials.
Mr Sunak, whose father was a GP, has said the NHS will get whatever it needs.
But still the nationalist whinge-machine grinds on.
William Loneskie.
Amulree,
9 Justice Park,
Oxton.
Metric and Imperial, please
Sir, – It is increasingly obvious the UK Government cares little for the health and welfare of its older citizens and visitors from the USA.
Its advice on safe distances from others during the current Covid-19 epidemic is quoted only in metric units.
At first reading, 2m to me is two miles which is impractical for all than the most rural dweller and, even when I get past that initial misunderstanding, I find it difficult to conceptualise what two metres actually means.
This follows on from this winter's irresponsible total abandonment of Imperial measures by BBC meteorologists even in forecasts of the most serious weather conditions!
I wonder how many deaths could be avoided if both systems were shown due respect?
John Eoin Douglas.
7 Spey Terrace,
Edinburgh.
Don't denigrate civil servants
Sir, – Every August the Scottish Government produces statistics showing Scotland's income and expenditure for the preceding year.
They are known as the GERS statistics and for many years they have exposed a huge budget deficit.
Last year, the overspend was £12.6 billion, which is 7% of our GDP. To put that in perspective, it is almost as much as the total spend on the Scottish NHS every year.
The statistics are such an embarrassment to the SNP that some supporters make futile attempts to discredit them. Tony Perridge was the latest with his letter ('Be prepared' for fallacious UK arguments, Courier, March 13) .
The facts are as follows:
(a) The GERS document clearly states: "GERS is produced by Scottish Government statisticians. It is designated as a National Statistics product, which means it is produced independently of Scottish ministers and has been assessed by the UK Statistics Authority as being produced in line with the Code of Practice for Statistics."
(b) The SNP uses GERS for it own policies and plans. The 2013 Independence White Paper "Scotland's Future" used them and clearly states "GERS is the authoritative public statement on Scotland's public finances."
(c) The Scottish Growth Commission's latest plan for independence, produced on Sturgeon's instructions, is based on GERS and explicitly accepts the 7% deficit figure.
(d) GERS are used by the EU and all the world's financial bodies as a reliable description of Scotland's finances.
It is preposterous for Mr Perridge to be denigrating the work of Scottish civil servants.
Denis Munro. Flat 18, Beaumont House, St John's Place, Perth.
Parliament act will force BBC
Sir, – The BBC is currently authorised by a Westminster Act of Parliament in 2003 to collect a licence fee. Prime Minister Boris Johnson wishes to retain a free licence for people aged 75 and over.
The director general of the BBC refuses to accept this proposal on the grounds that the BBC cannot afford the reduction and itemises the cuts they would have to make.
Licence fees bring in £3.6 billion. This gives the BBC a head start over other TV stations which have to be commercially viable.
If the prime minister is determined to have his way why does he not propose an act of Parliament to withdraw the act of 2003 ?
A A Bullions.
6 Glencairn Crescent,
Leven.