Gold star for best story of the week? Well, obviously that honour goes to Grange Primary School and the curious tale of the "meteorite" that fell to Earth.
Youngsters arrived at their Monifieth playground on Thursday morning to find community police officers throwing a cordon around the object and warning them not to approach it.
Soon blurry photos of the "space rock" had gone viral on social media.
And by evening, the rumours had reached such fever pitch around the Angus town that teachers had to admit the meteorite was in fact a papier-mache model made by pupils at Monifieth High School and not a radiation timebomb.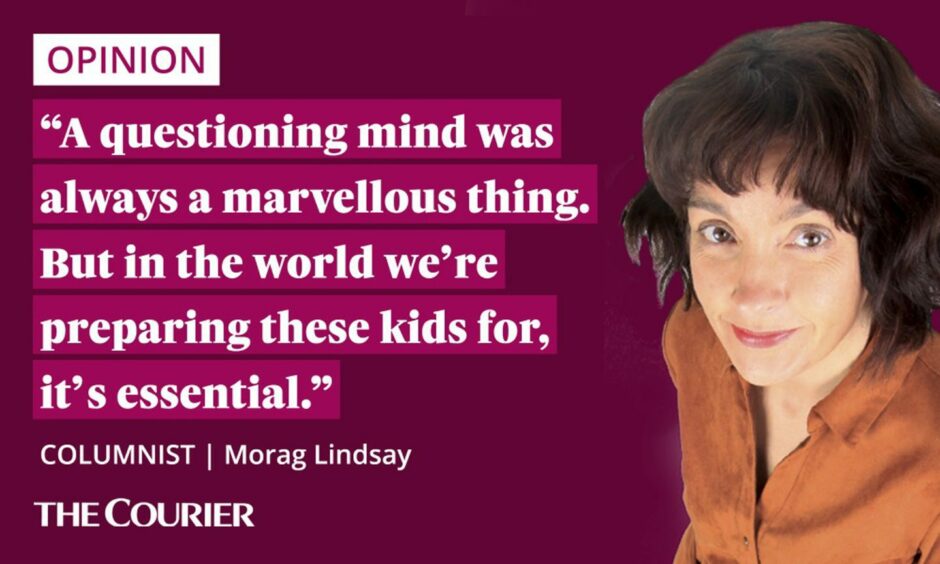 Head teacher Lorraine Will said the intention had been to provoke the children's curiosity and encourage them to want to learn about space.
Job done. Great educating. I wish Lorraine Will had been my head teacher.
But my favourite thing about the stunt is the number of adults who were pranked. (No shade, I'd probably have fallen for it too.)
And potentially there's a lesson there for all of us.
See, sometimes grown-ups bend the truth kiddos.
Often everything isn't as it seems.
And the mantra "question everything" has never mattered more.
From Monifieth meteorite to Twitter's implosion
I say this in the week the world's richest man turned one of the world's most influential social media platforms into the world's most engrossing bin fire.
New Twitter owner Elon Musk's first major move (after laying off half the workforce) was to demand accounts pay $8 a month for the blue tick next to their name.
Since 2009 this badge of honour has proved the tweeter is who they say they are.
Previously, it was free and awarded to government agencies, celebrities, journalists and others who had completed a lengthy verification process.
It was a safeguard in this world of trolls and online impersonators, preventing the spread of potentially harmful misinformation.
And predictably, opening the process to anyone with $8 and a credit card has led to bedlam.
A slew of parody accounts are currently tearing across the Twittersphere, including one purporting to represent Musk's Tesla car company declaring: "BREAKING: A second Tesla has hit the World Trade Center."
The verified brand situation is getting out of control. Quick thread of twitter blue brands, and brands who might be pissed off at Elon right about now. pic.twitter.com/bZ9PSqZKtf

— Read Jackson Rising by @CooperationJXN (@JoshuaPHilll) November 11, 2022
If we're lucky our pound shop Bond villain will be LMFAOing his way to the bankruptcy courts before World War Three is declared.
But while Twitter's demise might do wonders for the sum total of human happiness, there's a bigger story about fakery here.
Which brings me back to Monifieth.
Larger lesson in the Monifieth meteorite
Misinformation has always been a thing.
Garden of Eden anyone?
There have always been people willing to exploit our gullibility for LOLs, or money, or more sinister motives.
Technology has merely magnified it.
The internet has raised the stakes from April Fool spaghetti trees on the BBC's Panorama programme to Facebook interference sending a Fake News president to the White House.
Now I spend my evenings googling lottery scams and the 0191 numbers that have called my dad's house phone that day.
And I wonder how much more sophisticated the frauds will be by the time my 20th century brain admits defeat.
So I salute the teachers at Grange Primary and everyone else who was in on the great Monifieth meteorite hoax.
I'm thrilled to hear the pupils had so much fun.
And I'd love to think some of them will be twiddling knobs at NASA in 30 years time. Or sending the first Monifieth resident to the moon.
But I hope they'll take away another lesson from all the grown-ups who were taken in.
Because sometimes what you see isn't what you get.
Adults make stuff up and their intentions aren't always so wholesome.
A questioning mind was always a marvellous thing. But in the world we're preparing these kids for, it's essential.